Eye of the Needle Winery founders Bob and Lauren Bullock are super sleuths of Washington wine whose mission is to search out incredible values sourced from a number of the state's finest vineyards. Their most current releases include several premium and small-lot wines that continue to raise the bar once more. Here are nine releases we recently reviewed, offered at a wide range of price points, sure to please just about anyone looking for a bottle for that extra special occasion or simply an everyday sipper. You can find a few of their wines at select retailers throughout the state, or best of all, visit Eye of the Needle Winery in Woodinville where you can find the complete lineup. Their tasting room is casual, fun and unpretentious, and is open weekends from 1-5pm.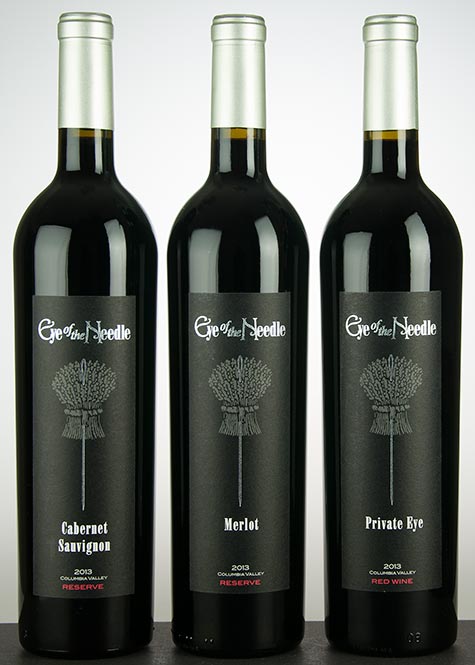 Eye of the Needle 2013 Reserve Cabernet Sauvignon $40
Editor's Choice – Outstanding (91-95 pts.)
Leading with earthy aromas of black fruit and graphite, there's an alluring dark core of steeped blackberry, black cherry, red currant and licorice flavors that meld effortlessly with bay leaf, spice and iron notes. Regal and generous, there's a purity of fruit behind the well-built structure that doesn't quit on the long, supple finish.
Eye of the Needle 2013 Merlot $30
Editor's Choice – Outstanding (91-95 pts.)
Generous aromas of dried cherry, fruitcake and bittersweet chocolate evolve on the richly textured palate, packed with concentrated flavors of cherry coulis, black mission fig and ganache in this opulent red. The sweet fruit is backed by firm tannins on the well-integrated and powerful finish.
Eye of the Needle 2013 Private Eye $35
Editor's Choice – Outstanding (91-95 pts.)
This impressive 50/50 blend of Merlot and Sangiovese is sourced from two powerhouse vineyards: Otis Vineyard and Red Willow. Aromas of red & black fruit, leather and bright spice unfurl on the immense palate, joined by a dense, polished core of rich dark cherry and currant with touches of espresso, anise seed, cedar, gravel and loamy earth. Powerful and well sculpted, the powdery fine tannins keep all the elements focused through the long, full finish.
Eye of the Needle 2013 Enlightened $35
Editor's Choice – Outstanding (91-95 pts.)
Suave, rich and deeply concentrated, loaded with dark brooding flavors of cassis, black cherry, plum skin, violet, graphite, dark coffee and bay leaf. Earth and clay notes intermingle with ultra-fine tannins on the powerful and long finish. The blend is Merlot (34%), Malbec (25%), Petite Verdot (24% ) and Carmenere (17%).
Eye of the Needle 2014 Dolcetto Reserve $28
Editor's Choice – Outstanding (91-95 pts.)
Supple and plush, with aromas of dried cherry and leather that mirror on the palate, joined with earthy layers of violet, black licorice and savory truffle. Light tannins, appealing spice and balanced acidity marked with notes of orange peel give this a graceful and elegant structure.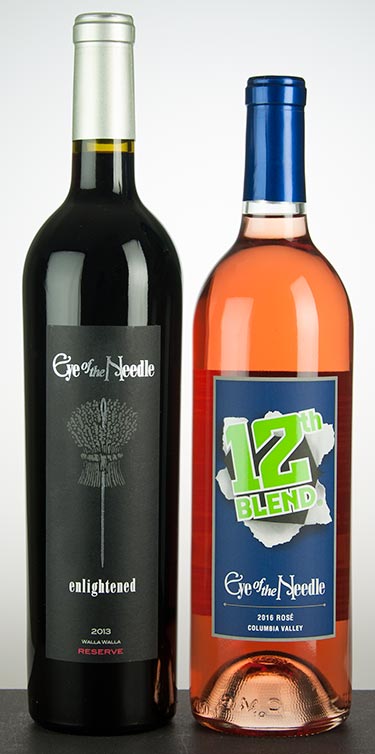 Eye of the Needle "Little Italy" Red Wine $15
Editor's Choice – Excellent (86-90 pts.)
Polished and solid in structure, this is a blend of two popular Italian varietals (Sangiovese and Dolcetto). Flattering dark cherry and red currant flavors are balanced by earthy counterparts of tobacco and cedar box. The complex finish reveals nuances of tea leaf, clove and cola interwoven into the smooth tannins.
Eye of the Needle 12th Blend 2016 Rose $15
Editor's Choice – Excellent (86-90 pts.)
This Cabernet Franc Rose features expressive aromas of red berries and sage that flow onto the palate with mineral spice and dried herb notes that frame the lively black raspberry, cherry and cranberry flavors. A well-balanced and complex version with a silky, savory finish.
 Eye of the Needle 2016 Moments Rose CV $15
Editor's Choice – Outstanding (91-95 pts.)
Ripe and juicy, with depth to the strawberry, cherry and citrusy flavors framed with a stony spine of crushed pebbles. Light herbs and spice round out the complex finish.
Eye of the Needle 2015 Sauvignon Blanc $15
Editor's Choice – Outstanding (91-95 pts.)
Bone dry and refreshing, with smooth rounded acidity and expressive core flavors of limestone, green apple and wheatgrass that dance through the mid-palate, finishing with lovely accents of clover and dried herbs.