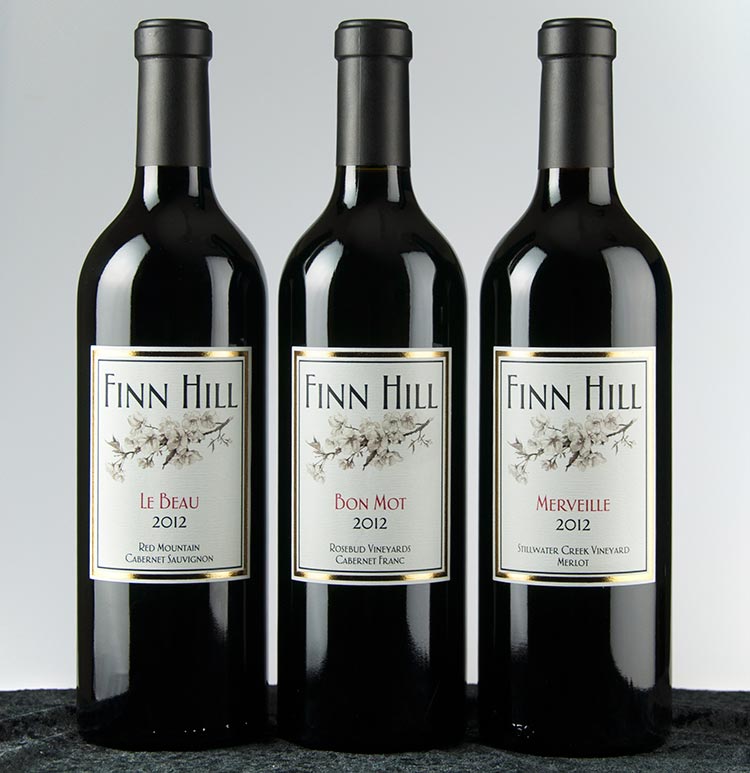 Woodinville-based Finn Hill Winery is the product of biomedical engineer Rob Entrekin's love and curiosity for the wine making process. Upon completing WSU's enology certificate program in the late 2000's, Rob immersed himself in the science of all things wine, often veering from the norm to satisfy his goal of "handcrafting small lots of premium Washington wine." We recently reviewed six current releases, which you can taste at the winery, open Saturday afternoons, in the Artisan Hill warehouse neighborhood of Woodinville.
Finn Hill 2012 "Le Beau" Red Mountain Cabernet Sauvignon, $35
Editor's Choice – Excellent
Production: 102 cases
Alcohol: 14.1%
Nose: Red and black fruit, dark plum, toast and stem notes.
Taste: Rich and powerful, bursting with expressive fruit flavors of blackberry, cherry and plum skin elegantly framed with vanilla bean, Cameroon wrapper and cedar shavings. Focused, with well-integrated tannins on the finish.
Finn Hills 2012 "Merveille" Stillwater Creek Vineyard Merlot, $35
Editor's Choice – Outstanding
Production: 98 cases
Alcohol: 14.5%
Nose: Generous and full aromas of black stone fruit, spice and toast, black olive, coffee bean and graphite.
Taste: Polished, bold and structured, there's an impressive core of earth and black cherry flavors that open to complex tiers of dark plum, espresso, anise and crushed pebbles. Focused and pure, with finely knit tannins weaving through the rewarding finish.
Finn Hills 2012 "Bon Mot" Rosebud Vineyard Cabernet Franc, $35
Editor's Choice – Excellent
Production: 69 cases
Alcohol: 13.6%
Nose: Scents of rain forest, sweet spice, basil, mocha and red berries.
Taste: Top notes of cherry, raspberry and Marion berry lead to concentrated dark plum flavors with an underly of briar and bay leaf wrapped in chewy tannins. Bright acidity stretches out on the vibrant finish.
Finn Hills 2013 "The Gnome" Columbia Valley Riesling, $18
Editor's Choice – Excellent
Production: 137 cases
Alcohol: 12.5%
Nose: Rich honeyed aromas of nectarine, apricot, citrus and gingerbread.
Taste: Exotically styled with complex rich flavors of apricot, ginger, apple and lemon-lime accented with jasmine, orange peel and dried herbs. This medium-dry version offers a slight effervescence that adds to the intrigue.
Finn Hills 2013 "Soleil" Wahluke Slope Sauvignon Blanc, $18
Editor's Choice – Excellent
Production: 144 cases
Alcohol: 13.5%
Nose: Aromas of grapefruit, sweet peas, meadow grass and gooseberry.
Taste: Rich and round, this white wine exhibits seamless flavors of ripe grapefruit, lemon grass, green apple, limestone and a flickering of white pepper spice on the refreshingly dry finish.
Finn Hills 2013 "En Fleur" Sémillon Ice Wine, $35
Editor's Choice – Outstanding
Production: 151 cases
Alcohol: 11.6%
Nose: Seductive aromatics of honeyed pear, orange peel, apricot and floral notes of jasmine.
Taste: Beautifully crafted from 100% Sémillon fruit that was naturally frozen on the vine and picked in mid-December, this ice wine is elegant and satisfyingly rich, yet avoids being cloying or overly sweet. The unctuous mouth feel is luscious, offering harmonious seamless flavors that invoke delicate visions of candied orange and poached pear with nutmeg and a drizzle of fresh honey. The lingering finish reveals hints of crème fraiche and dried apricot.
Website: www.finnhillwinery.com