In 2015, Dr. Fredric Stern and his wife Ana purchased 21 acres of former orchard property on the south shore of Lake Chelan (next to Tsillan Cellars) with plans to someday plant vines and build a tasting room on the scenic site. Fredric, a well-respected cosmetic surgeon in Bellevue, earned his enology certificate from WSU in 2011 and became a garagiste winemaker. The wines were a hit with friends and neighbors—many of whom participated in and celebrated the crush season yearly at the Sterns' home.
While deliberating the idea of a commercial winery, the Sterns were introduced to consulting winemaker Charlie Hoppes and struck an immediate connection. "We have worked very closely with him to create the style of wines we love," says Fredric. "Though we will plant several varietals on our Chelan property, we will continue to source grapes from some of the finest vineyards in Eastern Washington."
"Noviello" pays homage to Ana's great grandfather, Luigi Noviello, whose family owned olive groves and vineyards in Bari, Italy, until in the early 1900's, he moved his family to Buenos Aires, Argentina, where he continued his passion for the land and fine winemaking.
The wines are superbly smooth and well crafted, highly expressive of the Yakima Valley and Red Mountain vineyards where they are sourced. Their signature red wine called Brava is named after Ana's "nonna" Maria Noviello. "I have always referred to my grandmother as 'Brava'—there is a significance of that word in Italian—it encompasses everything a strong woman is," says Ana.
Taste: Noviello wines are currently available through their website and various restaurants, www.noviellovineyards.com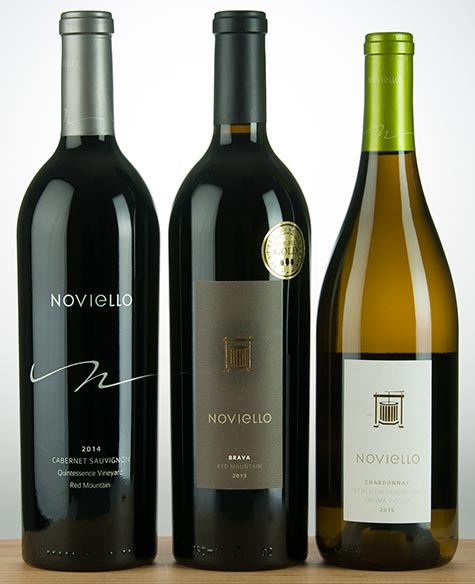 Noviello Vineyards 2014 Quintessence Vineyard Cabernet Sauvignon, $56
Editor's Choice – Outstanding (91-95 pts.)
This sumptuous single-vineyard Cabernet from the Red Mountain AVA is bold and rich, framed with a balanced core of blackberry, dark cherry, cassis, bay leaf, sage and dusty cocoa flavors. Muscular tannins hold sway on the long aftertaste. A powerful, yet youthful version, this will continue to improve with proper cellar aging—if you have the willpower!
Noviello Vineyards 2013 "Brava" Red Mountain Red Blend, $48
Editor's Choice – Outstanding (91-95 pts.)
Pillowy and lushly textured, this Cabernet-forward blend is elegantly detailed with blackberry, black cherry and cassis flavors trimmed with cacao and earthy spice notes. Refined yet firm tannins flow through the lengthy finish.
Noviello Vineyards 2014 Red Mountain Syrah, $48
Editor's Choice – Outstanding (91-95 pts.)
Deeply concentrated and nuanced, with alluring dark fruit of blackberry, boysenberry and plum flavors wrapped around notes of salted caramel, sandalwood, loamy earth and fine-grained tannins on a sleek, savory finish.
Noviello Vineyards 2015 French Creek Chardonnay, $28
Editor's Choice – Outstanding (91-95 pts.)
Smooth, creamy and rich without being weighty, this white wine moves gracefully through the palate, with a range of nectarine, honey, pear and almond flavors, with inflections of lemon citrus, spice and mineral note on the finish. The deep purity of fruit hits the mark with striking balance.