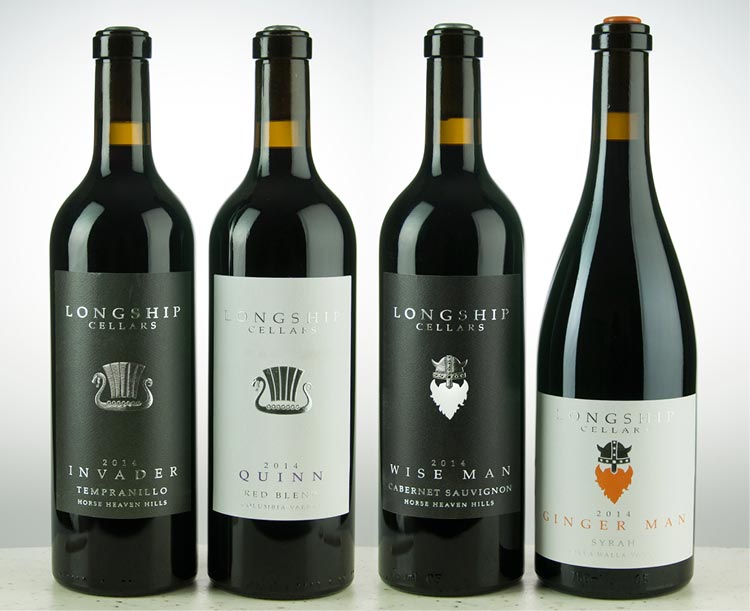 Back in March of 2016, Tasting Room Magazine wrote about Kyle and Cassie Welch and their inaugural releases from a bold new adventure, Longship Cellars. It was Kyle's spirited enthusiasm and keen red wines that captured our attention. One year and several new releases later, he still has our attention. Kyle's latest 2014 releases are serious, intricate red wines that show a promising and bright future ahead.
Kyle grew up in the Tri-Cities wine region where, after serving abroad in the U.S. Navy, he returned to become proficient in winemaking at Washington State University. Working by day as winemaker for Wicked Wine Co., the diligent 36-year-old still manages to pull shifts at Longship Cellars' new tasting room (located on the Riverwalk in downtown Richland). "My wife has come aboard as our general manager and my parents help run the tasting room during the day," says Kyle of the team effort that goes into the operation. "My wife and I rotate working the tasting room after our day jobs."
The family connection runs deep in the Welch's small but growing winery—Cassie's father and his company, R. Peterman Construction, did the tasting room remodel. Wall artwork of a Viking ship (styled after the winery's logo) hangs prominently over the bar, a nod to the winemaker's Scandinavian roots. The days of real Viking invasions are over, but get ready as Longship Cellars launches its own assault with fresh, innovative ideas and world-class wines meant to conquer the world.
Visit & Taste: $5 tasting fee, refundable with purchase, 404 Bradley Blvd, Ste 100, Richland, open Wed-Fri 2-8pm, Sat 12-8pm, Sun 12-5pm, (509) 713-7676, www.longshipcellars.com
Editor's Picks
Longship Cellars 2014 Quinn Red Blend, $32
Editor's Choice – Outstanding (91-95 pts.)
Lushly aromatic with black and red fruit, plum, graphite and tobacco, this Cabernet-dominant blend is rich, juicy and concentrated. There's power and elegance behind the muscular structure and ribbon silk texture, playing off harmonious flavors of black and red berries, cherry, plum, tobacco and spice with powdery firm tannins lining the finish.
Longship Cellars 2014 Ginger Man Syrah, $30
Editor's Choice – Outstanding (91-95 pts.)
Velvety smooth and rich, exotic spice and floral hints of clove, mint, violet, lavendar and black olive are wrapped around pure expressions of cassis, black raspberry, dark plum and cherry flavors. There's superb depth on the finish, marked with a dusting of cinnamon-infused spice and cedar notes.
Longship Cellars 2014 Invader Tempranillo, $28
Editor's Choice – Excellent (86-90 pts.)
Whole berry fermented, this exotic blend of Tempranillo (93%) and Grenache (7%) is sleek and complex, with citrus edges of tangerine running through dark plum and cherry fruit flavors draped over layers of violet, game, stone and fresh acidity. High-toned tannins lend good grip to the spice and minerally-driven finish.
Longship Cellars 2014 Wise Man Cabernet Sauvignon, $36
Editor's Choice – Excellent (86-90 pts.)
Well-proportioned and tightly structured, with sweet tannins that glide through earthy layers of tobacco, fennel, crushed rock and dried herbs framed with rich flavors of black cherry, raspberry and currant. Moderate in body and well balanced.