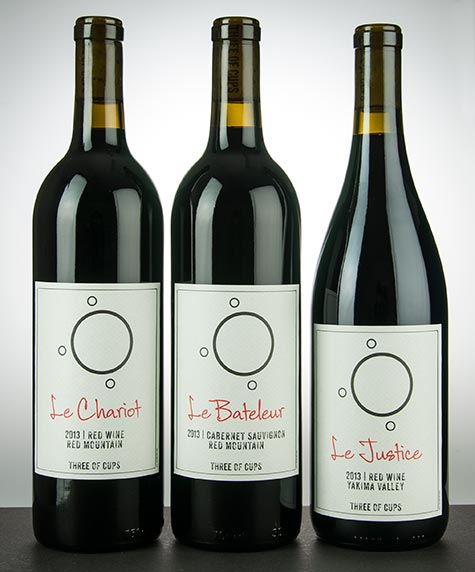 Winery co-owners Mike Metheny and Lisa Swei both have day jobs—these good friends have spent the past couple years working together on a Microsoft project through a high-tech consulting firm. On weekends and in their spare time, they throw their combined energies into Three of Cups, named after the tarot card that symbolizes conviviality, abundance, joy and friendship—all things that happen naturally with wine.
"I'm a craftsman at heart and wanted to make something to sell that people enjoy," says Lisa, who wears many hats around the winery. "After many nights of discussions, over wine (and a little whiskey), a plan was created to start Three of Cups."
A former Boeing engineer, Mike was a homebrewer before turning his attention to the grape. "My wife has always loved wine. I was pairing beer with meals; she was pairing wine with meals. I dragged her around to a lot of West Coast beer festivals, and one year she said, 'you're going to a wine festival.'" After the festival, followed up by a trip to Napa, he became hooked. Hungry to pursue a wine education, he completed certificate programs at South Seattle College's Northwest Wine Academy and later with WSU. After an internship with Hogue Cellars, Mike landed a full-time assistant winemaker role with Gorman Winery.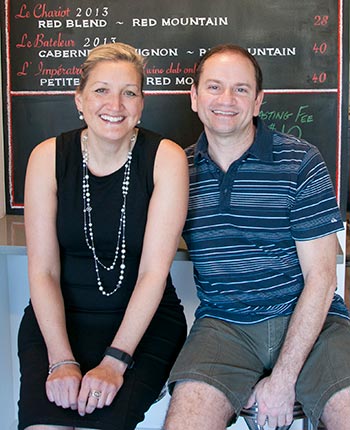 "We strive to produce wines that express the very best of the regions we source from, and pair well with food, yet are great on their own," says Mike. You can find their family and dog-friendly tasting room in the Artisan Hill Winery District of Woodinville.
Visit: $10 tasting fee refundable with purchase, 18808 142nd Ave NE, Ste 4A, Woodinville, open Sat 12-4pm and by appointment, (425) 286-6657
2013 Red Mountain Le Bateleur Cabernet Sauvignon
Editor's Choice – Outstanding
Nose: Brooding with dark fruit, graphite, pomegranite, coffee bean and herbs
Taste: Lean and sinewy, the red wine has a tangy spine, displaying black plum and bitter cherry flavors. Herbal shades of oregano and bay combine with wet stone minerality and firm tannins that prolong the finish.
Three of Cups 2013 Le Justice Yakima Valley Red Wine, $32
Editor's Choice – Excellent
Nose: Voluminous aromas of black raspberry, blue plum, vanilla, mocha, pepper and tobacco
Taste: This GSM Rhone style blend is focused, balanced and well cut, with juicy berry flavors of strawberry, raspberry, red cherry and notes of floral tea and white pepper. Stony minerality notes shines on the finish. Grenache, Mourvedre, Syrah
2013 Red Mountain Le Chariot
Editor's Choice – Excellent
Nose: Plum skin, black cherry, tar and cinnamon spice
Taste: Richly in flavor, with smooth tannins and dark fruit components of blackberry, plum, cherry and cassis. Overtures of tobacco, mocha, dried herbs and exotic spice line the finish. Syrah, Cabernet Sauvignon, Petit Sirah
Web: www.threeofcups.com