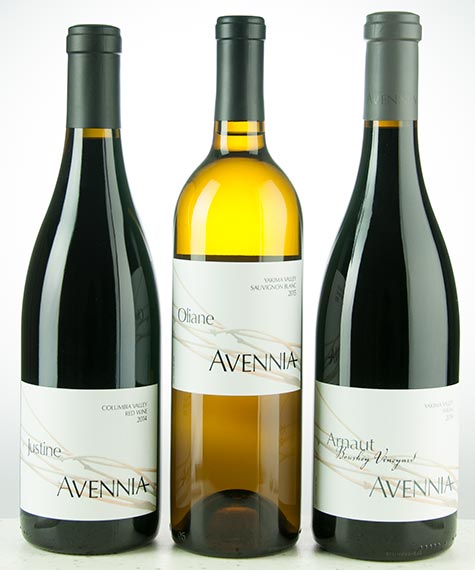 When former Microsoft executive Marty Taucher was studying at Northwest Wine Academy, he sought out an internship at DeLille Cellars where he met winemaker Chris Peterson. They struck up a friendship and Marty, an active angel investor, eventually shared his idea for launching his own winery. Chris jumped on board and their partnership was formed in 2010. "Avennia is inspired by the Roman name for the city of Avignon, and signifies for us the heart of Old World winemaking," says Marty, who has been collecting wines for over 25 years.
Chris's talent, coupled with Marty's business acumen, brought cult-like status to the tiny winery early on, giving them the traction necessary to succeed and grow as an "appointment-only" business model during the recession. Now in their fifth vintage, Marty and Chris produce 3,500 cases a year of ultra-premium Bordeaux and Rhône varietal wines.
"Our wines are vineyard-focused, made with native yeasts and minimal manipulation so we can allow the places to speak—wines with a voice," says Chris, whose offerings include a head-turning single-vineyard Syrah made with fruit grown by grape guru Dick Boushey.
To keep up with growing demand, this once wine-club only operation has recently opened a tasting room in Woodinville. It's located across from the recently opened Hampton Inn & Suites Hotel that's visible from the freeway exit ramp at the intersection of State Route 522 and NE 195th St.
Visit & Taste: $15 tasting fee refundable with $50 purchase, 19255 Woodinville-Snohomish Rd NE, Ste 1, Woodinville, open Thur-Mon 11-5pm, (425) 482-4364, www.avennia.com
Editor's Picks
Avennia 2014 Arnaut Syrah, $50
Editor's Choice – Extraordinary (96-100 pts.)
This single-vineyard designate from Boushey Vineyard has intense and meaty aromatics of smoke and dark berries showing pure, bold flavors of black and blue fruit, with complex overtones of violet, savory herbs, earth and mineral. Impeccably structured and focused, finishing with immense depth on the long aftertaste.
Avennia 2014 Justine Red Wine, $40
Editor's Choice – Extraordinary (96-100 pts.)
This expressive Rhone style red blend (Grenache, Mourvedre, Syrah) shows incredible energy behind the lush and creamy mouthfeel, brimming with deeply concentrated flavors of cassis, black raspberry and wild strawberry. There's a racy beam that hangs long on the caressing finish, finely detailed with savory herbs, floral and mineral notes.
Avennia 2015 Oliane Sauvignon Blanc, $28
Editor's Choice – Outstanding (91-95 pts.)
This Sauvignon Blanc was sourced from two top Yakima Valley vineyards—Boushey (60%) and Red Willow (40%)— and allowed to age on the lees for seven months in French oak. The result is a crisp, balanced and poised white wine, with refreshing clean-cut minerality interwoven with pleasing lemon, lime and melon flavors. Hints of clover lace the finish.