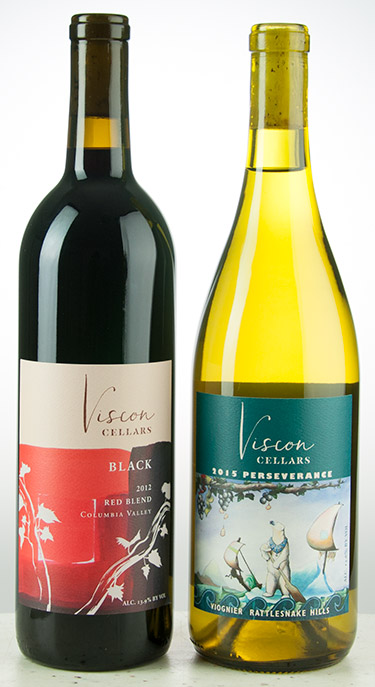 Ben Viscon worked at the Seattle-based REI for 13 years before he hit a pivotal career point and decided he'd rather follow his bliss and become a full-time winemaker. He'd been making wine at home for years before refining his knowledge at UC Davis. After becoming bonded and licensed, Ben released his first wines in 2014. All his urban winery production, including bottling and case storage, takes place in a warehouse on nearby Boeing Field.
Ben's wife, Susan, designed and furnished the quaint tasting room located in the heart of West Seattle on California Avenue. With a background in merchandising, she too spent years working for REI, where she is currently the senior vice-president of merchandising teams.
Ben says his wife stays very involved in the family winery. "I lean on her palate to be my 'honest rock' during blending and tasting trials," says Ben.
"When presented with the opportunity to open our tasting room in Woodinville or West Seattle, hands down we chose our own neighborhood and do not regret it for one second," Ben says with pride.
The tasting room includes an art gallery, featuring rotating works by local artists. The space is also available to rent after hours for private events.
"Our tasting room has quickly become a neighborhood gathering place," says Ben. With a friendly, welcoming vibe and solidly-made wines, Viscon Cellars is worth a visit in West Seattle.
Visit & Taste: $8 tasting fee, refundable with purchase, 5910 California Ave SW, Ste B, Seattle, open Fri 5-9pm, Sat 2-7pm, (206) 419-0468, www.visconcellars.com
Editor's Picks
Viscon Cellars 2012 "Black" Red Blend, $28
Editor's Choice – Outstanding (91-95 pts.)
A sleek and polished blend of Syrah, Cabernet Franc, Cabernet and Merlot. Swirling with smooth dark flavors of blackberry and currants, lingering notes of licorice, mocha and white pepper are stitched together with ultra-fine yet firm tannins on the satisfying finish.
Viscon Cellars 2015 Perseverance Rattlesnake Hills Viognier, $20
Editor's Choice – Excellent (86-90 pts.)
A flattering and rounded style, showing balance and purity of fruit, with core flavors of Bosc pear, peach, honeysuckle and wet stone that are extended on the appealing finish with an underlay of tangerine and pineapple notes.