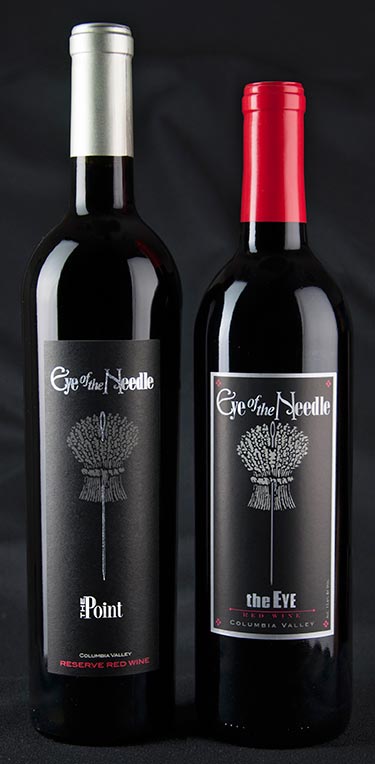 Proprietary red blends are hugely popular in Washington and Eye of the Needle owners, Bob and Lauren Bullock, have been on the forefront of this trend since 2009. As negociants, their reputation for quality wines have spread to their "Bottles for Bread" campaign that contributes to Northwest Harvest and helps provide thousands of meals to hungry people statewide. The Bullock's founded the winery under the mission statement of creating wines that represented "a good value both in taste and price."
Here are two masterful blends we recently sampled that hit the mark spot on!
Eye of the Needle "The Point" Reserve Red Wine, $35
Editor's Choice — Extraordinary
This truly stunning blend earns our highest rating. It's made from all six Bordeaux varietal grapes, leading with Cabernet Franc (50%) and Cabernet Sauvignon (25%) rounded out with Merlot, Petit Verdot, Malbec and Carmenere sourced from premium sites in the Columbia Valley.
Nose: Generous aromas of black and red fruit, black olive, violet and cedarbox
Taste: Supple and lithe, this wine is defined by its impeccable structure and pure balance. Focused, powerful and elegant on the palate, displaying a mosaic of rich black and red fruit, mocha, crushed rock, herbs and tobacco. The flavors echo on the long, rewarding finish sustained with powdery, gripping tannins. This luxe red wine drinks like many that typically sell in the $50-$70 range.
Eye of the Needle "The Eye" Red Blend, $15
Editor's Choice — Outstanding
It's a rarity to find Pinot Noir blended with any other varietal, yet this scintillating version of Pinot Noir (57%) sourced from Lake Chelan AVA and Cabernet Sauvignon (43%) from Dineen Vineyard in the Yakima Valley AVA is a serious wine at a bargain price. This wine drinks lovely on its own and is versatile enough to pair with a variety of dishes.
Nose: Red fruit aromas mingle with sage, caramel and coffee
Taste: Structured, silky and inviting, with appealing dark fruit flavors of black raspberry, cherry and plum layered with anise, sage and fresh-roasted coffee beans. Fine tannins are well-integrated and the neatly balanced acidity carries the satisfying flavors through the long finish.
Website: eyeoftheneedlewinery.com