Few games are capable of rejuvenating the body and spirit like Bocce, and fewer still mastered with a glass of wine in one hand.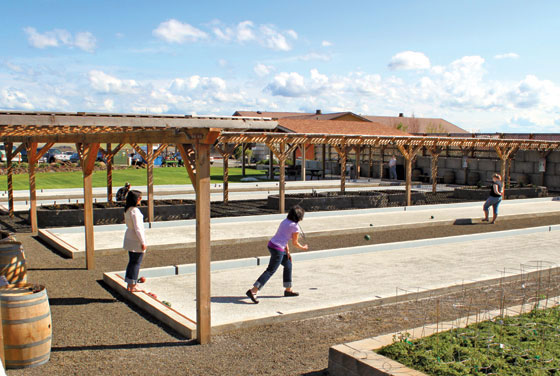 In a society hooked on video games, the digital-free pastime of bocce has been catching on at wineries in the Pacific Northwest. Maryhill Winery owner Craig Leuthold built four tournament-quality courts (made from crushed and compacted oyster shell) a little over a year ago, and the game is a popular attraction with visitors. "It's one of the rare sports that you can enjoy with a glass of wine in your hand," points out Derek Hinatsu, Maryhill's tasting room manager, adding, "Bocce is fun, easy to play, and it's free."
THE GAME OF NOBILITY
A combination of bowling and horseshoes, bocce got its beginnings around 5,000 B.C. when Egyptians would toss polished rocks at a stationery target. Roman soldiers are credited with using coconuts brought back from Africa to use as bocce balls. From Emperor Augustus to Queen Elizabeth, it became the game of rulers. The philosopher Galileo claimed that bocce rejuvenated the body and mind. So pour a glass of vino and join history's luminaries as you enjoy the oldest sport in the world with friends.
ANYONE CAN PLAY
The basic rules are so simple anyone can play. Age, strength, and speed are not important to win. There are eight large bocce balls and a smaller "jack" ball (officially called the pallino). To start the round, the jack ball is tossed onto the court and players take turns throwing their bocce balls—the object of the game is to get your bocce balls closer to the jack ball than the opponent's. Points are scored for each ball that succeeds. For complete rules and everything you ever wanted to know about bocce, go to www.bocce.org.
Written by John Vitale