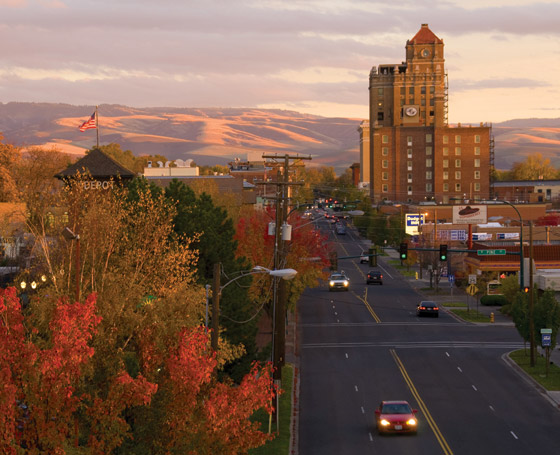 Walla Walla's has a strong cultural heartbeat; there's always something new going on.  A weekend getaway to this pedestrian-friendly downtown district promises an easy and relaxing way to explore the area's smaller, intimate wineries, a few tucked away just steps off the beaten path.  Accentuated by all things wine, this neighborhood is alive with fantastic eateries, boutique shopping, entertainment, even a world class farmer's market.
At the hub of the historic center sits the grand Marcus Whitman Hotel and Conference Center.  The hotel makes a perfect base camp for a wine tour and in 2011 celebrated the tenth anniversary of its immaculate restoration.  For the occasion, the hotel is all gussied up with beautifully remodeled rooms and a stunning new wall-sized commissioned oil painting by Jeffrey Hill, known locally as the 'Vineyard Van Gogh'.
With over 30 wineries and tasting rooms in the downtown alone, deciding where to start your tour can be overwhelming.  So tag along as we explore some of the smaller wine producers—as well as the newest hotspots like Charles Smith Wines—most with offerings only available in their tasting rooms.
DAY ONE
12 Noon: Arrival Lunch 
Olive Marketplace & Café is the newest brainchild of Tom Maccarone (founder of T. Maccarones restaurant, also in town) and has the feel of a less fussy Dean and Deluca.
With counter service and ample seating, it's perfect for designer food without the wait.  Try a hearty sandwich on freshly baked bread, a prosciutto and grape pizza, or the apricot chicken salad.
1PM: Otis Kenyon Wine 
Steps away is Otis Kenyon Wine, shrouded in stories about Robert Otis Kenyon who went missing for almost 50 years after burning a fellow dentist's office down in the area.  In recent years, his grandson Steve, wife Debra, and their daughter Muriel returned to the area to grow grapes in Robert Otis' former home of Milton-Freewater, on a vineyard with exceptional terroir.
This summer, they will release their first ever Sangiovese, after a string of awards for their Cabernet Sauvignon, Merlot, Syrah, and red blend.  Though the Matchless Red, a blend "with a Tuesday night bottle price", and complimentary matchbooks may seem a bit cheeky, these are serious wines.
2PM: Rotie Cellars 
Walk a couple doors down and up a flight of stairs to Rôtie Cellars perched above the popular Walla Walla Wine Works at the coveted intersection of First and Main.  This small but acclaimed winery is dedicated to making old world French-style Rhone blends using some of the best grapes from Washington.
Winemaker Sean Boyd may have a laid back demeanor, but his wine ethos is intensely focused. "I like Grenache that tastes like Grenache. Grenache by nature is light in color, lean, bright, and spicy. I'm not going to co-ferment it to extract color and mess up its beauty."
3PM: The Marcus Whitman
Check in, drop your new wine purchases off and freshen up at the Marcus Whitman Hotel, whose guest list once included famous personalities like Louis Armstrong and Shirley Temple.  Owner Kyle Mussman bought the hotel in 1999 and restored the property back to its 1928 grandeur while adding all the modern amenities.
With all the period chandeliers, marble, and other pomp and circumstance, the hotel is refreshingly small-town friendly and quite affordable.  There's no doorman, no bellhop, and no room service; all by design according to Mussman, who remains at the helm along with his wife, Brenda.
"We'd rather provide value for our guests in other ways," says Mussman.  "There's no charge for Wi-Fi, or parking, in-room coffee or breakfast.  What we provide is exceptional guest experiences for every guest," says Mussman.  "To us, that's not a mission statement, that's part of our culture."
4PM: TERO Estates & Flying Trout
Take the elevator to the ground floor lobby for more wine tasting.  That's right, three local wineries have opened tasting rooms inside the hotel.  They are Don Carlo Vineyard, Locati Cellars, and lastly, Tero Estates and Flying Trout Wines.  The latter is actually one winery but has two different winemakers making two distinct styles of wine.
Tero Estates winemaker Doug Roskelley and his wife Jan are a dynamic duo.  Along with partner Mike Tembreull, they are responsible for reviving Windrow Vineyard, one of the oldest commercially planted vineyards in the Walla Walla AVA.  Be sure to sample their esteemed Cabernet Sauvignon this summer, including the 2007 Estate Cabernet.
Ashley Trout is the winemaker for Flying Trout and divides her time between Walla Walla and Argentina, where she makes her Torrontes, which is a refreshing white grape varietal laced with soft flower aromas and light tropical fruits.  Trout has developed a cult following for her Malbec.
5PM: Dinner at The Marc 
Cross the lobby for dinner at The Marc restaurant.  The new executive chef, Antonio Campolio (formerly with The Broadmoor 5-star resort in Colorado Springs), has his signature on every dish coming out of the kitchen.  He's a food purist with great reverence for his product.  "Find the best, give it a little love, salt, pepper, treat it right and let it go."
Chef Campolio has revamped the entire menu into a culinary wonder using extraordinarily fresh ingredients.  An example of this are his lobsters, flown in from the supplier to the James Beard Foundation and numerous "celebrity" chefs.
If you can put together a party of six, book the Chef's Table and be treated to one of the best food and wine pairings you'll ever have.
DAY TWO
10AM: Hearty Breakfast
The complimentary breakfast at The Marcus Whitman is like none other we've seen: eggs benedict, housemade granola bars, house yogurt with seasonal toppings, and turkey bacon are some of the choices.
Afterwards, walk a couple blocks south to the Farmer's Market for organic fruits, vegetables, and baked goods from local producers.  Even with the grape invasion, Walla Walla continues to be famous for its sweet onions (freshly harvested through August) and asparagus (mid to late June).
11AM: DaMa Wines
Meet Mary Derby and Dawn Kammer of DaMa Wines.  Spanish for lady and combination of their first names, DaMa is a collision of Mary and Dawn's discerning palates.  Mary served as the secret weapon behind Spring Valley's high scoring wines; Dawn grew up near the Napa Valley and became part of College Cellars' winemaking team.
Together, they transformed an otherwise forgettable and awkwardly configured space into a wine destination.  The modern tasting room is bestowed with crystal chandeliers, and doubles as an eclectic boutique with select jewelry, logo-wear and DaMa lip glosses.
Their rotating window display always tells a story, and there's usually a saddle or cowboy hat somewhere—in homage to their mega-popular Cowgirl Cab and the area's rich rodeo history.
12 Noon: Picnic Lunch
Round out your selections from the market with gourmet meats and cheeses from Salumiere Cesario, a gourmet grocery across the street from the hotel.  Take your picnic to Walla Walla Wine Works and enjoy it with a glass or bottle of wine on their patio.
1PM: El CorazOn Winery
Further uptown is El Corazon Winery, which means "the heart" in Spanish.  Winemaker Spencer Sievers is truly hip with heart.  The winery has the feel of a funky bar in Austin.
El Corazon's business is mostly word of mouth, and Sievers' wines fly right out the front door.  Most of his wines are single varietal, single vineyard, but look this summer for the second vintage of his red blend Fenix.
2PM: Charles Smith Wines
A block away is the new Charles Smith Wines tasting room.  It's hard to miss the billboards and ads: Charles Smith in sunglasses, his mass of hair cascading, named Food & Wine's 2009 Winemaker of the Year.
The Tom Kundig designed space is like Dwell magazine on steroids.  The tasting bar and lounge area are on wood 'rafts' with casters, that can be reconfigured to create a stage for bands, and wood panels that close to create a movie screen.
The creator of K Vintners and The Magnificent Wine Company, Smith has dubbed his latest venture, The Modernist Project, as "a response to how people generally consume wine today, that is immediately…as in immediately after being purchased."  His goal is to make wines you can drink now, but that retain complexity and varietal character.
You can also purchase library wines of both the Charles Smith and K Vintners brands, only available in the tasting room.
3PM: Walla Faces and Art
Stroll up East Main Street into Walla Faces tasting room and art gallery (with inn suites upstairs) for a taste of their silky, elegant wines.  The whimsical face paintings that grace the wine labels and interior are the work of artist Candice Johnson.
6PM: Dinner and Live Music
Though French in approach, dinner at Brasserie Four is not a formal affair.  Try the Penn Cove mussels served in a broth of white wine, Pernod and fresh herbs; or the steak frites.
If dining al fresco, you might hear jazz and blues music flowing out of Sapolil Cellars across the street, which hosts live acts on weekends.
8PM: Vineyard Lounge
Finish your day at the Vineyard Lounge at The Marcus Whitman.  It's more than the bar at the hotel, it's a gathering place.  Lounge manager and sommelier Dan McAffrey is the affable host, available to offer suggestions on his ever-growing wine list.
On any given night, you'll find an eclectic mix of chefs, winemakers, farmers, and long-time residents bellying up to the bar next to visitors.  There might even be the occasional wine lover whose wanderlust has them dreaming of a life in Walla Walla wine country.  Stranger things have happened.
Written by Kirsten Telander
VISIT WALLA WALLA
From Seattle: 4.5 hours
From Portland: 4.5 hours
From Spokane: 3 hours
BOOK A STAY
The Marcus Whitman Hotel & Conference Center
Six West Rose St, Walla Walla
Ph: 509-525-2200
www.marcuswhitmanhotel.com
DOWNTOWN INFO
For a complete list of downtown Walla Walla wineries and restaurants, visit online at
www.wallawalla.org