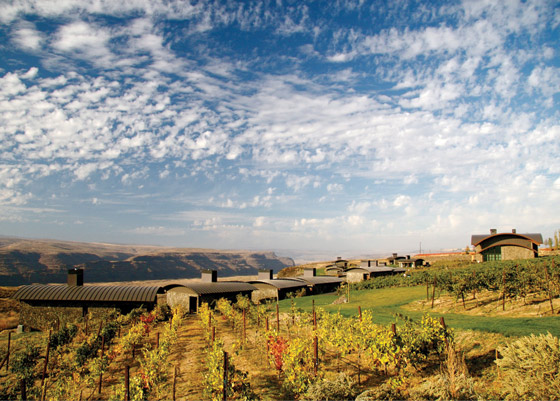 I'm not sure whether to lick my arm or just let the wine soak into my pores.  This is vinotherapy at its best, a Chardonnay Sugar Exfoliation followed by a massage at the Spa at SageCliffe on the grounds of the Cave B Inn and Estate Winery.  Slathered in a heady scrub of sugar, shea butter and chardonnay extract and wrapped like a mummy in plastic and blankets, I spend the next half hour contemplating the best way to ingest chardonnay.  Outside, the wind is whipping up the Columbia Gorge but the massage therapy room is so calm, I think I can hear the sugar dissolving.
Smack-dab in the middle of the state, 160 miles from Seattle and the same distance from Spokane in Quincy, Washington, the Cave B Inn and Estate Winery is a high desert Shangri-La where wine, food and luxury accommodations defy logic in this rocky, inhospitable landscape.
Scientists believe cataclysmic ice age floods scoured the Northwest from Missoula to the Pacific Ocean 12,000-18,000 years ago when an ice dam ruptured, sending a 1,200-foot-tall wall of water across the Idaho Panhandle, Eastern Washington and Oregon. The Central Washington portion of this onslaught is a rocky scabland of low-growing sage brush, wildflowers, dramatic coulees, boulder fields and gravel bars cut by the 80-mile long Columbia River Gorge with the wide, blue-green Columbia River at its base.
Nearly 30 years ago, Dr. Vince Bryan and his wife Carol purchased 300 acres of apple orchards and farmland in Quincy, a small town (population 5,700) dedicated to agriculture.  Their initial goal was to grow a few acres of grapes and give their children and themselves a mellower perspective and an escape from their busy Seattle lives.
That simple plan became a mission of hospitality and sharing as the Bryans began creating a place where people could gather, relax, and appreciate this uncommon landscape.  In its present incarnation, Cave B Inn is a 30-room destination resort, winery, restaurant and spa perched on a 900-foot basalt cliff overlooking the Columbia River.  Future plans call for an arts education and exhibit facility, a golf course and high end homes.
The Bryan's vineyards have grown to 120 acres producing 5,000 cases of wine a year under the tutelage of animated, gregarious winemaker Alfredo "Freddy" Arredondo.
Freddy spent his teenage years learning basic food preparation at his family's Mexican restaurant in Southern California, and admits his early beverage pairing was usually beer. But culinary school in Scottsdale, Arizona, and six months at the Italian Culinary Institute for Foreigners followed by an internship at an Italian pastry shop, introduced Freddy to the magic of food and wine pairing.  Returning to the United States, Freddy taught restaurant occupations at his high school alma mater, challenging his students to view food as more than fuel.  A degree from the Institute for Enology and Viticulture in Walla Walla sealed Freddy's love affair with food and wine.
Varying elevation, an assortment of soil types, and topography that ranges from flat to sloping and north to south exposure, all contribute to Cave B's ability to produce 18 varieties of grapes and 17 wine varietals.
"Each wine has its own little thing," Freddy says, "and some varietals are harder to create than others.  Most of the time it's easier to get the grapes attention than it was to get my students attention, but sometimes the grapes have attitude too."
The "attitude" of my SageCliffe 100 White, an unoaked chardonnay, was a perfect, sunny match for my lunch at Tendrils.  My husband, Bob, zeroed in on his favorite wine, hard-to-find Barbera.
Freddy's wine and food pairing skills meet executive chef Shauna Scriver's culinary talents at the inn's Tendrils Vineyard Restaurant.  Her philosophy of doing it well rather than over-thinking menu selections has led to healthy offerings built around locally-sourced produce, Puget Sound seafood, Columbia River sturgeon and Idaho trout.
"I change the menu seasonally," Shauna says, "and Freddy and I always collaborate on the wines to pair with food."
From summer through fall, the kitchen's garden provides a steady stream of lettuce, melons, beets, green beans, tomatoes, chilies and more, and when supply outstrips demand, guests can pick a bag of produce to take home as an edible souvenir.
The winery and restaurant make Cave B a worthy stop, but a few days at the inn create memories, to say nothing of imparting exactly what the Bryan's hoped: serenity and a sense of place.  I will admit that Cave B gave me a much needed attitude adjustment.
The architecturally ambient, low-profile bungalows scattered across the bluff seem to have eased themselves out of the basalt.  Our Cliffehouse room's double-sided fireplace dividing the sitting area and bedroom and its vine covered terrace facing the sunset created a romantic place to unwind after a hard day of wine tasting.  Or an exhilarating day of hiking with Cuvee, the inn's enthusiastic Black Lab.  Dog lovers note: your pup is welcome at Cave B and special Dog Day packages are available at certain times of the year.
Bob and I filled two days traipsing the hills and plateau between the inn and the Columbia River.  The first afternoon we ambled down the steep path to the river past an unceremoniously dumped 50-year-old car, then plopped ourselves on a log facing Quilomene Bay.  We sifted through tiny seashells, watched geese skim the river, and let the quiet sink into our souls.
On our second day, we took off across flat stretches of basalt fragrant with the scent of sage and speckled with early wildflowers.  Pink and lavender Clarkia seemed too delicate for the harsh terrain, but Hedge Hog Cactus with its brilliant pink blooms looked right at home.  As if to remind Cuvee whose yard she was roaming, a coyote sent up a series of mournful howls that echoed through the canyon like a baby's cries.
Cuvee's a fickle hiking companion though.  Minutes after escorting Bob and me to our room, she bounded toward a young couple heading out on their own walkabout.  With little more than a flick of the tail, Cuvee was off on her second hike of the day.
Bob and I wandered onto our terrace, settled into deck chairs facing the sunset, and opened, what else?  A bottle of fruity, well-balanced Cave B Viognier.
Written by Linda Hagen Miller
Click here to preview the article from the Fall 2009 issue of Tasting Room magazine.