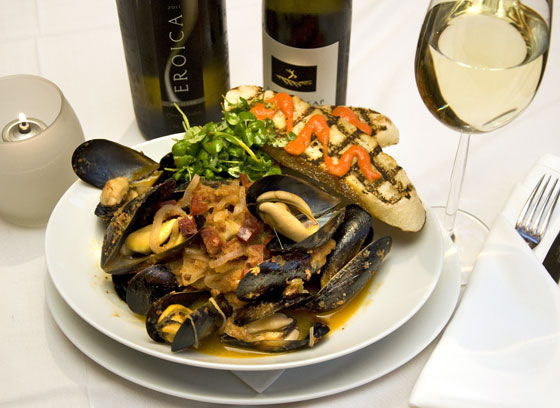 CLICK HERE TO PRINT THE RECIPE
Symbiotic ties seem to flourish naturally between chefs and winemakers, and executive chef Bobby Moore of Willows Lodge has long fostered successful relationships among many of Woodinville's wineries. He joined Willows in 2001, one year after the hotel opened the Barking Frog, and quickly applied his talents to help build the restaurant's reputation as one of the top fine dining destinations in the Puget Sound region.
Moore has watched the rural farming community of Woodinville on Seattle's eastside snowball from nine wineries to more than 100 tasting rooms today.
Newer to the Willows is his wine director Matt Davis, who also has embraced the local winery scene wholeheartedly. Together, Moore and Davis' efforts earned not one, but two Grand Wine Awards this year from the Washington Wine Commission—one for the Barking Frog and another for Fireside Cellars, the hotel's wine bar and lounge.

Tasting Room Magazine  interviewed the easy going chef and sommelier team in February 2013 to dig a little deeper into their love affair with Washington wines:
TASTING ROOM MAG: The Barking Frog restaurant has been awarded the Grand Wine Award a number of times — what's it like to win an award for the Fireside Cellars too?
CHEF BOBBY MOORE: We have been working hard to give Fireside Cellars its own identity. When Matt and I heard about the award, we looked at each other like, wow, it's the real deal now. When you get a Grand Award for your wine bar that you've been working so hard on, and it comes to fruition, you're just very proud. And I'm proud of Matt because he worked so hard on the wine list. It was a great moment and we get to brag about it now (laughs).
SOMMELIER MATT DAVIS: It was a lot of validation for a lot of hard work. We're honored to be two of the most supportive restaurants of Washington State wines.
TASTING ROOM MAG: In what way have local winemakers influenced your work?
CHEF BOBBY MOORE: Sommeliers often have better palates than most chefs. When I hear Matt Davis talk about wine, it amazes me that he can taste some of those things. But winemakers have the best palates. To be able to drive just up the road and hang out with Sparkman, Gorman, and hear other winemakers talk about wines has an influence on me, my menu, and the food that I serve. It's a marriage…and you can't be married and create good food and wine without having good wine right around the corner from you. I'm lucky and humbled by it all.
TASTING ROOM MAG: What should our readers know about the wine list here?
SOMMELIER MATT DAVIS: At Willows Lodge our mission is to focus on the winemakers here in Woodinville and Washington State, and work out from there. More than 80 percent of our wine list is focused on Washington wines, and the vast majority of those holding top spots are Woodinville winemakers. With the final 20 percent, it's important to me that we showcase the classic wines that give the context to what it is that Woodinville is doing so well. So we have iconic wines from Chateauneuf de pape, Napa Valley (and so forth).
On top of it, we serve so many winemakers here that use this as their favorite hangout, that it's also a nice moment for them to be able to revisit those inspirational bottles that got them into winemaking in the first place.
TASTING ROOM MAG: Tell us about the winemaker section on the wine list.
SOMMELIER MATT DAVIS: One of the benefits of the wine list when you come into the Barking Frog is that you can see that winemakers section in the front of our list. So if you've just visited a winery that you really enjoy, you can jump right to those selections. We actually have another selection just behind that which helps put those wines back in that broader context of wines from around the world, and shows local wines side-by-side with some of those classic wines. For example, you'll see Big Sissy Chardonnay right next to Olivier LaFlaive Chassagne-Montrachet.
TASTING ROOM MAG: Bobby, what has been your greatest accomplishment?
CHEF BOBBY MOORE: My biggest accomplishment here in the last four years has been the Iron Vintners Challenge. It's a large annual event and this will be our fourth year. It's a lot of fun with winemakers battling each other in a cook off competition. So this year we have winemakers Lisa Baer from Baer Winery, Tracey LaPierre from Distefano Winery with Mark Newton, Chris Peterson from Avennia, and we have Tyson Schiffner who's the winemaker at Betz now. Ever since the first event four years ago, it's really clicked.
TASTING ROOM MAG: Matt, what has been your greatest accomplishment?
SOMMELIER MATT DAVIS: The Golden Grapes Awards. The goal was to form a wine contest judged by people who make the wines. The gist of it is that every wine is judged on a 25-point scale that's based on the UC Davis 25-point scale, so you're judging every wine on a set number of criteria — how it tastes, how it smells, how it feels in the mouth, and also adding in extra points for how you feel this wine exemplifies Woodinville wine making. We judge about 100 wines per year.
TASTING ROOM MAG: What defines the style of food at Willows Lodge?
CHEF BOBBY MOORE: You're going to walk out of here being able to experience the Northwest cuisine with twists and turns. I grew up in Hawaii, I lived in Texas and Germany for a little while and I've been in the Northwest since 1992. So you'll see crazy things on the menu like sous vide pork belly and seared Ahi tuni with a soy miso emulsion—that's our surf and turf.
TASTING ROOM MAG: How do you keep consistent quality in the kitchen?
CHEF BOBBY MOORE: Every cook in my kitchen wants to be a cook for life. So you see that passion. When we hire, we like to hire people that have the same passion to make people happy that all the chefs in the kitchen do. And so that's why you see that passion on the plate. That's why you see people coming back — they see our whimsy way of being able to play and have fun and still be serious at the same time. 
TASTING ROOM MAG: How often does the food menu get updated?
CHEF BOBBY MOORE: We change the full menu four times a year, and make tweaks probably seven times a year. It's not that common in hotels, because if I change one thing, I have to change all the room service menus.
TASTING ROOM MAG: How often does the wine menu get updated?
SOMMELIER MATT DAVIS: It's a lot of work (chuckles). I taste a lot of wine. I try to keep up with trends and new releases. We rotate through and try to have representation of almost everybody in the neighborhood. We just added wines from Avennia's first release, which we're super excited about. Chris Peterson, who was the assistant winemaker at DeLille, now has his own label. It is amazingly good.
TASTING ROOM MAG: What does the name Barking Frog mean to you?
CHEF BOBBY MOORE: There's a lot of frogs in the pond back here. When a frog barks, they are happy, at peace and content in their environment. When you come to the Barking Frog and dine with us, we want you barking (laughs).
Editor's Note: Want to learn more about a wine getaway to Willows Lodge resort and spa? Click here to read the feature article published in the Winter 2009 issue of Tasting Room Magazine.