Walla Walla native Jeffrey Hill shares his odyssey from grape grower to artist in a town synonymous with wine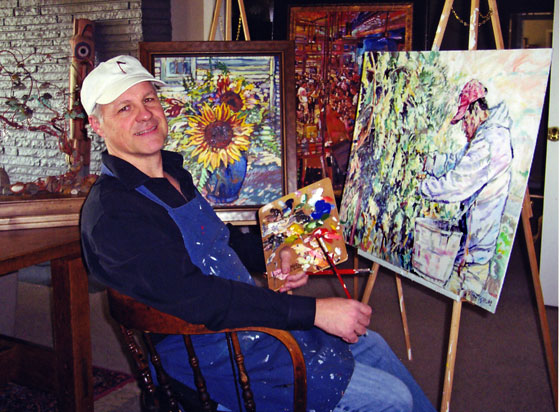 Tiring of working as an appraiser and fine arts dealer in Seattle in the mid-1990's, Jeffrey Hill packed up his family and returned to his hometown of Walla Walla.
Arriving jobless, he bought several acres of barren, rocky land near the foothills of the Blue Mountains and planted a vineyard from scratch. Waiting for his first crop of Merlot, he started painting again to supplement his income.
Today, Hill no longer owns a vineyard, but can barely keep up with commissions for his artwork that pour in from every corner of the country.
"It's been an amazing run so far," he says. "I sell everything I can paint or sculpt."
He's called the Vineyard Van Gogh, and Hill's work is especially popular among winery circles in the Walla Walla Valley. His paintings and sculptures pay tribute to vineyard workers and celebrate the spirit of his hometown.
A graduate of Whitman College with a double major in studio art and art history in 1978, Hill completed his formal training at Sotheby's Institute of Art in London. His impressionist art style is reminiscent of Van Gogh's vivid colors and Diego Rivera's simple forms.
Over 30 of his paintings and works of art are on display at wineries and tasting rooms around the Walla Walla Valley, as well as local restaurants, even the wine campus at the community college. Be sure to check out one of Hill's personal favorites, a diptych painting on display in the Fireside Room of the historic downtown Marcus Whitman Hotel.
When did you decide to start your own vineyard?
When my wife Kathryn and I returned to my home town of Walla Walla in 1996 we planted Forgotten Hills Vineyard, originally a three-acre plot of Merlot. I had grown up in Walla Walla and remembered that many new crops, other than wheat do very well here, such as onions, asparagus, alfalfa, so trying wine grapes seemed possible, if we could get through the winters. We had no idea if this would be successful.
How did life in the vineyard shape your artwork?
I had to try and create some income, while we waited for our first crop of Merlot. I've always been an artist, my father was an artist, and so I tried my hand at painting vineyards and scenes of workers in the vineyard. A vineyard canopy is a painter's nightmare of very specific looking leaves, that all pick up light on countless planes. Building and living with a vineyard is one of the best ways to absorb—and thus to capture—the look.
What singular art event inspired you to get serious?
Marty Clubb of L'Ecole No 41 Winery purchased our first few crops of Merlot from 1998 to 2000.  His wife Megan and I grew up together.  She remembers me painting all the high school backdrops for the formal dance photos. I was hoeing and mowing the vineyard in 1999, and the Clubbs, who live up the road, stopped by to chat about what I was up to.  I mentioned I had five paintings in my studio and Marty immediately wanted to see them.  He bought four on the spot and wanted to talk about commissions for larger canvases. The friendship and patronage of Marty and Megan Clubb continues today. I can't thank them enough for helping me get re-established in my home town.
Is there a driving goal or theme behind your art?
To bring respect to Walla Walla, in the sense of its colorful history and the human factor in the vibrant and sustainable lifestyle we all enjoy here.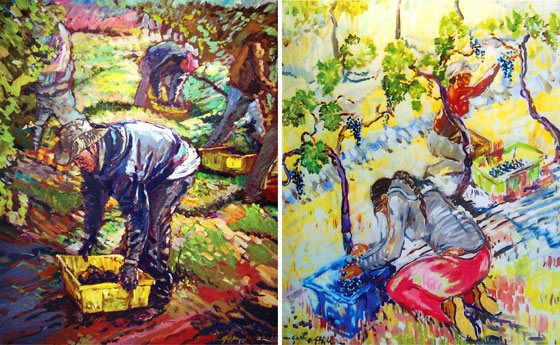 How did you get the nickname, Vineyard Van Gogh? 
That all started when I created the Isenhower Cellars label, a Van Goghesque image of a woman harvesting grapes under a swirling sky. Many winemakers at that time were commissioning me to paint tasting room art. They often seemed surprised that I was both vineyard grower and artist. I experienced more than a few digs from winemakers, who were confused about the combination. They would quip, "Oh, you're like a Vineyard Van Gogh."
What became of Forgotten Hills Vineyard?
We sold the ten-acre vineyard to Waters Winery in 2007.
Of the artwork you've done so far, do you have any personal favorites?
My favorite is an oil painting of the workers in Pepperbridge Vineyard, on display at Pepperbridge Winery.  Another most favorite piece was the result of a collaboration with Brenda Mussman. It was for the Marcus Whitman Hotel and she didn't want my Vineyard Van Gogh palette. She had a theme, and helped me develop a color scheme that matched the interior and feel of the hotel. This diptych turned out to be a beautiful subdued mix of organic greens, browns, creams and grays that I'm very proud of.
Interview by John Vitale
Where to view Jeffrey Hill artwork around the Walla Walla Valley:
HOTELS
Marcus Whitman Hotel
6 W. Rose St., Walla Walla
The Inn at Blackberry Creek
1126 Pleasant St., Walla Walla
TASTING ROOMS
Bergevin Lane Vineyards
1215 W. Poplar St.
Basel Cellars
2901 Old Milton Highway
Cougar Crest Winery
202 A St.
Five Star Cellars
840 C St.
Isenhower Cellars
3471 Pranger Rd.
L'Ecole No. 41 Winery
41 Lowden School Rd.
Locati Cellars
6 West Rose St.
Pepper Bridge Winery
1704 J.B. George Road
Reininger Winery
720 C St.
Sapolil Cellars
15 E. Main St.
Sweet Valley 
12 N 2nd Ave.
Three Rivers Winery
5641 W. Highway 12
Vintage Cellars Wine Bar
10 N. Second St.
RESTAURANTS
Crossroads Steakhouse
207 W. Main
Oasis Restaurant
85698 Hwy 339 "Old Milton Hwy"
Red Monkey Downtown Lounge
25 West Alder