Whether you fancy earthy reds or bold, powerful ones, refreshing Rosé or crisp whites, you'll swoon over these top wines picks from our Washington vs. The World series. Below we review 16 Washington State wines crafted in four worldly styles: Syrah, Rosé, Malbec and Sauvignon blanc.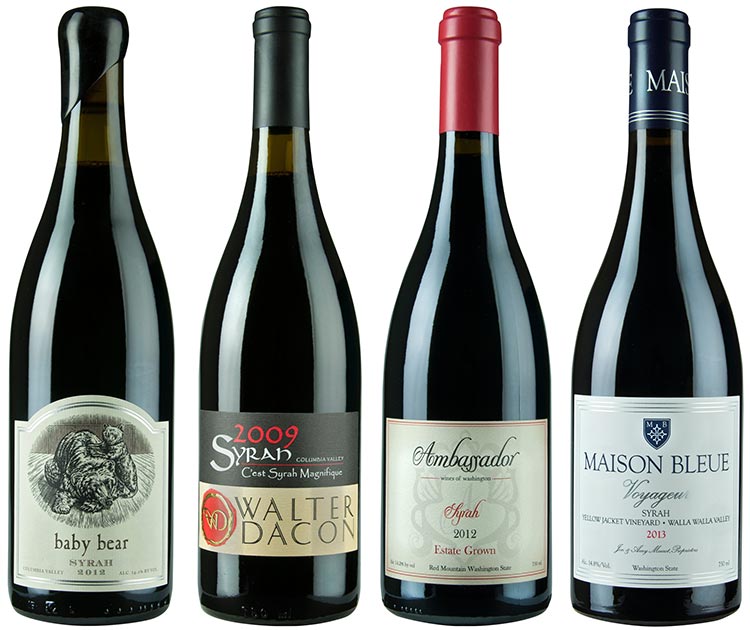 SYRAH

» Try if you like earthy reds from Côte-Rôtie, Hermitage or Cornas

What You Should Know:  Syrah is the only red grape grown in these northern Rhône appellations. Côte-Rôtie is known for meaty bacon notes and floral aromas, Hermitage for muscular structure and earthiness, and Cornas for age-worthy reds, although a younger fruit-forward style has emerged. These featured reds from Washington are blockbusters by any standard, considered by some insiders to rank as one of the top varietals in the state.

Baby Bear 2012 Syrah, $60
www.dunhamcellars.com
A stunning version, this collaboration between actor Kyle MacLachlan and Dunham Cellars is focused, sleek and refined. Seductive and savory aromas open to pure seamless expressions of blue-tinged black fruit flavors with cassis, dark chocolate, anise, bay leaf and vanilla. Balanced and harmonious with ultra-fine tannins on the rewarding finish.

Walter Dacon 2009 C'est Syrah Magnifique, $42
www.walterdaconwines.com
Inspired by Hermitage wines, this Syrah has aromas of blackberry cobbler, anise, dark chocolate and leather. Mouth filling and broad, with hedonistic flavors of plum sauce, blueberry, raspberry, fig and dried herbs. Notes of bay leaf, tobacco and bakers chocolate on the finish caressed by fine grained sweet tannins.

Ambassador Wines of Washington 2012 Estate Syrah, $28
www.ambassadorwinery.com
Produced from estate fruit on Red Mountain. Dark aromas of red and black fruit, currant, mocha, graham cracker and dried herbs. Vibrant and rich with expressive flavors of tobacco, mint, mocha blueberry, black cherry and red plum, wrapped up with sweet tannins on the finish.

Maison Bleue 2013 Voyageur WWV Syrah, $55
www.mbwinery.com
Aged 21 months in French oak and sourced from The Rocks AVA. Floral and savory aromas of rose, violet, blackberry, blueberry, bacon fat and tobacco. Refined, suave and mineral-driven with flavors of black fruit, cassis, loam and cured black olive. Shows finesse, power and restraint with fine tannins.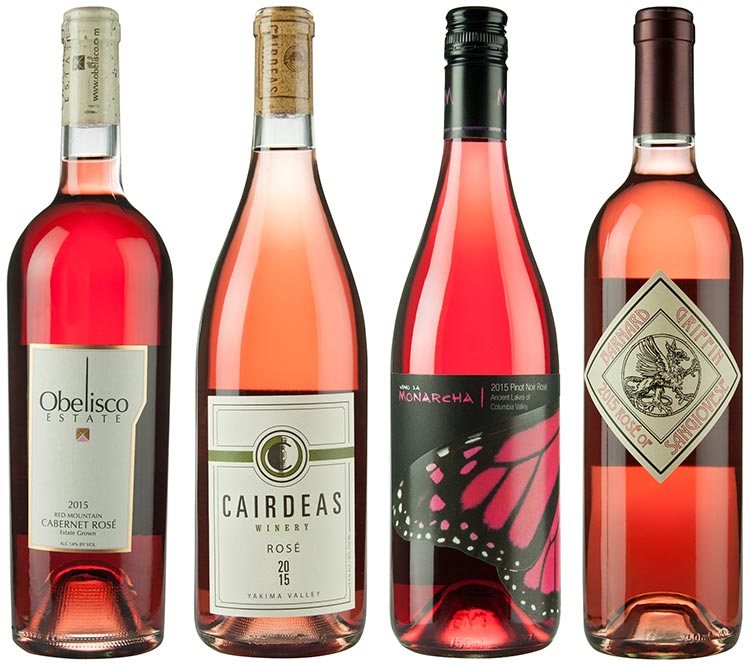 ROSÉ

» Try these if you like refreshing summertime Provencal Rosés

What You Should Know:  Wines have been growing in the southwest region of France since 600 BC and Provencal Rosé accounts for half the region's production.  It's made when the juice comes into contact with the skins for only a relatively short period of time after the dark-skinned grapes are crushed—which produces lighter colored wines with less tannic structure. Ideal for summertime, these food-friendly wines have surged in popularity and local wineries are hard-pressed to keep up with demand.

Obelisco Estate 2015 Cabernet Rosé, $35
www.obelisco.com
Made from estate Cabernet Sauvignon from the Red Mountain AVA, with alluring aromas of watermelon, red berry and clover. Plush, full bodied and finely balanced with a savory edge to the layered flavors of cherry, watermelon, strawberry, rose petal, crushed rock and dried herbs on the finish.

Cairdeas 2015 Rosé, $24
www.cairdeaswinery.com
The winery located in Lake Chelan offers this intriguing Rosé blend of Cinsault, Counoise, Grenache and Mourvèdre sourced from Meek Vineyard in the Yakima Valley. Light aromas of strawberry and citrus. Deft and refreshing with lithe flavors of strawberry, raspberry, melon rind, limestone and subtle spice accents on the crisp finish.

Palencia 2015 Vino La Monarcha Pinot Noir Rosé, $18
www.palenciawine.com
Made with fruit from Two Gun Vineyards in The Ancient Lakes AVA. Scents of watermelon, cherry, strawberry and crushed rock lead to bold flavors of rose petal, watermelon, strawberry and cherry.  Light citrusy notes and saline minerality enliven the sprightly finish.

Barnard Griffin 2015 Rosé of Sangiovese, $14
www.barnardgriffin.com
This 10-time winner of Gold (or better) in the San Francisco Chronicle Wine Competition has aromas of strawberry, melon and warm spice. There's a viscous edge to this well-knit Rosé, with seamless flavors of strawberry, cherry and melon. Dry and balanced, hinting of lemon citrus and spice on the finish.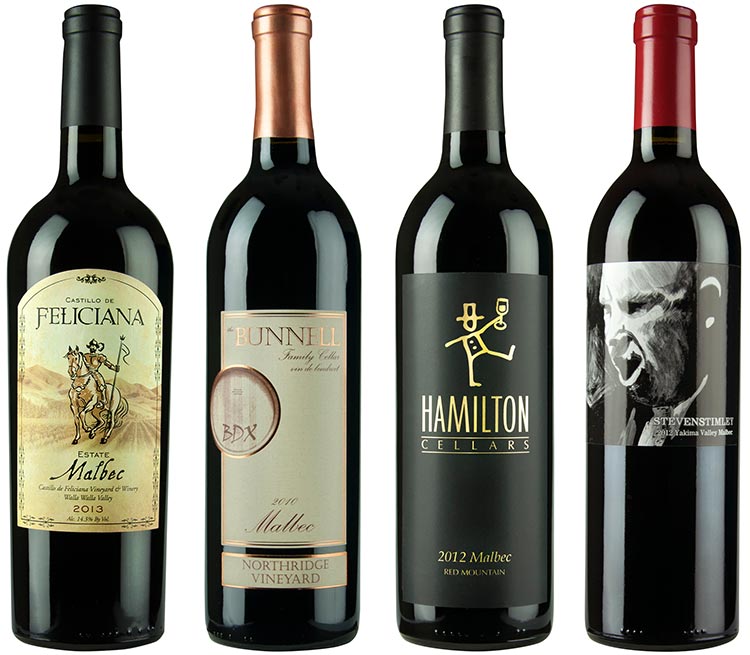 MALBEC

» Try if you like bold hearty reds from Cahors

What You Should Know:  The vineyards near the town of Cahors in the south of France are nearly synonymous with Malbec.  Admired by Peter the Great for its brawn and density, the "black wine" of Cahors, as it was known, was a perfect match for the robust, fatty dishes of southwest France: foie gras, confit and cassoulet.  Washington Malbecs are refined and balanced yet still deliver a powerful punch with bold dark fruit flavors and hearty spice notes.

Castillo de Feliciana 2013 Estate Malbec, $48
www.castillodefeliciana.com
Sourced from estate fruit in Milton-Freewater. Fetching aromas of dusky dark fruit, leather, crushed flower and tobacco. Regal, textural and expansive, with generous fine tannins and focused flavors of black plum, and dark red fruit interwoven with cacao bean, baker's chocolate and earthen spice.

The Bunnell Family Cellar 2010 Northridge Vineyard BDX Malbec, $38
www.bunnellfamilycellar.com
A winner from veteran wine-maker Ron Bunnell, delivering aromas of leather, dried cherry, plum, dark chocolate and mint leaf. Vivid, lively and juicy, dominated by generous flavors of vanilla, cherry and dark plum with accents of clove, white pepper and chalky tannins on the finish.

Hamilton Cellars 2012 Red Mountain Malbec, $42
www.hamiltoncellars.com
This Red Mountain producer specializes in Malbecs. Black fruit, crushed violet, black currant and pencil shavings. Firm, structured and powerful with a blanket of velvety tannins and rich seamless flavors of blackberry coulis, black plum, baker's chocolate, cardamom and tobacco leaf. Finishes long and smooth.

Stevens Winery 2012 Timley Malbec Yakima Valley, $32
www.stevenswinery.com
Tim (a.k.a. Timley) Stevens sourced grapes from Dineen Vineyards' oldest block. Prolific aromas of berries, cobbler, sage and forest floor. Lushly textured with pure fruit flavors of cherry, red plum and herb sachet of anise, sage and tarragon. Dense, balanced, finishes long.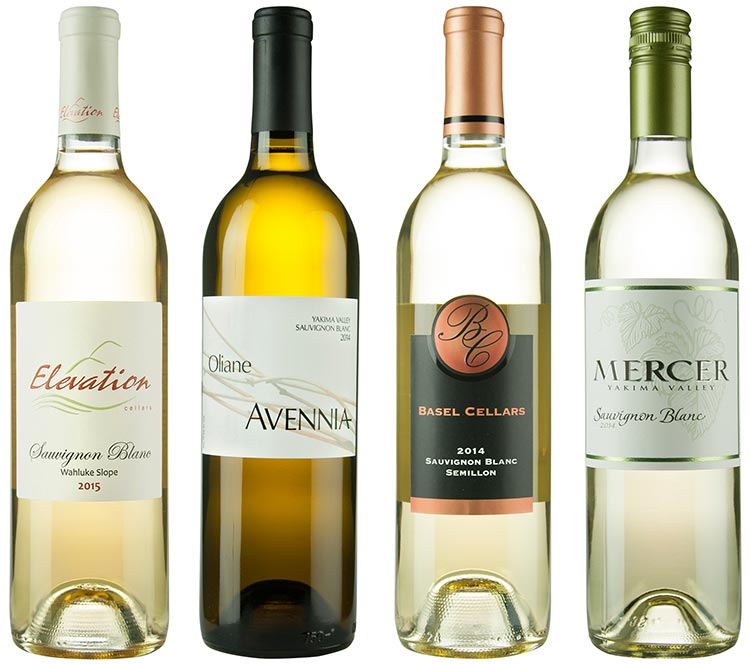 SAUVIGNON BLANC

» Try if you like crisp dry whites from Sancerre or Bordeaux

What You Should Know:  Sancerre is a region in the Loire Valley where the white wines are made from 100% Sauvignon blanc grapes.  High in acidity, they are crisp and mouthwatering, a perfect complement to shellfish, hard cheese and salad dishes. To the south in Bordeaux, Sauvignon blanc is commonly blended with Semillon, which adds a creamy, almost buttery element to the exhilarating lemon-lime flavors of Sauvignon blanc.  These versatile wines are also ideal for cooking special dishes and sauces.

Elevation Cellars 2015 Sauvignon Blanc, $22
www.elevationcellars.com
Steven Stuart sourced fruit from Rosebud Vineyards in the Wahluke Slope. Delivers aromas of jasmine, lemon curd, talc and mineral spice. Creamy and elegantly balanced with expressive florality, boasting flavors of lemon pith, melon, grapefruit, toast points and wet stone.

Avennia 2014 Oliane Sauvignon Blanc, $28
www.avennia.com
Fermented with native yeast and aged in a combination of French oak and concrete tank. Enticing aromas of lemon peel, grapefruit, river stone minerality and grassy notes. Bursting with citrusy flavors of lemon, lime and grapefruit backed by racy minerality and herbaceous spice notes on the complex clean finish.

Basel Cellars 2014 Sauvignon Blanc/Semillon, $22
www.baselcellars.com
A blend of Sauvignon blanc (65%) and Semillon with aromas of white blossom, grapefruit, pear and marzipan. This exciting white maintains harmony between the flavors of ripe grapefruit, lemon citrus, apricot, almond and mineral spice on the mouthwatering, clean finish.

Mercer Estates 2014 Sauvignon Blanc, $15  
www.mercerwine.com
Sourced from Spring Creek Vineyard with scintillating aromas of grapefruit, passion fruit, wheatgrass and saline minerality. Intense, clean-cut and refreshing, with rapier-like acidity that carries through the bold core of grapefruit and pith flavors, punctuated with lemon-lime citrus on the zesty finish.