If you cherish savory or bold smooth reds or crisp complex white wines, you'll delight over these Top Wine Picks from our Washington vs. The World series. Below we feature four styles of Washington wine: Merlot, Sangiovese, Tempranillo and White Rhône varietals.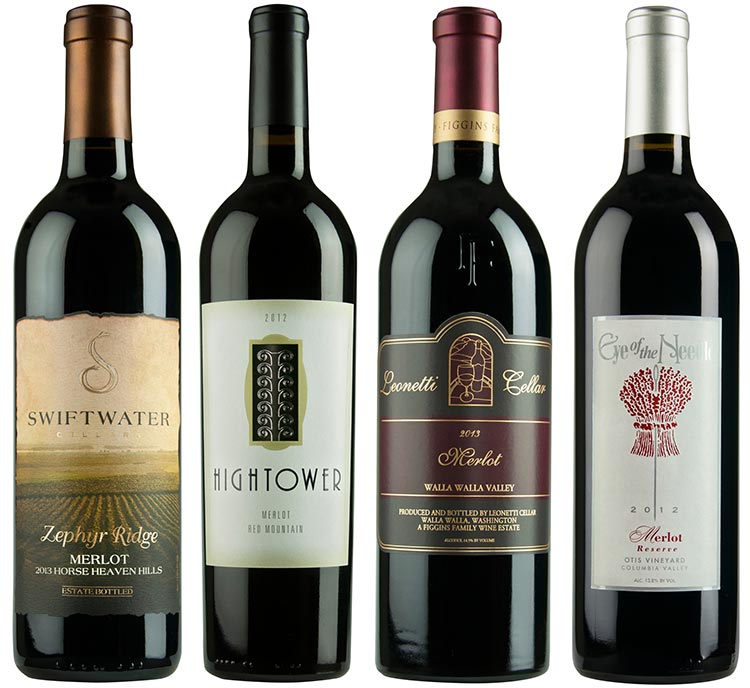 MERLOT

» Try if you like smooth reds from Napa or Sonoma

What You Should Know: Merlot is one of the chief grapes used in Bordeaux varietal blends, and by itself remains one of the world's best-selling wines. In Sonoma and Napa Valley, many Merlot producers are making full-bodied versions, often blended with Cabernet Sauvignon, Cabernet Franc, Petit Verdot and Malbec. Washington State earned a reputation early on as a region where Merlot excels, loaded with dark fruit characters of plum, blackberry, cherry and velvet smooth tannins.

Swiftwater Cellars 2013 Zephyr Ridge Merlot, $35
www.swiftwatercellars.com
Don & Lori Watts' estate vineyard is the source of this luscious Merlot. Powerful, deeply concentrated and rich, with notes of crushed rock, truffle, smoke, tar and dark fruit. Complex layers of cassis, black cherry, grilled plum, espresso, sage, gravel and loamy earth. Beautifully balanced with firm, well-integrated tannins.

Hightower 2012 Red Mountain Merlot, $25
www.hightowercellars.com
Tim and Kelly Hightower aged this rich red wine in French and Hungarian oak. A broad, powerful red wine, with aromas of dark berry, plum, sage and seamless dark fruit flavors of blackberry compote, plum sauce and spiced cherry. Layered with underpinnings of mocha, tobacco, mineral notes and refined tannins.

Leonetti Cellar 2013 Walla Walla Valley Merlot, $75
www.leonetticellar.com
The addition of 8% Cabernet Franc brings violet notes to this premium Merlot. Powerful and plush, with impeccable structure and ultra-fine tannins. Layered with blackberry, raspberry, blueberry, seasoned herbs and a mesmorizing tannic grip on the finish.

Eye of the Needle 2012 Reserve Merlot, $30
www.eyeoftheneedlewinery.com
Regal, elegant and complex, this old vine Merlot (from 55-year-old vines) is plush, with striking overtones of mineral and earth notes backed by concentrated layers of blackberry, dark cherry, cola, coffee, sage, bay leaf and hints of orange citrus. Polished sweet tannins linger on the finish.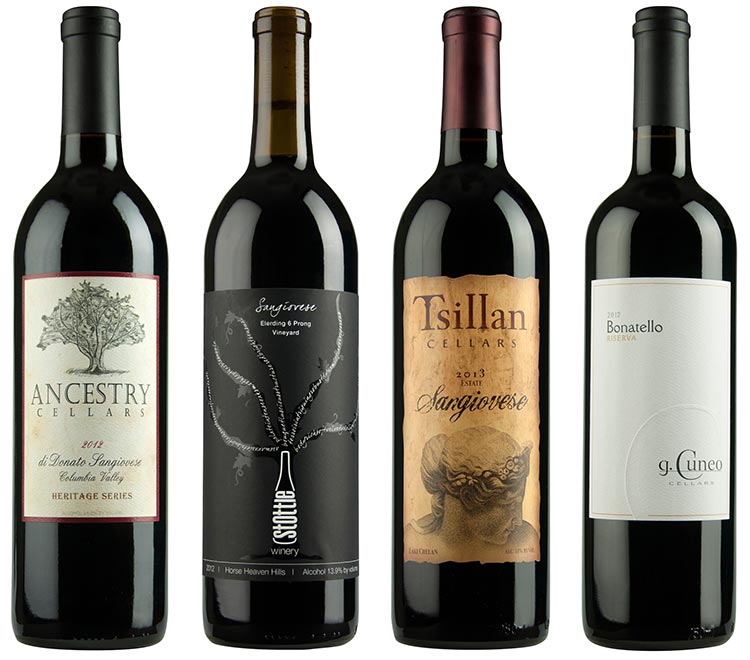 SANGIOVESE

» Try if you like red wines like Brunello di Montalcino

What You Should Know: Most people think of the famous Chianti region when talking about Sangiovese, yet in fact another Tuscan region, Montalcino, is equally as famous. Sangiovese is the only grape allowed in the Brunello di Montalcino DOCG and it's a clone that's vastly different than those planted in Chianti. Brunello is very popular in the U.S. where nearly 1 out of every 3 bottles of this wine is sold, sometimes being compared to Pinot Noir for its ripe fruit character and smooth tannins.

Ancestry Cellars 2012 di Donato Sangiovese, $25
www.ancestrycellars.com
A tribute to the winemaker's Italian great grandfather Raffaele Verderico, the "son of Donato." Touting aromas of leather, cherry, strawberry and tobacco, the silky smooth texture is streaked with bright fruit flavors of raspberry, cherry and currant that percolate with earth and spice notes on the finish.

Stottle Winery 2012 Sangiovese, $28
www.stottlewinery.com
Josh Stottlemyer sourced this from some of the oldest Sangiovese plantings in the state. Aromas of red berries, leather, fig and spicebox lead to polished flavors of red cherry, raspberry and cranberry that mingle with vanilla, white pepper and dried strawberry. Light, firm tannins glide through the finish with wet stone notes.

Tsillan Cellars 2013 Estate Sangiovese, $28
www.tsillancellars.com
Shane Collins uses estate grown fruit from the Lake Chelan AVA. Lean and taut with aromas of red berries, vanilla bean, crushed flowers and cigar box. Energetic flavors of raspberry, cranberry and cherry are layered with tobacco spice and smooth fine tannins on the juicy finish.

Cuneo Cellars 2012 Bonatello Riserva, $55
www.ginocuneocellars.com
These grapes were hand harvested and aged 30 months in neutral French oak. Rich, opulent and generous, with deeply concentrated flavors and aromas of steeped black cherry and crushed raspberry on an open-textured frame with a dense finish and notes of black pepper, warm stone and barrel spice.
TEMPRANILLO

» Try if you like savory reds from Rioja

What You Should Know: Referred to as Spain's noble grape, Tempranillo has been growing on the Iberian Peninsula since the days of the ancient Phoenicians. It's the most widely used grape in Rioja, where it represents the major component found in most red wine blends, often accompanied with smaller amounts of Grenache. Washington winemakers are starting to fall in love with this variety, as evidenced by the growing number of single varietal bottlings.

Sol Stone 2013 Upland Vineyards Tempranillo, $28
www.solstonewine.com
Displaying generous aromas of dark fruit, grilled plum and tobacco, this rich and robust offering from Buzz and Karen Buckingham is built with velvety smooth tannins that deliver steeped black fruit and red plum compote, inlaid with powerful notes of iron, loam, smoke and sage that sustain through the finish.

Mansion Creek Cellars 2013 Viña Española, $32
www.mansioncreekcellars.com
In typical Rioja style, winemaker and native of Spain, Julia Russell, blended this Tempranillo with Garnacha. Polished and supple with smooth texture and flavors of raspberry, cranberry and bright red cherry framed over delicate nuances of spice, leather and a hint of orange cream.

Maryhill 2012 Painted Hills Vineyard Tempranillo, $34
www.maryhillwinery.com
This gem is one of Maryhill's prolific single-vineyard series wines. Complex, rich and open-textured, with pure seamless expressions of baker's chocolate, graphite and mineral notes enveloped with flavors of red cherry and black plum. Fine chalky tannins gain traction on the ultra-polished finish.

Salida 2012 Tempranillo, $38
www.salidawine.com
Veteran winemaker Doug McCrea adds his creative touch to this harmonious blend of Tempranillo (91%) and Garnacha (9%). Deft and balanced, with deeply concentrated flavors of cherry, licorice, blue plum, savory dried herbs and bittersweet chocolate. Elegant tannins frame the long finish.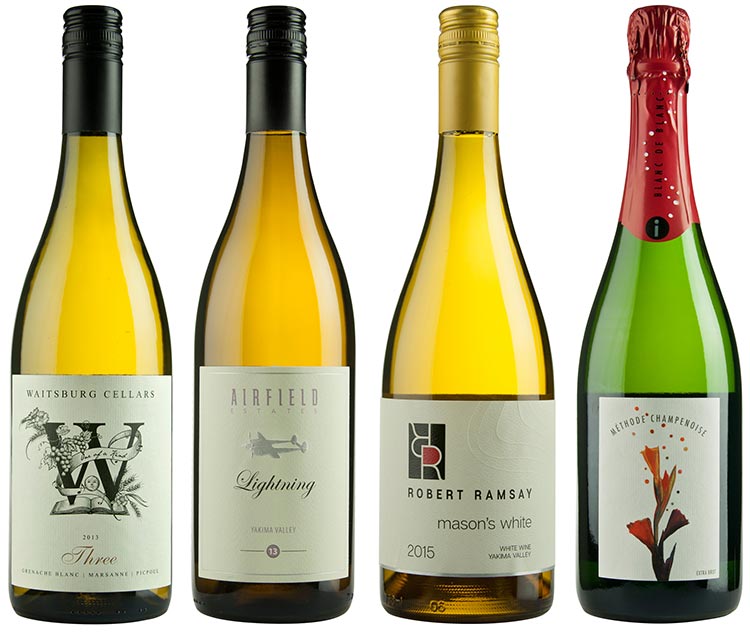 DRY WHITES

» Try if you like tantalizing wines from the Rhône Valley

What You Should Know: The Rhône wine region in Southern France is home to many varieties of grapes that until a few years ago were relative newcomers to Washington's diverse vineyards. With unusual names like Roussanne, Marsanne, Viognier, Grenache Blanc and Picpoul, these white wine grapes have been growing in popularity. Complex minerality and high acidity make them extremely food-friendly, and their blending capabilities are endless.

Waitsburg Cellars 2013 "Three" White Blend, $18
www.waitsburgcellars.com
Waitsburg Cellars is a collaborative partnership between Precept Wine Co. and noted wine author and critic Paul Gregutt. This delightfully creamy blend of three grapes (Grenache Blanc, Marsanne and Picpoul) bursts forth with scintillating aromas and flavors of lemon oil, white peach, apple core, grapefruit and glycerin. Finishes crisp and minerally charged.

Airfield Estates 2013 Lightning, $20
www.airfieldwines.com
Winemaker Marcus Miller used estate fruit to craft this rich satisfying blend of Viognier, Roussanne and Marsanne, delivering solid core flavors of creamed peach, pear and green melon, backed by a lightly honeyed edge. Flecks of limestone carry through the crisp dry finish.

Robert Ramsay 2015 Mason's White, $20
www.robertramsaycellars.com
Floral aromatics of clover, honeysuckle, pear and beeswax lead into this creamy, full-flavored Roussanne. Crisp acidity adds deft balance to the round viscous texture, dominated by flavors of herbal tea, almond and apricot with underpinnings of orange peel on the minerally-edged finish.

Isenhower Cellars 2014 Blanc de Blanc Sparkling Roussanne, $39
www.isenhowercellars.com
With fruity aromas, this sparkling Roussanne is a rare gem crafted by Brett and Denise Isenhower. Precisely balanced, with lively beads that keep it focused amid fresh flavors of apple, white peach, citrus and raisin bread. Well-cut, with defined minerality on the long dry finish.