Cabernet chocolate-covered cherries and handmade delicacies from Chukar Cherries pair excellently with a wide range of wines, making them the perfect match for any festive occasion
Click here to view this feature article as it appeared in the pages of the Winter 2010/2011 issue.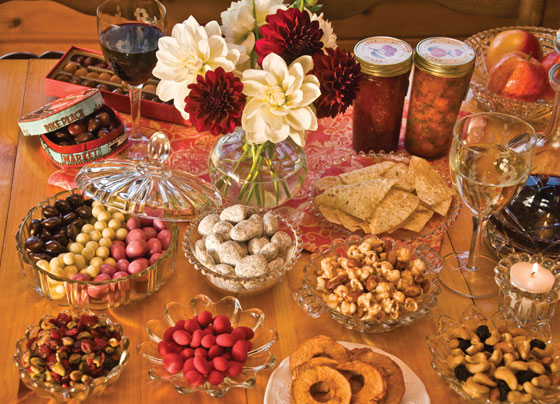 For Chukar Cherries founder and CEO Pamela Montgomery, success hasn't always tasted sweet.  But that never deterred this down-to-earth entrepreneur whose natural gift for pleasing people's palates includes the invention of the wildly popular Cabernet Cherries, a Cabernet-flavored dark chocolate coated lavishly around a dried cherry, producing a richly balanced mouthful of sweet and tart.  Best of all, it goes fabulously with red wine.
Chukar's roots began in the 1980's when Montgomery borrowed a friend's vegetable dehydrator to try her hand at making dried cherries to put to good use the unpicked fruit from her struggling cherry orchard.  It was pure innovation.  Nobody else at that time had yet introduced dried sweet cherries to a growing generation of healthy-food minded consumers, and word slowly spread about her crimson-colored natural snacks.
Montgomery spent months researching and refining her techniques to produce the finest quality and best tasting dried cherries possible.  But it wasn't until a visit to the famous Harrods luxury department store in London when she witnessed their line of chocolate-dipped fruits, that Montgomery was seized with the inspiration to make chocolate-covered confections from her dried sweet cherries.
Under the talented hands of Pamela and her husband JT Montgomery (affectionately nicknamed Pa Chukar by staff members), Chukar Cherries today produces fresh hand-made gourmet chocolates, delicious dried fruits and berries, nuts, preserves and spreads, and ships them worldwide to eager customers.
Chukar goodies are made using local fruits and natural ingredients—without any preservatives, sulfites, trans fat, gluten, and nothing artificial.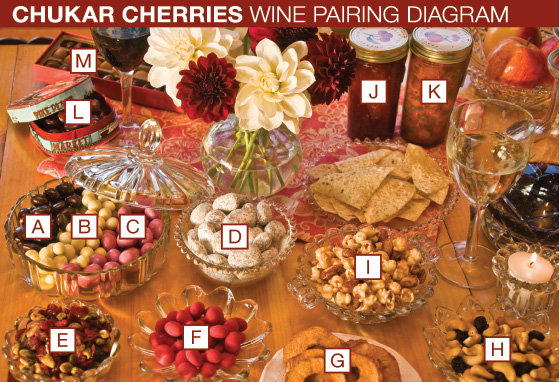 WINE PAIRING DIAGRAM
We've matched up wine pairing suggestions with the tasty edibles shown in the diagram above, however what you like to drink certainly takes precedence over our recommendations.  And don't be shy about experimenting with favorite party and holiday beverages such as port, late harvest wines, even egg nog!
A. Cabernet Chocolate Cherries (#1 Best Seller!)
Cabernet Sauvignon, Syrah and Port complement flavors of Cabernet dark chocolate with a tart cherry center.
B. Chocolate Blueberries
Merlot complements creamy white chocolate-covered dried blueberry.
C. Cherry Blossoms
Pinot Noir and Merlot complement milk and white chocolate-covered cherry.
D. Chocolate Honey Pecans
Pinot Grigio, Viognier, Zinfandel, Cabernet, Syrah complement honey-baked pecan goodness covered with milk chocolate, dusted with powdered sugar.
E. Berry & Pistachio Mix
Most reds and white wines will nicely offset the dried Bing cherries, North Cove cranberries and dry-roasted pistachios.
F. Raspberry Truffle
Riesling, Pinot Gris and Viognier complement white chocolate and raspberry crystal-covered dried cranberry.
G. Cherry Apple Slices
Riesling, Pinot Gris, Chenin Blanc complement dehydrated Washington apple slices soaked in cherry juice, baked and topped with sprinkling of cinnamon-sugar.
H. Nuts Over Bings
Most reds and white wines go well with the mild flavors of this energy snack blend of dried Bing cherries, pistachios, cashews and almonds.
I. Cherry Pecan Caramel Corn
Try a Chardonnay, late harvest wine or egg nog with this blend of buttery caramel, honey-roasted pecans and Montmorency tart cherries.
J. Cherry Chipotle BBQ Sauce
Riesling, off-dry Gewürtztraminer, Chenin Blanc will balance this savory sauce on fish, pork or lamb and enjoy medium-heat flavors of cherry, cranberry, Dijon and Chipotle peppers.
K. Peach Cherry Salsa
Chardonnay, Pinot Gris, Riesling offset mild savory blend fruits with a dash of heat, great with corn chips or fish tacos!
L. Pike Market Box
Sampler of Cabernet, Amaretto, Milk, and Bing Chocolate Cherries. Check their website for more gift and basket ideas.
M. Classic Assortment Box of dark and milk chocolate cherries: Cabernet, Amaretto Rainier, Black Forest Truffle, Classic Milk, Cherry Rouge.
Written by John Vitale
VISIT A CHUKAR CHERRIES STORE OR ORDER ONLINE
Order online at www.chukar.com
Chukar Cherries, Seattle Pike Place Market in the Main Arcade.  Ph: 206-623-8043
Chukar Factory Store, Prosser Exit 80 off I-82.  Ph: 509-786-2055