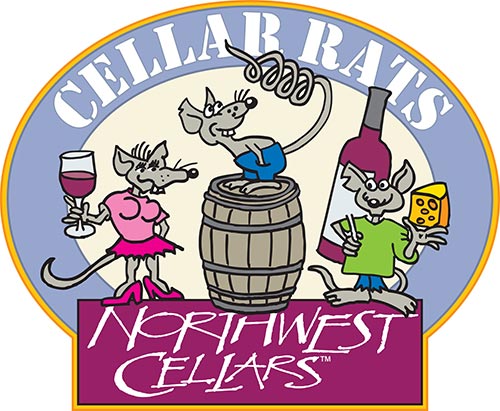 WINE CLUB:
Cellar Rats
JOIN IF YOU LIKE:
Great wine at reasonable prices. Are you tired of getting wine shipped to you that you don't want? We believe a wine club should give you the opportunity to try new wines, but not force them on you, so our wine program is a little different. We do not automatically ship any wine to you – you buy/order whatever wine you want and once you purchase a total of 12 bottles in a calendar year, you are automatically a wine club member. We know that with so many choices for great wine, this is a big deal. So, a little recognition is in order!
ENVIABLE PERKS:
• Unlimited free tastings for you and up to 3 friends
• Cool gifts and special offers
• First access to limited production wines
• Exclusive parties
• Special offers and events just for Northwest Cellars' Cellar Rats
Note: You just have to buy 12 bottles per year OF YOUR CHOICE to maintain your discounts; we do not ship you wine automatically.
SAVINGS:
Being a Cellar Rat entitles you to discounts on wine and merchandise.
• 15% off bottles
• 20% off cases in the Kirkland Tasting Room and online
• 10% off glass pours in the Kirkland Tasting Room
• 10% off merchandise
JOIN OR LEARN MORE:
www.northwestcellars.com
VISIT & TASTE NOW:
11909 124th Avenue NE, Kirkland, WA  98034
Email: goodtaste@northwestcellars.com
Phone: (425) 825-9463