Kestrel Vintners assembles team of notable chefs for a celebration of food and wine in a Yakima Valley estate vineyard
September 29, 2012
It's not very often one gets to partake in a wine and food event on a scale larger than life, but in the case of Kestrel Vintners first ever slow food Italian dinner in the vineyard, it was even larger than Hollywood. Called The Big Night, the event was loosely inspired by the movie of the same name (starring Minnie Driver and Stanley Tucci).  Passionate members of Kestrel's team worked with a handful of celebrity chefs, including Armandino Batali of Salumi Salami and Jessica Smith, to create a stunningly visual evening in the vineyard celebrating food and wine. Complete with live Italian opera singers, a hot air balloon, and elegant linen table setting, the winery's estate vineyard near Prosser became center stage for nearly a hundred guests.
Winemaker Flint Nelson and assistant Dirk Brink led intimate vineyard tours through old vine Cabernet plantings as guests sampled the fruits of their labor.  A magnificent hot air balloon ascended slowly from the vineyard as a troupe of singers sang opera from the basket.  The Big Night was officially underway in grand style.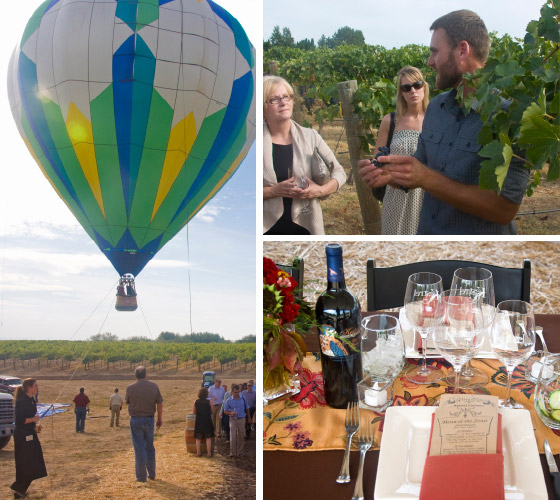 Tantalizing tables of antipasti appeared: Salumi cured meat platters, Italian cheeses including fontina, gorgonzola, brigante and pecorino. Sun-ripened heirloom tomatoes drizzled in olive oil from the winery's garden, Tuscan corona beans and Mediterranean tuna, huckleberry braised goose, scallop carpaccio, wild mushroom pate' and what was likely the star of the antipasti scene, an eggplant Caponata dish made by Dave Berto, one of the owners of the Metropolitan Market, which paid tribute to his Italian grandmother's original recipe.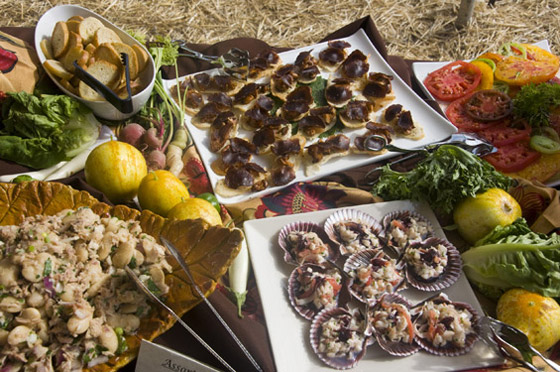 Whole lamb, pig, and goat were slowly roasting over open barbecue spits tended to by Batali's son, Dana, who works for Pixar these days but volunteered like any good Italian son would.  Folks settled in around the elegantly set table over glasses of wine to hear more live music accompanied by piano with the estate vineyard as a backdrop.  An intriguing wild yeast Chardonnay was served with the intermezzo course, followed by a monumental wine selection of Sauvignon Blanc, Old Vine Chardonnay, Sangiovese, Mourvedre, Malbec, Old Vine Cabernet, and Raptor Red.
Il Primo (the first) course was then served.  Chefs marched out with large pumpkin-sized pasta drums, called Timpano.  This southern Italian dish was the star of the Hollywood movie and the muse for Kestrel's Big Night.  Filled with meatballs, penne pasta, hard-boiled eggs, salami and cheese, when sliced it was like lasagna on steroids.
Il Secondo (the second) course featured Spitare Arrosti, which were the barbecued pig, lamb and goat that had been marinated in various wines to enhance flavors and exude aromas.  Il Contorno, the side dishes, included tri-colored fingerling potatoes wrapped in herbs, seasonal grilled vegetables and Bucatini pasta.
When someone inquired if there was possibly any of co-fermented Syrah available, South African-born soft-spoken assistant winemaker Dirk Brink jumped up from his seat and said he'd find some.  Twenty minutes later Brink magically appeared with a bottle ­­­­— one had to wonder if possibly he had made a trip back to the winery in order to fulfill this request? Ever polite and the consummate gentleman, his lips were sealed.
The enchantment grew. With encouragement from the choral troupe, there was impromptu dancing and sing along's from the well-satiated and merry crowd as the sun crept lower into the golden sky.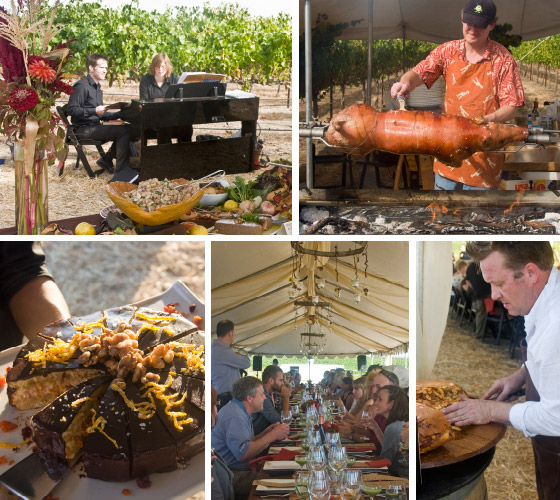 La Dolce, the dessert course, included orange walnut cassata, a sponge cake soaked in a traditional walnut liqueur, called Nocino, crafted by Skip Rock distillery.  Lemon polenta cake, chocolate truffles, pear almond tarts, pistachio macaroons, jellied fruit and berries were marched out in prompt succession and paired with Semillon Ice Wine, followed by rich dark roasted coffee.
Some heartfelt thoughts were shared from head winemaker Flint Nelson, general manager J.J. Compeau, Chef Armandino Batali and others.  Chef Jessica Smith of Kestrel finally appeared from behind the scenes, having worked in the trenches overseeing the entire feast all day.  Elated and exhausted, Smith tested recipes for several weeks prior to this inaugural event.
The final act, paralleling the movie, saw guests laughing together and leaving as friends after sharing good food and wine throughout the day.  A cut above Hollywood's version, this real life extravaganza was set in the rich fertile vineyards during the midst of grape harvest. With full satisfied bellies, guests slowly wandered back to the chauffeured charter bus as a luminous harvest moon began rising on the eastern horizon at the exact moment the sun was setting in the west.  As they say in Hollywood, it was "a wrap."
By John & Adean Vitale