Under his Piggyback Cellars label, executive chef Brian Scheehser of Trellis at the Heathman Hotel Kirkland brings the farm to the table—and glass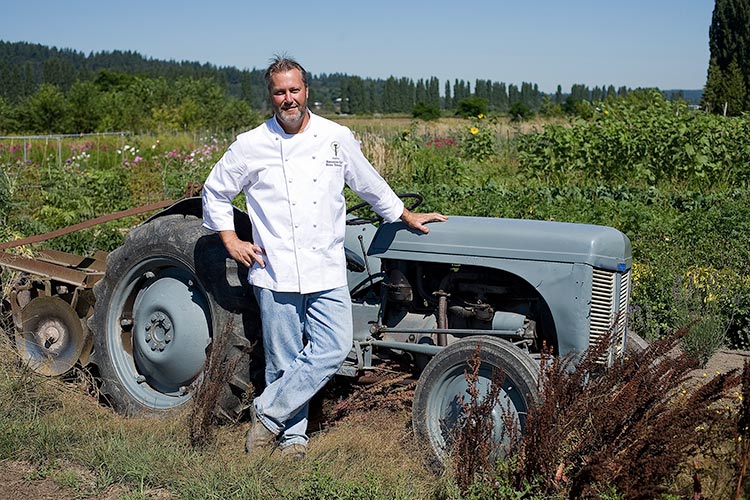 Click here to view the actual pages of this article as published in the Summer 2016 issue
AS A CHEF, Brian Scheehser has always loved working with the freshest ingredients at the height of ripeness—perfect heirloom tomatoes, for instance.  But these ingredients are spendy, and supply can be unreliable.  So 15 years ago, he started growing his own produce on one acre in Woodinville.  Today, he's in farmer mode, as he pulls his dusty red farm truck up in front of The Heathman Hotel and Trellis restaurant where he is executive chef.
We drive under the rushing Saturday traffic of I-405 towards Woodinville, and pull off into a muddy dirt road, the entrance to South 47 Farm.  A rusty old tractor greets us, now in its 'out-to-pasture' status among a field of bright yellow broccoli blossoms.  He gives me a tour, just getting ready for spring plantings, with cover crops covering fields, and pear blossoms beginning to bud.
"Growing heirloom tomatoes is a selfish indulgence," he says.  "To have this amazing, high-value product is wonderful."  Slowly, he says, the farm grew from one acre to 18, with part of the 47-acre parcel being farmed for another renowned restaurant, The Herbfarm.
Now he grows 2200 tomato plants of a wide variety, from big beefsteak tomatoes down to small orange varieties and exotics like green zebra, spread over several greenhouses.  An apple, pear and quince orchard is set in the middle of the property, with bee boxes nearby to give the pollinators easy access to their favorite blossoms.  Around the edges, Scheehser grows rows of yellow beans for pickling, blackberry and raspberry canes for preserves, onions for tasty onion marmalade, a harvest of 4500 pounds of winter squash, artichokes, asparagus and more.
"We plant only what we like," he says.  "Every year things have grown, but each year is also different, weather-wise.  We try to extend the season by canning, pickling and preserving our harvest."  This year his 1200 quarts of tomato puree, preserved applesauce, onion jam and winter squash lasted into February, giving diners a taste of summer in winter months.  Early in the year, he starts sautéing the spring garlic as it sprouts, keeping the supply of fresh produce going for a good portion of the year.
While many chefs work closely with farmers to choose great produce, Scheehser has been connecting field and table, completing the full circle.  He's a master experimenter, finding creative ways to use the farm's bounty, and working with other food artisans.  For instance, he created an award winning carrot-nasturtium Monterey Jack cheese with Cherry Valley Dairy that grabbed kudos at the American Cheese Society tasting in 2013.  Scheehser's experimentation then extended from the plate to the glass that accompanies a meal.  In 2013, he teamed up with Lompoc Brewing's Bryan Keilty in Portland, Oregon to create a blackberry-thyme golden ale with berries and herbs from the farm.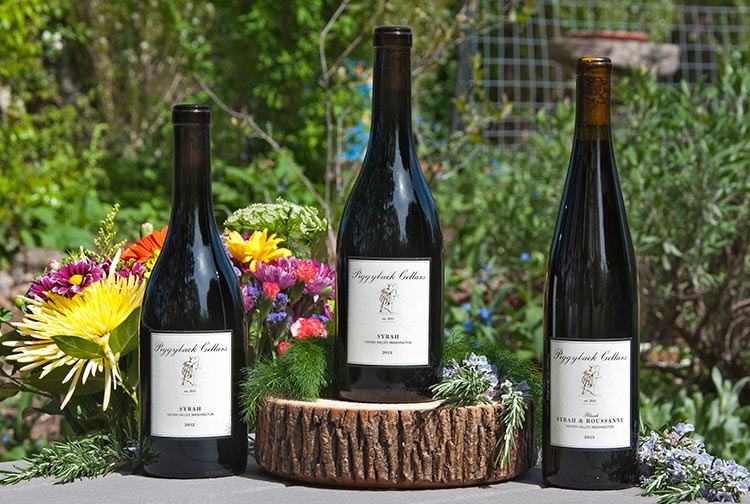 The Birth of Piggyback Cellars
From his interest in farming, came a desire to grow grapes and make wine.  "I wanted to try to make some wine that would be a style to complement the food we are making," he says.
With the guidance of local winemakers Morgan Lee of Two Vintners, as well as John Bell of Willis Hall Winery, both in Woodinville, Scheehser started with two barrels—about 55 cases—of a 2012 Syrah, and named his project Piggyback Cellars, for the process of working with existing wineries.
Since the 2012 vintage, he's grown the amount he's making to a dark Rosé and two reds.  The Rosé —a "blush"—blend of Roussanne and Syrah is a delightful light red with bright acidity and ripe cherry fruit flavors that pairs well with lighter foods such as salmon and cheeses.  This wine pairs well with Trellis' beet salad with orange segments, frisée and citrus vinaigrette, or the luscious seafood soup with salmon, prawns, Penn Cove mussels and clams, steamed in a tomato saffron broth.
The 2013 Syrah has aromas of fennel, milk chocolate and sweet candied plum, with moderate tannins and good fruit.  "It rained during harvest in 2013, whereas 2012 was a drier year," says Scheehser.  The 2012 vintage has riper, softer more concentrated fruit, whereas the 2013 has a complexity of dried herbs and a pleasant dusty aroma.
In 2015 he harvested Tempranillo, again from Charlie and Connie Crawford's Yakima Valley vineyard, and he's excited to see what this food friendly grape will do.  "I've been using neutral oak exclusively, and this year there will be some new oak, so it will be interesting to see what happens."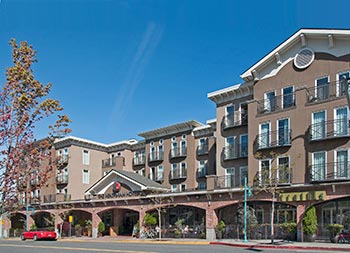 The Heathman Experience
Scheehser's passion for experiment-ation and openness to trying new things has kept the menu at Trellis interesting as well, with a menu that changes seasonally, depending on what the farm is producing, and what meats, poultry and seafood are available.  The menu has quite a range of options, pulling from regional and West Coast producers, including appetizers of snails Bourgogne with grilled crostini and mushrooms, shaved zucchini carpaccio with roasted pepper, endive salad and marinated anchovies, to a seared duck breast with braised endive, watercress, poached pear, brandied cherry essence.
Like Chef Scheehser's approach to food and wine, the Heathman experience itself offers an artist's palette of colorful options.  The well-appointed rooms, meeting spaces and lobby are hung with interesting paintings and sculptures, and with the restaurant connected, it makes a weekend away a great opportunity to dine, sip and sleep all under the same roof. Central Kirkland is just blocks away, and the quaint downtown is bustling with daytime shopping and nightlife in pubs, wine bars and restaurants.
Some of the most impressive Trellis dinners aren't even at the restaurant, but on the farm itself.  Periodically, Chef Scheehser will host a farm-to-table lunch in his fields, with tables spread among the trees and rows of vegetables.  With great food served on the spot its grown, where the chef is also the farmer, cheesemaker, brewer and winemaker, this event gives food lovers the unique opportunity to see the creativity and bounty of the farm, when the circle closes and the table is full.
Written by Shannon Borg
Piggyback Cellars 2012 Yakima Valley Syrah, $31
Editor's Choice – Excellent
A lighter-bodied Syrah with aromas and flavors of fresh-picked cherry, juicy red currant and shaded with herbs and forest floor.
Piggyback Cellars 2013 Yakima Valley Syrah, $29
Editor's Choice – Outstanding
Enticing aromas of red stone fruit and mocha lead to concentrated flavors of ripe plum, anise and a bouquet of dried herbs. Pillowy tannins complement the finely-tuned finish.
Piggyback Cellars 2013 Yakima Valley "Blush" Syrah & Roussanne, $24
Editor's Choice – Outstanding
Nimble and light-toned, this fascinating 50/50 blend of Syrah and Roussanne displays aromas and flavors of cherry, tea leaf, soft spice and delicious fresh acidity, making it sublimely food-friendly.
Wine & Dine Now
Trellis Restaurant
Breakfast, lunch & dinner daily
Happy Hour: 2-6pm, PH: 425-284-5900
Book a Heathman Hotel Kirkland Getaway
PH: 425-284-580
220 Kirkland Ave, Kirkland WA
www.heathmankirkland.com