We pair wines with Big Boy Blue and Lilly Pad cheeses from Willapa Hills Creamery located on the Chehalis River in southwest Washington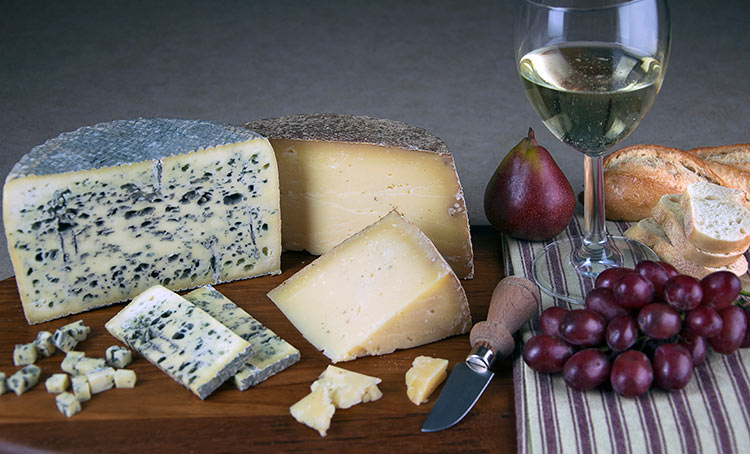 As featured in the Winter 2016/2017 issue of Washington Tasting Room magazine
WILLAPA HILLS CREAMERY is part of a historic 146-acre working farm in southwest Washington State, where owners Stephen Hueffed and his wife, Amy Turnbull, have been churning out award-winning cheeses since 2008.
"We both love blue cheese and in the beginning, that was all we made, four varieties of blue cheese," says Stephen.  "All of our blues have been very accessible, meaning they appeal to a wide range of palates, even loved by those who previously claimed not to have liked blue cheese."
Their motivation for making cheese and starting their own business was a result of the couple's desire to seek a lifestyle and an environment in which to raise a family.  The cherub-like faces of their three children adorn a few of the packaging labels and serve as a reminder "why we do what we do and why we live where we live," says Stephen.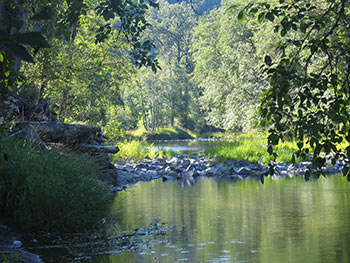 The upper part of the Chehalis River runs smack through the center of the family's farm, whose banks flow higher in the wetter months and is tame as a millpond in summertime.  Like the constant ebb and flow of the river, the farm has been a work in progress as Stephen and Amy have adapted to the rigors of managing a successful family farming and creamery operation.  Where they once milked 160 dairy ewes and raised nearly 300 lambs a year, today they raise Angus cattle, a herd of goats, a flock of 30 laying hens, seasonal swine and a team of Percheron draft horses.
In 2017, they will begin planting test gardens of native and semi-native plants, mushrooms, berries and medicinal herbs to use in their farm store and tasting room, and possibly offer a sort of "U-Pick" specialty operation for chefs. Visitors to the farm can look forward to occasional classes, music and other events as changes continue to progress.
The Cheesy Stuff
Big Boy Blue and Lilly Pad are both made from grass fed cow's milk sourced fresh from nearby family-run dairies.
Big Boy Blue Pairings
A semi-soft cheese, creamy and smooth yet with a toothsome mouthfeel.  Vegetal notes of white truffle, mushroom and hay follow fresh and briny flavors; this is a mild-mannered blue with restrained pungency and elegant saline aftertaste.
What to sip: bold red, earthy wines like Syrah, Cabernet, or your favorite red blend. Try with sparkling wine, too.
Food pairings: excellent with fresh fruit, fig jelly, or dice and sprinkle over salad.
Lilly Pad Pairings
An alpine style cheese inspired by classic Gruyere.  Semi-firm, with a smooth buttery flavor balanced with a mild-edged nutty sweetness, finishing with subtle notes of meadow grass and caramel.
What to sip: sparkling wine, Pinot Gris, Pinot Noir, or a buttery-oaked Chardonnay
Food pairings: Munch on its own or try grating this versatile melting cheese onto a warm bowl of vegetable soup or adding into mushroom quiche, or mac and cheese.
Find the Cheese
Willapa Hills cheeses can be found in Washington and Oregon at the following retail outlets: Whole Foods Market, Metropolitan Market, PCC, Town & Country, Central Market, Fred Meyer, QFC and many independent stores, cheese shops and fine dining establishments.
Written by John Vitale
Visit Now
Willapa Hills Farm Store
Open daily
(360) 291-3937
4680 State Route 6, Chehalis, WA
Online Cheese Store: www.willapahillscheese.com
Experience the Farm: www.willapahillsfarm.com