At Eye of the Needle Winery, Bob and Lauren Bullock spend time sleuthing vineyards to fulfill their quest for quality wines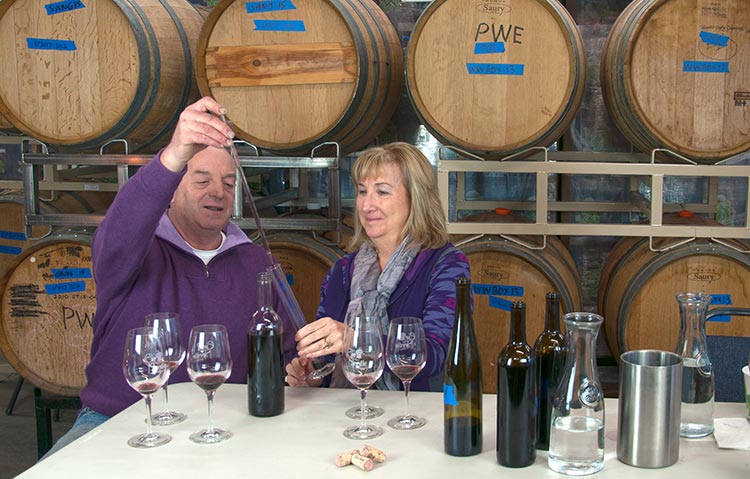 IT'S RARE to find Pinot Noir blended with other red varieties—unless your name is Bob Bullock who, along with his wife Lauren, are the proprietors of Eye of the Needle Winery. "I knew when I bought that Pinot Noir, I could blend it with Cabernet," says Bob with his usual enthusiasm, talking about one of his proprietary blends called The Eye, roughly a 60/40 blend of Pinot Noir and Cabernet Sauvignon.
In this case, Bob found the Pinot Noir at a site in the Lake Chelan AVA, while the Cabernet, on the other hand, was grown in Yakima Valley at Dineen Vineyard. Two different AVA's, two vastly contrasting grapes, yet when blended together make an utterly harmonious wine that is structured and silky, with dark fruit of black raspberry, cherry and plum, layered with anise, sage, coffee and fine tannins.
The Bullocks consider themselves "private eyes" in the world of wine—sleuths whose mission is to acquire gems from assorted producers and bring the finished results together at their own winery in Woodinville. "Negociant is a French term. It's a very common practice in Europe," Bob explains about his craft. Meaning merchant, the negociant profession originated in France's famed Burgundy region, allowing those who purchase grapes or grape byproducts to complete the process of vinification on their own, essentially becoming the winemaker.
Or, a negociant can buy finished wine in bulk, as the Bullocks frequently do, and continue the aging process, even bottling it with other wines as an exclusive blend under their own label.
"The fruit pedigree is first and foremost," says Bob, pointing out the criteria he looks for most. "It all starts in the vineyard. And then obviously, of course, the producers are the other key ingredient." He places a lot of value on his personal relationships with other wineries and vineyards.
The Bullocks' business model is based upon the fact that many producers, big and small, sell off premium quality bulk juice at a discount because they simply produce more wine than they can sell. "If you're on an acreage contract and it's a heavy year, you can't just drop the fruit and let it rot. You're better off to produce it, pick the barrels that you want to keep, and sell the rest. To me, it's basically the same as 'declassified' Burgundy and Bordeaux," says Bob. "Mother Nature is my best friend because when she's good with big years, it absolutely helps us."
Lauren attributes their ability to obtain quality wine from top-end producers to Bob's earlier career working for a wine distributor. "He's been in this business since the 1980's and knows a lot of people," she says. "And, the quality of wine that we bottle under our label encourages those that want to sell their wine to call us." Eye of the Needle wines have garnered accolades and awards, ranging from gold medals to best-of-show recognition.
The Bullocks have built their business on a simple premise: quality wines at strong values. "Our goal is to create bistro-type wines that pair up with a lot of food, that are nice and easy to drink," says Bob. "Our winery was founded on blending wine for the Sunday through Thursday drinker."
More recently, the Bullocks have expanded their lineup to include a number of higher-end bottlings produced in small lots  (like these two releases), yet still reflective of prices that many connoisseurs would easily consider a bargain. You don't need to be a detective to get your hands on Eye of the Needle wines—their tasting room is open to the public every weekend in Woodinville's Winery Warehouse District.
Written by John Vitale
Visit & Taste
Eye of the Needle Winery
19501 144th Ave NE, Building D1200, Woodinville, WA 98072 (map here)
Phone: (888) 881-7110
Hours: Saturday & Sunday 1-5pm
Website: eyeoftheneedlewinery.com