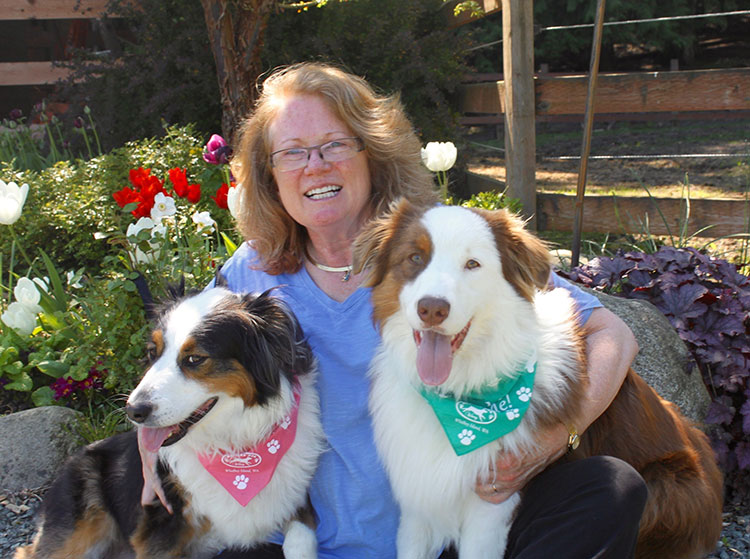 Breed: Australian Shepherds
Duties: Greet tasters and guard the vineyard (from birds)
Alpha Pack Leaders: Karen & Jack Krug
Ruff Notes: We are dedicated to making exceptional handcrafted fine wines and honoring spoiled dogs.  Expect to be greeted by our friendly dogs, who in addition to being the namesake of the winery, are prominently showcased on our labels.  Sami is still teaching puppy Brix the ropes about being a vineyard dog.  They diligently guard the grapes and play in their spare time.  After a hard day of work, they enjoy running on the beach.
What To Taste:
• Estate Pinot Noir
• Deception (named after Deception Pass, a blend of Merlot, Cab Franc, Malbec)
• Sauvignon Blanc
Our Mission:
"Spoiled Dog Winery is a small, family-owned business. We believe great wines begin in the vineyard and our grapes are our passion. Using sustainable growing practices we are committed to providing our customers with a selection of high quality fine wines sourced from our own vineyard and select Washington & Oregon vineyards that utilize biodynamic or certified organic growing practices."
Our boutique winery produces a limited number of cases per year that are only available at our winery and select restaurants in the local area. We offer each of our guests an inviting tasting atmosphere where they can enjoy our wines, surrounded by the natural beauty of our vineyards and farm.
Find Us:
www.SpoiledDogWinery.com
Visit at 5881 Maxwelton Rd, Langley, WA 98260
Phone: (360) 661-6226
Located minutes from the Clinton ferry on the South end of Whidbey Island and just 1/4 mile South of Highway 525 at Craw and Maxwelton Rd.