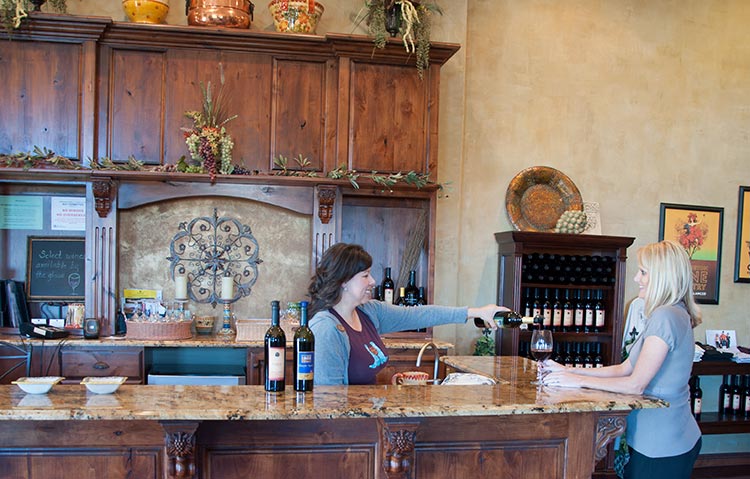 Yakima Valley, Wash. — January 22, 2018 — A weekend getaway to sunny Yakima Valley will warm the heart of your special Valentine during the annual Red Wine & Chocolate event weekend February 17-19, 2018. When properly paired, the red wine and chocolate combination creates a delightful indulgence.
As part of this Yakima Valley festival, wineries from Yakima, Zillah, Prosser and Red Mountain and surrounding area will be offering a weekend of divine decadence with the Premier Pass for $30, the only way to experience the depth of the Yakima Valley during Red Wine & Chocolate weekend.
Premier Pass holders will receive access to exclusive pairings, library tastings and tours not available to the general public. Select featured wines are available to take home for deep discounts for Premier Pass holders. The Red Wine & Chocolate Premier Passes can be purchased in advance by February 15 for $30, at www.wineyakimavalley.org, or for $35 at wineries during the event weekend.
Meet some of the Yakima Valley's most talented vintners during this memorable weekend and experience the bold, intense wines that characterize this premier wine region.
The following are just a few examples of the benefits of Premier Pass holders:
Chandler Reach Vineyards – Join our family in the celebration of Red Wine and Chocolate Saturday and Sunday from 11am-5pm. At the estate vineyard tasting room we will be offering a first-class wine tasting followed by decadent chocolate truffles and an array of savory cheeses. Complimentary wine tastings will be offered to Wine Club Members or Premier Pass holders. In honor of this delicious event we will have wine specials ALL weekend long.
Covet Cellars — Join Yakima Valley's newest winery for Red Wine & Chocolate. Premier Pass holders receive a waived tasting fee and $5 coupon off any bottle purchase.
Knight Hill Winery — Introducing a new shade of red: lovely, garnet colored Grenache.  This will be paired with the popular blend of dried tart cherries, pepper pistachios and dark chocolate drops.  Waived tasting fee for Premier Pass holders.  Open 11-5 daily.
AntoLin Cellars — Fill your senses with a complimentary chocolate-dipped treat. Enjoy a flight of white wines for $4 or $6 for a flight of red wines. Premier Pass holders receive complimentary wine tastings. Enjoy the fine art of Becky Melcher. Enjoy live music from 7-9pm both Friday and Saturday night. Event tastings available 10am- 5pm.
Tanjuli Winery — Taste the magic during this weekend with Pinot Noir, Carmenere, Nebbiolo, Malbec, and assorted chocolates. White wines include Picpoul Blanc, Viognier and Orange Muscat. Tasting fee waived for Premier Pass holders and Wine Club Members. Open 10:30am – 4:30pm during this event weekend.
About Wine Yakima Valley
Yakima Valley is the backbone of the Washington State wine industry. It was the first appellation to be established in Washington State and remains the most significant growing region. Yakima Valley vineyards supply half of Washington's wine production. Learn more at https://wineyakimavalley.org.