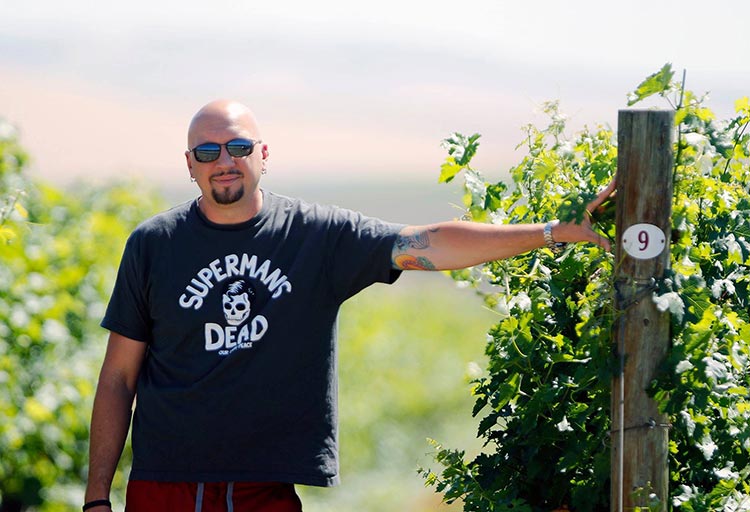 January 26, 2018 — The Washington Wine Industry Foundation (WWIF) is pleased to announce the inaugural Bill Powers Sabbatical award to Brad Binko, a certified Sommelier who graduated from the Enology and Viticulture program at the Walla Walla Community College in 2016. Brad is the founder and head winemaker of Drink Washington State and Eternal Wines in Walla Walla. Eternal Wines is focused on single vineyard Rhone varietals, while Drink Washington State is focused on blends from Washington and is AVA specific. The entrepreneurial winemaker will travel to Chile in March 2018—just ahead of the Chilean winegrape harvest—learning about their vineyard and winery practices.
Why Chile?  "I wanted to go to Chile because of Carménère," Brad told Washington Tasting Room Magazine. "I believe its an up-and-coming grape in Washington State, however they have been crafting kick-ass Carménère for decades there. I also want to study old vines and see if there is any information I can take home to Washington to benefit our wine industry. Chile is often overlooked and I think it has a lot to teach us!"
In honor of Bill Powers, the late owner and general manager of Badger Mountain Vineyard, his family and associates developed the Bill Powers Sabbatical Fund to enable a degreed professional currently employed in the Washington State grape or wine industry to undertake a sabbatical in an established wine-producing region of the world to learn about an aspect of winegrape growing and/or winemaking that will further their professional career and benefit the Washington grape and wine industry.
"The Powers Sabbatical gives me the opportunity to not only experience another country and culture, but also the tools to bring back knowledge that can help the Washington wine industry for years to come," Binko shared in response to being selected.
The Sabbatical awards up to $5,000 to one individual currently working in the Washington State grape or wine industry with five years of experience in viticulture or enology. Funds may be used for travel, room and board, and other educational-related expenses. WWIF manages this sabbatical fund and award process on behalf of the Powers family.
The 2018 Powers Sabbatical has launched and the deadline for application submittals is May 1, 2018. An award is made once per calendar year.
To learn more about Sabbatical eligibility or to apply, please visit: www.washingtonwinefoundation.org/scholarships