Prosser, Wash. — January 6, 2017 — The Walter Clore Wine and Culinary Center is thrilled that Wine Program Director April Reddout has been invited to participate as a judge in the 2017 San Francisco Chronicle Wine Competition. This year marks the 17th competition and judging will take place next week. April joins a panel of 65 judges which includes wine industry professionals from media, hospitality, retail wine buyers, winemaker & industry representatives, and wine education professionals. The competition is expected to include nearly 7,000 wines this year.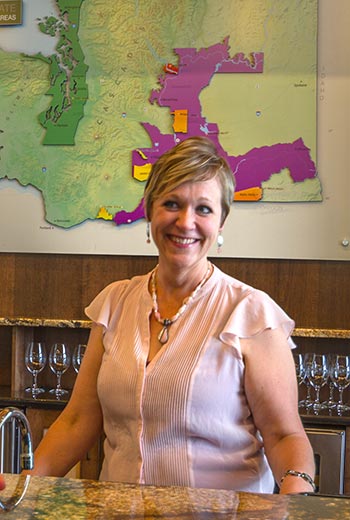 April joined the Clore Center before it opened in 2014, and has been the architect of its wine program, ticketed events, and many of the Center's activities. Under April's direction the Clore Center has developed a wide reaching and ever changing selection of wines for daily tasting, and a slate of popular programs including Blind Tastings, and the Washington vs. the World series, both offered multiple times each month. She also brought great talent and direction to the Center's inaugural Rising Stars event in 2016, which will now become an annual tasting event featuring Washington's newest wineries.
"April is a tremendous talent. Her passion and knowledge have shaped the entire Clore Center experience and we are thrilled to see her skills recognized by the San Francisco Chronicle Competition," says Abbey Cameron, Executive Director of the Clore Center. "She is a true wine professional, and a top notch representative for the Washington wine industry."
April has earned the Wine & Spirits Education Trust Level 2 and is pursuing her Level 3 certification. She has judged many competitions including Savor Cannon Beach, Cascadia Wine Competition, the Great Northwest Invitational, and the Platinum Competition.
The Clore Center is open daily for wine tasting from 11-5pm with a café menu from Ethos Trattoria. The Center also offers a full calendar of events and activities, visit www.theclorecenter.org or www.facebook.com/clorecenter for details.
About The Walter Clore Wine and Culinary Center
Named after the late Dr. Walter J. Clore, the Walter Clore Wine and Culinary Center is a centrally located, must-see learning center that promotes Washington State wine and food by actively engaging visitors to experience and realize the quality and diversity of Washington's wine and food products. The Clore Center is located on 16 acres of scenic view property overlooking the Yakima River and Cascade Mountains. The property and buildings are owned by the Port of Benton, and the project is operated by the Walter Clore Wine and Culinary Center Board of Directors. Dr. Clore began his life's work in 1937 studying vinifera grapes and their potential for growth in Washington soils. His research, a cornerstone of the industry's development, earned him official recognition from the Washington State Legislature as the "Father of the Washington Wine Industry."