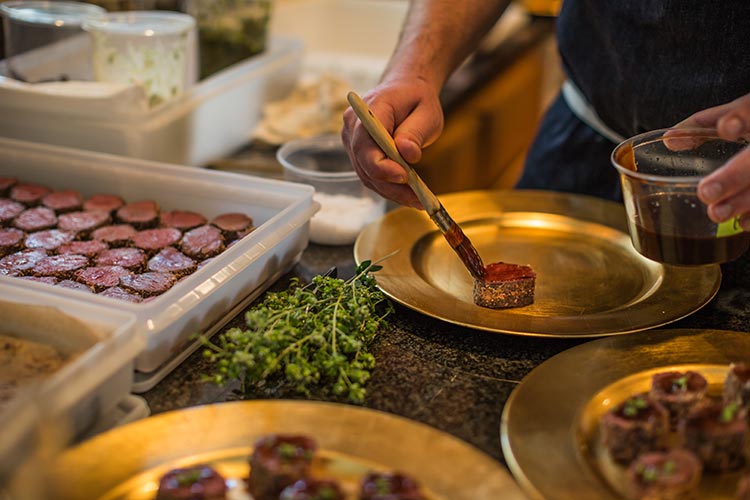 Ashland, Oregon — July 28, 2015 — Oregon winemakers and film lovers paired up to help Ashland Independent Film Festival (AIFF) raise money to close out their fiscal year in style. The exclusive $500 per person event featured two of the top Tempranillo winemakers in the Rogue Wine Country, Terry Sullivan of Upper Five Vineyards and Rob Folin of Folin Cellars.
Hosted by AIFF board president Maylee Oddo and local wine guru Tika Squires, the small gathering of wine and film geeks raised well over its goal of $10,000. Moderated by wine aficionado Dr. Peter Adesman, the boutique fundraiser's unique symposium-style format gave wine-loving AIFF donors a rare opportunity to enjoy in-depth interaction with winemakers.
Fueled by food pairings created by Chef Josh Dorcak of The Public House, Ashland's newest gastropub, winemakers and guests continued talking Tempranillo late into the evening long after the event officially ended…much to the surprise of the producers. Chef Josh created custom dishes designed to pair with Tempranillos donated by Upper Five Vineyard, Folin Cellars, RoxyAnn Winery, and Ledger David Cellars.
"We chose Tempranillo as an example of a varietal that is uniquely expressive of the microclimates in the Rogue wine region," shares AIFF board member and co-host Tika Squires. " Tempranillo seems to do well here, and we wanted to give AIFF wine lovers an opportunity to explore why with some of our up-and-coming region's leading producers."