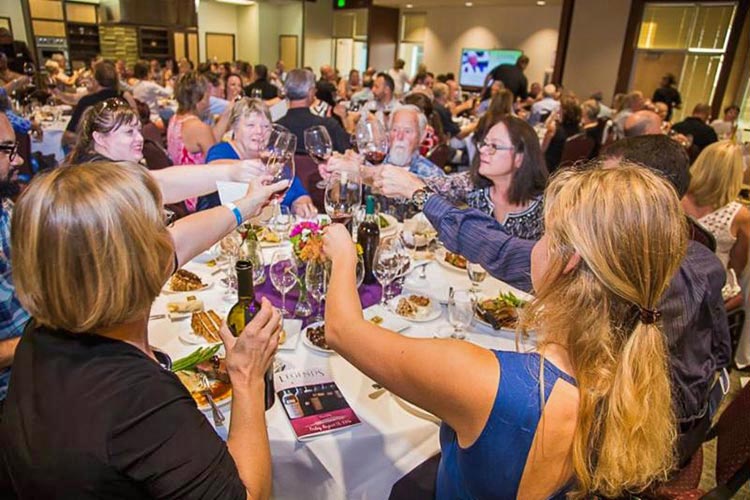 Prosser, Wash. — November 30, 2017 — Nominations are now being accepted for the 2018 Legends of Washington Wine Hall of Fame. Legends is the Walter Clore Wine and Culinary Center annual fundraising gala which honors individuals who have made an impact on the Washington wine industry for 25 years or more. A new Legend is inducted annually from nominations received. Nominees may be winemakers, researchers, educators, philanthropists, journalists or other individuals who have made significant and lasting contributions to the industry.
The Legends Hall of Fame includes: S.W. "Bill" Preston, John & Ann Williams, Jim & Pat Holmes, Stan Clarke, John N. Anderson, David Lake, M.W., Bill Powers, Dr. Myles J. Anderson, George Carter, Mike Hogue, Allen Shoup, Don Mercer, Dr. Charles Nagle, and Doug Gore. Each Legend is honored with a bronze plaque which is on display at the Clore Center for view by daily visitors to the tasting room.
Nominations forms will be accepted through December 31, 2017. An inductee will be selected by a panel consisting of Legends Hall of Famers and Clore Center board members based on nomination criteria. A final decision will be made by January 15, 2018. Click this link for more information and to view past inductees of the Washington Wine Hall of Fame.
Mark your calendar: The 2018 Legends Gala will take place the evening of Friday, August 10th at the Clore Center. This fundraising event will include a social hour, followed by an elegant dinner, induction of the newest Legend, a live auction, and paddle raise. All proceeds benefit the Clore Center's annual programs and events. Registration and sponsorship details are available at www.theclorecenter.org.
About The Walter Clore Wine and Culinary Center
Named after the late Dr. Walter J. Clore, the Walter Clore Wine and Culinary Center serves as a central gathering place for consumers and industry to discover Washington wine and agriculture through innovative programs and engaging events. Dr. Clore began his life's work in 1937 studying vinifera grapes and their potential for growth in Washington soils.  His research, a cornerstone of the industry's development, earned him official recognition from the Washington State Legislature as the "Father of the Washington Wine Industry."