The Mercer family, the first to plant vinifera in Washington's Horse Heaven Hills in 1972, announces the September 1 launch of the inaugural Eagle & Plow BLOCK 93 Cabernet Sauvignon, a new label created to support and benefit the servicemen and women and their families who have been impacted by the war on terrorism and those who continue to serve and protect.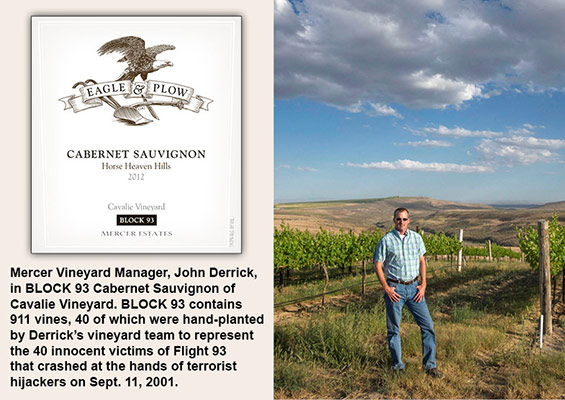 Eagle & Plow is the Mercer family's most recent charitable initiative inspired by the family's close connections with the September 11, 2001 tragedies and history of service in the United States military. Mercer Vineyard Manager, John Derrick, lost his best friend, Richard Guadagno on United Airlines Flight 93. The 2012 Eagle & Plow BLOCK 93 Cabernet Sauvignon is sourced from a one-acre block, on the family's Cavalie vineyard.
BLOCK 93 contains 911 vines, 40 of which were hand-planted by Derrick's vineyard team to represent the 40 innocent victims of Flight 93. The wine has a suggested retail price of $100 and $350 for 750 ml and 3L bottlings, respectively, and will be available in select markets including California, Florida, Georgia, Massachusetts, New Hampshire, New York, Oregon, Pennsylvania and Washington State. All sales proceeds will be donated to commemorating organizations such as the Children of Fallen Patriots Foundation and Friends of Flight 93.
According to Mercer President and former US Marine Corps Captain, Rob Mercer, "The name, Eagle & Plow, exemplifies hard work and patriotism—qualities that are important threads in the Mercer family fabric.  With this label, we want to create a lasting benefit for servicemen and women and their families."  Mercer first served in the 1990's and reactivated his service after the September 11 attack.  He served additional tours of duty in Iraq from 2007 to 2008.
In addition to the charitable donations to Children of Fallen Patriots and Friends of Flight 93, the Mercers regularly contribute to Washington State University and the broader wine community. In February 2014, the family donated $250,000 to WSU's Wine Science Center, which will provide research and education to wineries in the Pacific Northwest and beyond.  In addition, Rob Mercer serves on the board of the Washington State Wine Commission, which hosts the Auction of Washington Wines. This annual fundraiser contributes to uncompensated care at Seattle Children's Hospital and research at WSU. Throughout August, Mercer Wine Estates will donate one dollar from every bottle purchased to Seattle Children's Hospital through a joint program with Maryhill Winery and The Woodhouse Wine Estates.
About Mercer Wine Estates
The Mercer family farming tradition spans five generations.  The Mercers have been actively managing the same property in Washington since 1886, first raising row crops and livestock, and today overseeing 2000 acres of vineyards in the Horse Heaven Hills AVA.  The family involvement in the wine industry began in 1972 when Don and Linda Mercer were the first to plant wine grapes in the Horse Heaven Hills after being encouraged by Washington wine industry icon, Dr. Walter Clore.  In 2005, Rob and Brenda Mercer founded Mercer Wine Estates, which includes three tiers of estate wines plus a single label dedicated solely to charity: Mercer Estates, Mercer Estates Reserve, Mercer Canyons and Eagle & Plow. The Mercers are known throughout eastern Washington for their stewardship of the land, conservation efforts, patriotism and continued contributions to the community.