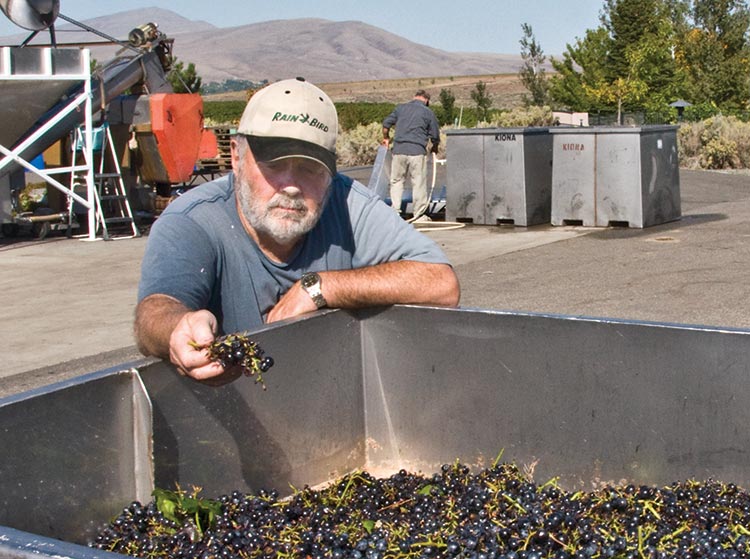 Prosser, Wash. — September 4, 2017 — If you've been fortunate enough to taste Lemberger wine grown in Washington State, you're likely among those who have fallen in love with this approachable varietal that tends to fly under the radar. If you have not yet tried it, don't let the name fool you—unlike the German stinky cheese of a similar name, this red wine is a perennial favorite of many industry insiders and aficionados.  The geniuses at The Clore Center, known for promoting the quality and variety of Washington Wine, have taken this variety and created a tasting event around it like no other. Lemtoberfest, a celebration of lesser-known red and white German varietals in the Pacific Northwest, is scheduled for Saturday, October 28, 2017 from 1-4 pm.
WHEN: October 28, 2017
TIME: 1-4pm
BUY EARLY & SAVE: $40 Early-Bird Pricing (Before Sept. 30*)
*$45 Regular Pricing
Must be 21+ to attend
Catered to enthusiasts of Lemberger, Grüner Veltliner, Müller-Thurgau, Gewurztraminer, Zweigelt, and Siegerrebe, Lemtoberfest is a twist on Clore Center classic events like Rising Stars, and Washington vs. the World, in a traditional Oktoberfest theme. Guests will enjoy unlimited tastings of wines from 30 wineries from Washington, Oregon, and Idaho. This event will also feature German-style beer in a mini beer garden, homemade bratwurst from Castle Event Catering, live music, and tons of fun.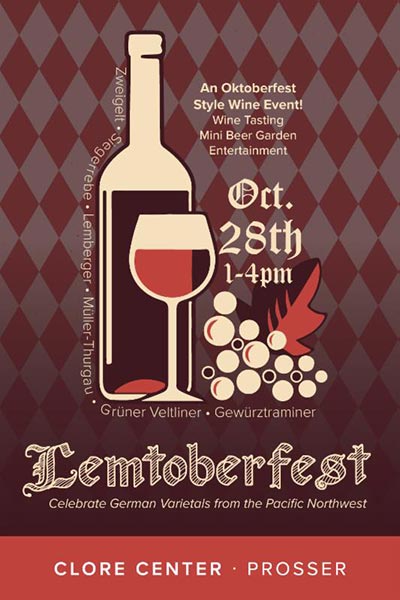 As envisioned by JJ Williams of Kiona Vineyards and Winery, Lemtoberfest is a venue for a niche subgroup of growers and winemakers to showcase their wines to the industry, enthusiasts and consumers. This event will allow guests to expand their palate and experience the deliciously complex German-style wines that exist beyond the Big Five (Syrah, Cabernet, Merlot, Riesling and Chardonnay).
Regardless of German connection or interest, Lemtoberfest-goers will not be disappointed with the festive afternoon, celebrating and sharing a unique, and often overlooked category of Washington Wine.
For more information, and to purchase tickets or sponsorship, please visit theclorecenter.org/events. Note: Early-bird pricing ends September 30th.
About The Walter Clore Wine and Culinary Center
Named after the late Dr. Walter J. Clore, the Walter Clore Wine and Culinary Center is a centrally located, must-see learning center that promotes Washington State wine and food by actively engaging visitors to experience and realize the quality and diversity of Washington's wine and food products. The Clore Center is located on 16 acres of scenic view property overlooking the Yakima River and Cascade Mountains. The property and buildings are owned by the Port of Benton, and the project is operated by the Walter Clore Wine and Culinary Center Board of Directors. Dr. Clore began his life's work in 1937 studying vinifera grapes and their potential for growth in Washington soils. His research, a cornerstone of the industry's development, earned him official recognition from the Washington State Legislature as the "Father of the Washington Wine Industry."