October 18, 2012 — Gorge Amphitheater concert goers know the tiny town of George because it's the closest place to stock up on gas, food and camping supplies for those attending outdoor music events at 'The Gorge at George' venue. Now, George and the nearby farming community of Quincy are made famous by another distinction — they are part of the Ancient Lakes of Columbia Valley viticultural area, which was today officially designated an AVA (American Viticultural Area) by the Federal Government. This makes it the 13th AVA in Washington State.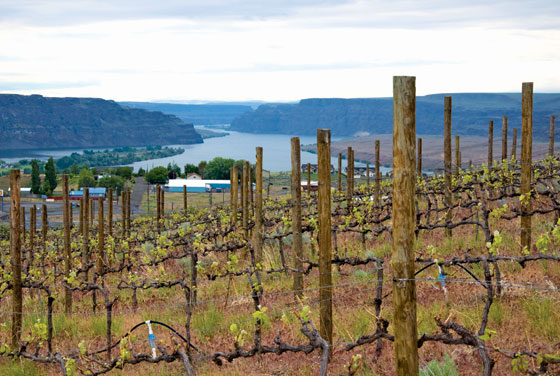 Scenic view along the Columbia River Gorge as seen from White Heron Cellars estate vineyard on a bluff above Cresent Bar Resort
Named after a cluster of small lakes (formed during ancient ice age times) that dot the Quincy Basin, the Ancient Lakes lies entirely within, and is approximately 0.01 percent the size of, the existing Columbia Valley viticultural area. Distinguishing features include topography, soils, and climate.
Plan A Wine Tour
Winery tours in the new AVA are easily accessible along major Interstate 90, which runs smack dab through the heart of the appellation. Tasting opportunities include Cave B Winery (along with Cave B Inn's range of room accommodations with stunning views of the Columbia River gorge, restaurant, spa, and beautiful grounds) near the town of George; White Heron Cellars, a boutique winery and vineyard run by European-trained vigneron and longtime activist for the AVA, Cameron Fries, whose winery is located on a scenic bluff overlooking Crescent Bar Resort and campground; Jones of Washington, a prolific producer and multi-generational agricultural grower in the region whose tasting room is in Quincy; St. Laurent Estate Winery is also in Quincy (as well as another tasting room in Wenatchee), and open by appointment and special events; Beaumont Cellars, maybe the newest winery on the scene but one that is already producing wines of acclaim at the hands of winemaker Pete Beaumont, a second generation farmer who is passionate about wine.
Where to Stay: 
Treat yourself to a room and dinner at Cave B Inn & Winery.
Coast Wenatchee Coast Hotel,has comfortable rooms and dining opportunitites, just 30 minutes from Quincy.
Or visit the Wenatchee Visitor Center's website
Editor's Note: Watch for more wineries and tasting rooms to populate in and around this hot new region, as well as upcoming wine events. Stay tuned with a mailed subscription to Tasting Room Magazine or sign up for our free newsletter.
Pictured below: The Ancient Lakes of Columbia Valley AVA is home to the Quincy Wildlife Recreation Area, a wetland habitat for birds and wildlife which is accessible year-round. A hiker's paradise, this photo shows some of the dramatic landforms and lakes that were carved out during prehistoric Ice Age floods.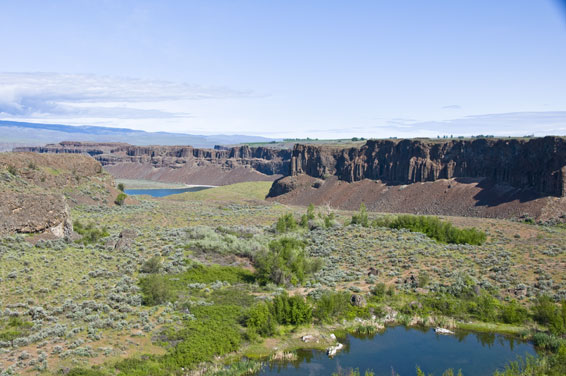 QUICK FACTS: ANCIENT LAKES OF COLUMBIA VALLEY AVA
Federal approval: October 18, 2012
Effective date for wine designates: November 19, 2012
Total size: 162,762-acres
Grape Production: Over 1,500 acres bearing fruit and/or newly planted
Current Grape Growers: Milbrandt, Jones of Washington, Cave B, Ryan Patrick, Stetner's Sunset Vineyards, and White Heron
Caliche deposits: Caliche, a whitish-colored sedimentary rock formed of hardened deposits calcium carbonate, is found throughout many (but not all) of the vineyards in this arid appellation, and lends a minerality to many of the wines grown here, especially noticeable in the white varietals.
Boundaries: The appellation is bordered by the Beezley Hills to the north and the Frenchman Hills to the south. The Columbia River marks much of the western border, and the eastern boundary falls along a man-made canal called the Winchester Wasteway.