Focused on benchmark Cabernet Sauvignon from Washington State, Double Canyon completes construction on West Richland winery facility in time for 2017 harvest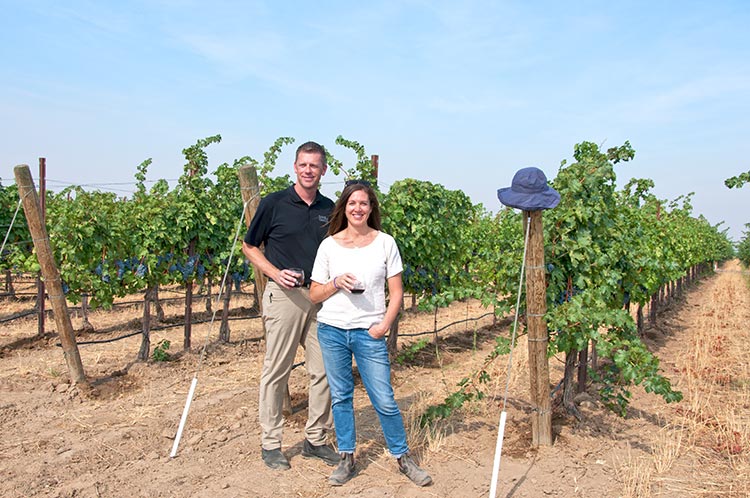 Article and photographs by John Vitale
September 18, 2017 — Standing among the perfect vine rows at Double Canyon Vineyard in the Horse Heaven Hills AVA and gazing at the bordering vineyards gives one a sense of historical perspective—from the famed Champoux Vineyard on the southern edge (site of the first grapes planted in the appellation in the early '70s) to the immaculate Phinney Hill Vineyard on the ridgetop to the southwest where viticulturist Will Beightol grew up in the tiny community of Alderdale. Today, Will is both general manager and vineyard manager of Double Canyon, founded a decade ago by Crimson Wine Group under the guiding principle of "making best-in-class Washington Cabernet."
"I grew up here, riding my bike past Champoux Vineyard and all over Phinny Hill as a boy, and was fortunate enough to join the Double Canyon project at its inception," says Will. He was the winery's first employee, hired to oversee the planting of the vineyard in 2007.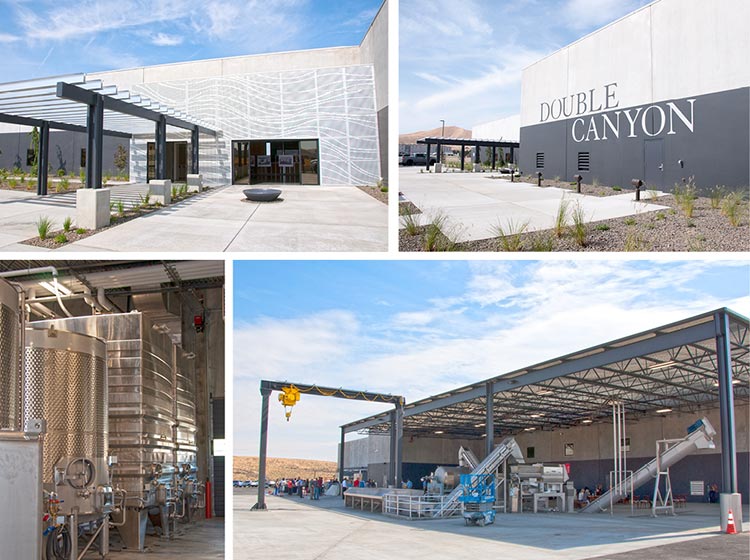 "The vineyard was planted generally in 2007 and 2008," he says. "We've added a couple of blocks and done a little bit of replanting since then. It's been ten years in the making." Will points out that the vineyard is in the process of becoming LIVE certified, the highest certification in the Pacific Northwest for sustainable environmental and socially responsible winegrowing practices. The vineyard is planted primarily to various clones of Cabernet Sauvignon with scattered blocks of blending components of Merlot, Syrah, Malbec, Cabernet Franc and Petit Verdot.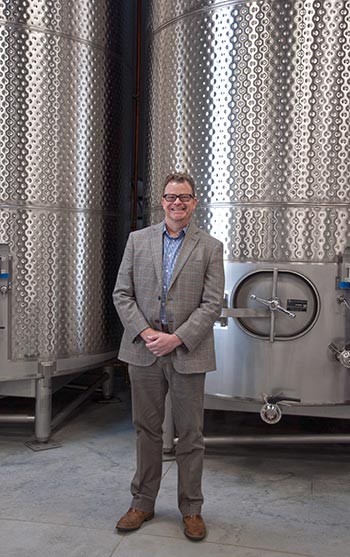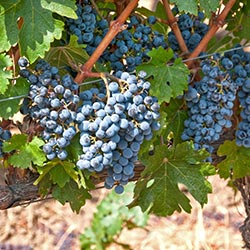 Will worked closely with a small team of experts from Crimson Wine Group to design and finish construction on a state-of-the-art winemaking facility in West Richland, Wash. in time for the 2017 harvest. The winery is in close proximity to the estate vineyard (and a short distance from Washington State University's Wine Science Center). Double Canyon's newly minted facility has the capacity for 50,000 cases with room to expand in the future.
The winery's newest face is Kate Michaud, recruited early in 2017 as winemaker. "I think the greatest gift this place has afforded me is the opportunity to focus on one varietal," says the former Covey Run winemaker. While she is keen on using blending components to craft wines of distinction, the priority at Double Canyon is all about producing the best possible quality Cabernet Sauvignon possible. "I'm eager to start work on the 2017 vintage, crafted within our own walls, and to get creative and explore how this new facility will propel us forward in our goal of producing world-class Cabernet Sauvignon," she says.
Patrick DeLong, president and CEO of Crimson Wine Group, confirmed the new facility will someday include a tasting room but in the meantime you can taste Double Canyon wines at The Estates Wine Room in Seattle, where red Bordeaux varietal wines from Seven Hills Winery and top-tier Pinot Noir from Archery Summit are also featured.