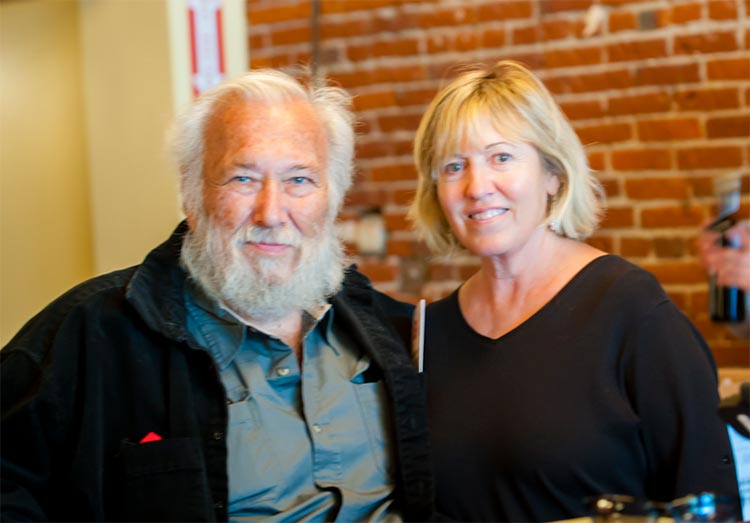 Prosser, Wash. — February 1, 2018 — Dick and Wendy Shaw have been selected as the 2018 Legends of Washington Wine Hall of Fame inductees. The Walter Clore Wine and Culinary Center is pleased to honor them with this award during the Legends Gala to be held on Friday, August 10th, 2018.
Dick and Wendy's impact and contribution to the Washington wine industry began in 1981. With the support of the local community, encouragement from Dr. Walter Clore and their own certainty in the future of the Washington wine industry, they planted 100 acres on the Wahluke Slope near Mattawa, WA. Over the next three decades they would significantly develop their vineyard operations and establish a reputation as one of the most efficient, reliable, and quality wine grape growers in Washington State.
Today the Shaws own approximately 2,800 planted acres in eastern Washington, 520 of which are located on Red Mountain, and they sell grapes to over 55 wineries in Washington and Oregon. Beyond vineyard operations they are involved with their own wine brands Henry Earl Estate Wines and Russell Creek Winery in Walla Walla, and are partners in J & S Crushing, a 20,000-ton facility in Mattawa, WA. Most recently, the Shaws established the Shaw Island Event Center in the Puget Sound, a venue for weddings, receptions, and wine-related events.
At the Auction of Washington Wines Dick and Wendy were selected by their peers as recipients of the 2015 Honorary Grower of the Year Award, a prestigious honor representing the state's more than 350 wine grape growers and over 700 vintners.
Dick and Wendy's influence on the wine industry reaches far beyond their vineyards, wineries and enterprises. Through strong partnerships with wine industry contributors and agriculture service providers they have leveraged their business successes to provide positive social impacts. Their belief in giving back and dedication to civic causes has supported numerous organizations throughout the Pacific Northwest including Seattle Children's Hospital, the Ste. Michelle Wine Estates Wine Science Center at Washington State University, and others.
"Dick and Wendy not only grow grapes, they also bring a great business sense to the industry. To this day, I trust their business judgement. They can cut to the chase at the table and understand that both parties need to win. They believe in the industry and have stayed with it through thick and thin," says Doug Gore, vice president of vineyards, operation, and winemaking at Ste. Michelle Wine Estates and the 2017 Legends inductee.
With over 35 years' experience, the two show no sign of slowing down as they continue to invest in the industry's growth and development. They are true examples of what it means to be a Legend of Washington Wine, and the Clore Center is thrilled to recognize them in this way.
Nominees of the Hall of Fame are individuals who exemplify legendary status because of contributions and commitment to the Washington wine industry. Nominees must have been Washington residents involved in the wine industry for 25 years. Previous inductees to the Hall of Fame include:
• S.W. "Bill" Preston, founder of Preston Premium Wines;
• John and Ann Williams and Jim and Pat Holmes, wine pioneers from Red Mountain;
• Stan Clarke, a 30-year industry veteran;
• John Anderson, a visionary and mentor who believed Washington would compete globally based on premium quality grapes;
• David Lake, MW, renowned for his experimentation with new varietals and for wine innovations;
• Bill Powers, pioneer of low-impact and organic viticulture;
• Dr. Myles Anderson, founder of the Institute for Enology and Viticulture at Walla Walla Community College;
• George Carter, research partner of Dr. Walter Clore;
• Mike Hogue, whose vision helped define the Washington wine industry;
• Allen Shoup, an industry leader who is committed to building the reputation of Washington wines;
• Don Mercer, Horse Heaven Hills pioneer;
• Dr. Charles Nagel, scientist and research partner of Dr. Walter Clore
• Doug Gore, EVP of winemaking for Ste. Michelle Wine Estates
The Legends Gala is the Clore Center's marquee annual fundraising event. Proceeds from the evening benefit the Clore Center's ongoing programs and events designed to promote Washington wine and agriculture. Tickets and sponsorship options for the Legends Gala on August 10th, 2018 will be available soon at theclorecenter.org.
About The Walter Clore Wine and Culinary Center
Named after the late Dr. Walter J. Clore, the Walter Clore Wine and Culinary Center is a centrally located, must-see learning center that promotes Washington State wine and food by actively engaging visitors to experience and realize the quality and diversity of Washington's wine and food products. The Clore Center is located on 16 acres of scenic view property overlooking the Yakima River and Cascade Mountains. The property and buildings are owned by the Port of Benton, and the project is operated by the Walter Clore Wine and Culinary Center Board of Directors. Dr. Clore began his life's work in 1937 studying vinifera grapes and their potential for growth in Washington soils. His research, a cornerstone of the industry's development, earned him official recognition from the Washington State Legislature as the "Father of the Washington Wine Industry."