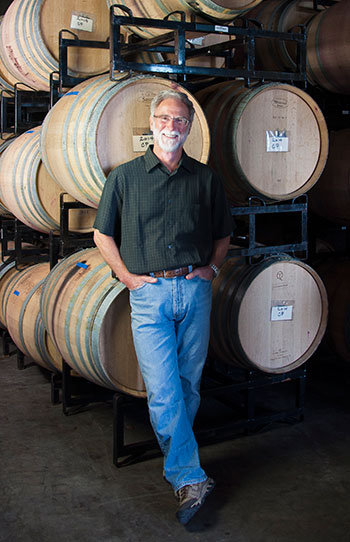 Benton City, Wash. – March 23, 2017 – Col Solare, the landmark joint venture between Ste. Michelle Wine Estates and the Antinori family on Washington State's Red Mountain, today announced that Bob Betz MW has returned to the winery as consulting winemaker.
Editor's note: Read the article on Col Solare published in the Spring 2016 issue.
"We are so proud that, for his first project outside of Betz Family, Bob decided to come home to Ste. Michelle and Col Solare," says Ted Baseler, president and CEO of Ste. Michelle Wine Estates. "In addition to his deep understanding of Col Solare and Red Mountain, he also has a long history with our team and our culture, which is equally important."
Betz previously had a 28-year career with Ste. Michelle Wine Estates, retiring as vice president of winemaking research in 2003. During his tenure, he served as managing director of Col Solare from the inception of the partnership in 1995, working closely with the Antinori family and their CEO and chief enologist, Renzo Cotarella.
"In addition to being a terrific winemaker, Bob is also dear friend," says Cotarella. "He understands what we're trying to achieve with Col Solare, and he knows how to work with our team to achieve our shared goal."
Betz founded his own winery, Betz Family Winery, in 1997, which has since become one of the most celebrated wineries in Washington State. He sold the winery in 2011, but continues as its consulting winemaker. Betz began his new role as consulting winemaker for Col Solare in early 2017.
Darel Allwine, who has just completed his 21st harvest in Washington State, remains the winemaker for Col Solare and will work closely with Betz and Cotarella, along with renowned Washington State vineyard manager Dick Boushey, who manages Col Solare's estate vineyard on Red Mountain. "I have known Bob for many years and had the pleasure of working with him during his previous time with Ste. Michelle," says Allwine. "I am very happy to have him join our all-star team to help craft the best Cabernet Sauvignon possible."
"I am thrilled to again be part of the Col Solare, Ste. Michelle and Antinori family," says Betz. "I've been sourcing Red Mountain Cabernet Sauvignon since 1997 and am thrilled to be working with Darel and Renzo to create the highest possible expression of this very special place."