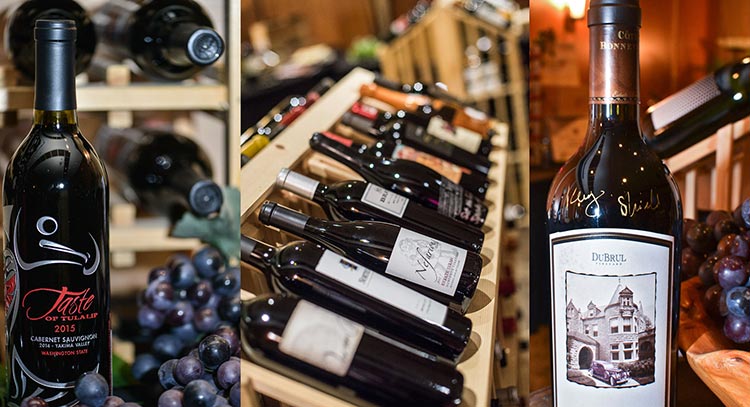 Tulalip, Washington — November 2, 2016 — Tulalip Resort Casino's Sommelier Tom Thompson is extending an invitation to all wine lovers and holiday gift givers to the Resort's annual Taste of Tulalip Holiday Wine Sale. The sale will feature over 130 bottles of wine from around the globe, and will run from Monday, November 21 through Wednesday, November 23 from 4-9pm each day. During the sale, guests can sample a selection of wines they might not have otherwise ever tried…and can purchase it on the spot.
"It's time to make room in our cellar, and what better way to do that than to share some of our good juice inventory with our loyal wine drinkers for the holidays?" asks Sommelier Tom Thompson. "Nothing pairs better with the holidays than a delicious bottle of wine. We all know that a great bottle of wine can really help turn up the merrymaking at any family gathering or party."
While shopping for the perfect gift or the home cellar, guests can also select from pre-made or made-to-order gift baskets, some of which includes Taste of Tulalip commemorative plates, logo stemware, wine charms, and one or all seven vintages of the Taste of Tulalip Honorary Winemaker wines in Tulalip's annual featured artist etched bottles. The bottles contain juice from some of Washington's top winemakers, such as Betz Family Winery, Sparkman Cellars, and Côte Bonneville, to name a few.
For a sneak peek, a few star lineups being offered by Sommelier Tom Thompson during the sale include: Leonetti Cellars, Quilceda Creek Vintners, Château de Beaucastel, Marchesi de' Frescobaldi, Molly Dooker Wines, CIRQ, Kosta Browne, Silver Oak, Coup de Foudre Wine, and Harlan Estate.
The Taste of Tulalip Holiday Wine Shop will take place in the Resort's Chinook Rooms 1 and 2. For more information about the Tulalip Casino Resort or Holiday Wine Shop, visit tulalipresort.com.