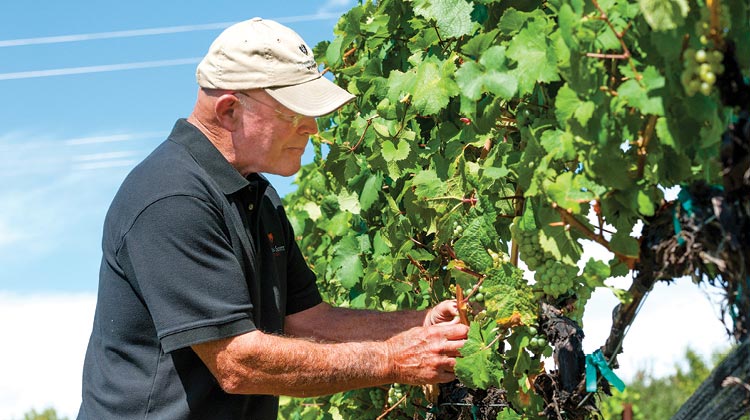 Although apples still reign supreme in the Wenatchee Valley, a few decades ago several fruit mavens looking to diversify turned their expertise toward wine grapes.  Before long, vineyards took their place alongside the vast hillside orchards.  The region is now home to dozens of wineries that are worth exploring, not just for great wine, but for surprising bargain values as well. Base camp your wine touring trip in downtown Wenatchee, where you won't need to venture far afield to discover seven of our favorite local tasting rooms, one even specializing in handcrafted hard ciders.
Stemilt Creek Winery  
Stemilt Creek Winery is steeped in the region's rich agricultural history.  Owned and operated by the Mathison family, the Stemilt name has been associated with fruit farming since the 1880's.  It's no surprise that family members Kyle and Jan Mathison applied their expertise in fruit farming to grapes, planting the first vineyards in 1999.  At 1,500 feet, this is among the higher elevations for a Washington vineyard.
From their first bottling in 2002, the Mathisons captured the old world flavor that was their aim, according to Becky Driscoll, general manager.  "From the beginning, the emphasis was always on quality wine, not quantity," she noted from behind the downtown tasting room counter.  "Our estate-grown wines reflect our climate; lots of sun ripening our fruit at high elevations."  Cabernet Sauvignon, Merlot, Cabernet Franc and Syrah are the focus, although Stemilt Creek also offers a white blend.
Kyle manages the vineyards, with an eye on ever-improving growing methods and techniques (he was voted Organic Grower of the Year in 2013).  Jan is the winemaker who blends her fondness for worldly wines into the Stemilt Creek mix.
The flagship wine is the Cabernet Franc, a grape particularly suited to the high elevations and climate of their vineyards, and shows strongly in her blends.  "A Day's Work is a particular favorite," says Driscoll. "It really shows off the vineyard and Jan's touch."
The charming tasting room is in downtown Wenatchee; check the website for seasonal hours.  If you have time, call ahead and ask for a vineyard tour.  If the day isn't too busy, you might get lucky.
Malaga Springs Winery   
Tucked high in the hills just east of Wenatchee, the four-year old Malaga Springs boasts a Southwest pueblo style tasting room, barrel cave, colorful gardens and a small but thriving vineyard.
Al Mathews is a commercial fisherman, contractor, builder (he built every structure on the property and the strolling grounds), creator of crockery, and winemaker.  Not to be outdone, his wife Kathy is an interior designer and expert gardener.  "Sustainable is our aim," Al states emphatically.  "We employ wild flowers and grasses to help maintain the vineyard and control pests.  We hand pick, hand weed and hand farm."
Pinot, Syrah and white wine varieties grow here.  Al is keen on the cool climate characteristic of the 1,700 foot elevation, noting that letting the vines hang late into the growing season shapes the acid levels to fit the profile he seeks.  The Mathews hold a long-term lease on a vineyard in Red Mountain where they grow Cabernet and Malbec to augment Malaga Spring's estate yield.
Malaga offers a full range of whites, reds, Rosé, even a Muscat Canelli.  The flagship wine though is the Blanc de Noir, a classic French wine done Wenatchee-style from the vineyard's Pinot Noir grapes.  "This wine really represents our vineyard philosophy," he said.  "We press the grapes immediately after crushing and the resulting flavors make for a memorable wine."
As busy as they are shaping the property, the Mathews intend to keep the winery operation small with an aim to one day produce about 1,500 cases a year.  In the meantime, they'll continue the never-ending project that is the estate grounds.
Martin-Scott Winery  
Head over the river and through the hills to East Wenatchee where a large plot of lush vineyard is home to Martin-Scott Winery.  The 37-acre farm offers breathtaking views of the Wenatchee Valley and the mountains that encircle it.
Like so many of his wine brethren, Mike Scott turned to vineyards after a life of fruit farming, bringing his agriculture knowledge and growing skills to vineyard management.  Twenty years later, Martin-Scott is a regional leader.
"I see wine as a unifying experience," explains Scott.  "It creates a sense of commonality among people."  He aims for wines that "you can drink now" with a preference to red blends.  And his approach to wine reflects his approach to people as well.  "Make eye contact, offer a firm handshake, and you're on your way to helping people understand why they like what they like," he says.
If you can take your eyes off the view for a few moments, the affable Scott will give you a guided tour of the vineyard (weekends only).  Pinot Grigio, Cabernet Franc, Merlot, Cabernet Sauvignon, Riesling, Gewürztraminer and Muscat Canelli flourish on this ridge.  His expertise in the vineyard extends beyond his own winery; he managed the 2,000-acre Jones of Washington vineyard for years.
Truly a family-run operation, Mike handles the vineyard and winemaking duties; spouse Judi Martin Scott adds her expertise as a hospital lab technologist to the wine operation; son Tim helps contain vineyard pest problems; son Chris helps with final blend formulation; and daughter-in-law Becky lends her artistic eye to the decor.
While growth would seem an inevitable result of their success, Mike plans on keeping the winery pretty much as is.  "We want to get better, not bigger.  I'd rather sell fewer bottles of better wine."
Fielding Hills Winery
Just a crow's flight away from Martin-Scott stands Fielding Hills, yet another award-winning winery that sprang from longtime success in fruit farming.  The by-appointment only tasting room is really a section of their storage facility set aside for tasting.  No big groups, no events; Fielding Hills is strictly about the wine.
Winemaker and owner Mike Wade maintains his fruit farming interests as the CEO of Columbia Fruit Packers, a fruit farming operation that's been family-run for 60 years.  But Fielding Hills (named for Wade's grandfather) is where he unleashes his inner artist.  Red single varietals, in particular, are his passion.  "I like fruity, big reds that drink well from release to ten years," says Wade.  He uses only grapes from Riverbend Vineyard, the family-owned vineyard in the acclaimed Wahluke Slope.  With only trace amounts of sulfites, unrefined and unfiltered Fielding Hills wines are aged in 80-percent new French and American oak.
At 1,200 cases a year, Wade manages Fielding Hills' growth with the skill honed by years of fruit farming, carefully matching vineyard yields with wine production.  Always, the focus is creating his particular style of big, bold reds.  "Mike does everything at a high level," said his wife Karen, who also pointed out that he is a self-taught winemaker who researched meticulously, grew quality grapes and asked a lot of questions of a lot of winemakers.  "If he only made wine for himself," she said, "the wine would not be any different."
Chateau Faire Le Pont   
Head back to the city limits of Wenatchee for the quiet elegance of Chateau Faire Le Pont, a winery that celebrates grand European-style wines alongside its first class restaurant, the Chateau Grill.
Owners Doug and Debe Brazil carried their dream of opening a winery to Wenatchee nearly 15 years ago.  "At the time, Wenatchee was just coming into its own as a wine destination," says Doug, winemaker and former US Navy officer.  "It felt like fun to get in on the ground floor.  I knew I wanted to craft wines with the big flavors associated with Super Tuscans, Rhône and Bordeaux wines."
Sourcing fruit from the great vineyards of the Columbia Valley, Brazil's wines are ready to drink at release.  The flagship Confluence, a Bordeaux varietal blend, remains a steady seller but Brazil has lately begun tinkering with Carménère and Tempranillo.
The winery hosts a steady stream of events, from Thursday night live jazz music, weekend Yappy Hour for dogs and owners, to winemaker dinners in the underground barrel cave.
And the winery's name?  Debe explains that it comes from a common French phrase, bridging the gap, used for those occasions when a holiday falls mid-week and you simply want to extend the good time through the weekend.  "We wanted a winery that offered a great experience no matter when you came in," says Debe. "As we like to say, Faire Le Pont, all the way to the weekend."
Jones of Washington
Since the Pybus Public Market opened in 2013, the Jones of Washington tasting room has quickly become a favored hangout among the scores of small shops and eateries at the Market.
Jones is headquartered in Quincy about 30 minues east, but sales and marketing guru Allan Williams lives in Wenatchee.  Long on the lookout for a second tasting room location, Williams zeroed in on the Pybus location early on.  "When I saw the concept and early plans, I thought it would be a great venue for our wines," he said.  "People strolling from booth to booth selecting fresh produce, bread and cheeses would want a great Washington wine as well."
The refined wood and glass look of the Pybus tasting room delivers a comfortable ringside chair perfect for people watching.  Jonesing for a nibble?  The Cheesemonger Shop next door will deliver a sumptuous cheese plate with olives and salami right to your tasting room roost.
Jones of Washington offers a wide range of value-price wines, including their Cabernet Sauvignon sourced from the Wahluke Slope and a Sauvignon Blanc from the Ancient Lakes AVA.
Snowdrift Cider
While you may be grape-centric on your visit to Wenatchee, you are also in the center of the apple universe.  For a different yet surprisingly similar tasting experience, visit the Snowdrift Cider Company.  Just as wine is crafted from a wide variety of grapes, so goes the cider.  And like wine, hard cider is fermented, aged, detailed and matched with food.
"Each apple has its own distinct flavor," notes cidermaker Tim Larsen.  "Quality hard ciders require apples with good tannins which produce strong flavor profiles that more than hold their own with rich red wines or the intense flavors of an IPA."
Snowdrift is owned and operated by the Ringsrud family, long time apple growers.  Eight acres of their vast orchard are given over to growing apples strictly for hard cider production; the Ringsruds grow 35 different varieties.
The flagship Cliffbreaks stands out with its deep golden color and a surprisingly full body.  This is an intense but refreshing drink that demands hearty food alongside.  "You'll want to try this with aged cheese, hard sausage or a good steak," suggested Larsen.
The tasting room is open Friday through Sunday but watch for the same sort of special events you see in the wine world, such as new releases, barrel tasting and the annual Washington Cider week.
Just don't call it apple juice.
Written and Photographed by Richard Duval
Click here for a preview of the actual pages as published in Washington Tasting Room magazine.
Plan a Wenatchee Wine Adventure
LODGING
Wine lovers will find comfortable digs at the Coast Wenatchee Center Hotel located in downtown Wenatchee. Dine at the hotel's Rivertop Bar & Grill with a tapas menu and complimentary wine tastings on Tuesday and Wednesday. Conveniently located within walking distance to Pybus Market and Stemilt tasting room.
DINING IN TOWN
Visconti's serves up old-world Italian fare. An applewood-fired oven turns out great pizza as well as roasted meat and seafood entrees.
Shakti's offers contemporary eats and a wine list nicely-dotted with local and regional vintages.
Lulu's in East Wenatchee is less costly but no less yummy; try the house special of roasted chicken.
Tastebuds Coffee & Wine offers gourmet pizzas, salads and pasta, a solid wine list and large bottle selection.
The Wine Thief offers a range of wines by the bottle and a constantly changing lineup of tastings.
GOOD EATS AT PYBUS MARKET
Fire, operated by local mainstay Visconti, offers superb wood-fired pizza and more; South serves up Central and South American cuisine; and the Pybus Bistro is quickly becoming a local favorite. Check out the Rivet espresso and pastry shop, housed outside in a vintage Airstream trailer.
WINE TOURING
For more touring information on Wenatchee Valley wineries