From the sloping vineyard that curves around the hills on the north side of Lake Chelan to the bistro and tasting room surrounded by apple and cherry orchards, Vin du Lac embodies Larry Lehmbecker's vision of how to blend his two great passions: wine and food.
"We are Washington winery No. 325," he states proudly, "and from the first day, I wanted our focus to elegantly illustrate the food-wine partnership."
On a nearly equal path with the winery development came the bistro—which evolved from the deli counter established in the winery's first year. Panini sandwiches were an early favorite and an easy segue into French food, bistro style, that soon followed.
The tasting room offers a rustic interior offset by the tranquil terrace and deck surrounded by full orchards on one side and the ever-expanding vineyard on the other. Covered with a natural tarp of greenery, the outdoor wine bar offers cool shade and shelter from Chelan's notoriously fierce summer sun.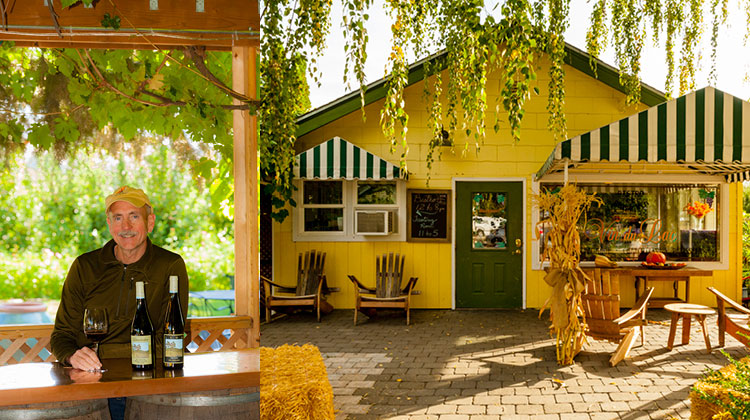 Courtroom To Crush Pad
Lehmbecker is no newcomer to the wine world. Growing up near Renton, Wash. with parents who were aficionados, he recalls, "We always had good wine and my parents always took the time to explain why it was good. My uncle had a winery in Spokane, which gave us a strong connection to the wine industry. I knew early on I wanted to be a part of it."
After graduating from the University of Washington in '83, he attended law school in San Francisco. In between classes, Lehmbecker made many trips north to Napa Valley to taste and to learn. "Napa had a huge influence on me.  I found myself drawn to the wineries that offered easy accessibility without compromising the quality of the wines."
He later moved back to the Seattle area and established a personal injury law practice, but the vision of winemaking lingered and a visit to Chelan in early 2000 pushed his dream forward.
Lehmbecker fell in love with the lake and the community. And when he chanced upon the orchard property for sale, he knew he'd found his place.  He fell in with Chelan wine pioneer Steve Kludt, who was already busy converting apple orchards to commercial vineyards. Lehmbecker was equally convinced that Chelan's combination of soil and weather patterns—strongly influenced by the lake—would make for quality Vitus vinifera.
By spring of '02, he and a few volunteers were producing the first batch of wine. "We did the entire pressing and blending in the orchard sheds that first year," he recalls. He slowly cleared a portion of the orchard and began planting his own estate vineyard.
Vineyard Focused
Lehmbecker admits that in the early years, the winemaking was "formulaic." A voracious reader, he consumed everything he could find on winemaking, grape growing and weather patterns, including materials from the UC Davis enology program. He came to believe in the importance of understanding what was happening in the vineyard first; a lesson he notes was key in shaping his winemaking philosophy that "great wines are born in the vineyard."
"Today I'm focused on getting it right in the vineyard first," he notes. "We're always moving to a simpler keep-it-clean vineyard approach that directly influences the wines."
After 12 years, his pioneering efforts are paying dividends. His flagship Riesling (particularly his 2011 vintage) and Pinot Noir show the big European-style flavors that complement food perfectly. Both wines reflect the strengths—as well as highlight the potential—of the Lake Chelan appellation that was established as the state's 11th American Viticultural Area (AVA) in 2009.
His vineyard boasts seven acres of more than a dozen varietals with Pinot Noir, Riesling, Chardonnay, Pinot Gris and Viognier leading the way. And Lehmbecker has only just begun to mine the potential of these high lakeside hills. Pressed on Chelan's future, he systematically lists its advantages with the logic and precision of a legal mind.
"Chelan is a great place for natural wine making.  We're the coolest of Eastern Washington AVAs; our soils have amazing acidity that can produce high acid white wine grapes; the vineyards require very low intervention," he states, concluding, "Everything we need to produce first-class wines is here."
"Everyone's Favorite Backyard"
Vin du Lac wines are made with 70 percent of Chelan fruit by design, Lehmbecker proudly notes, and he's aiming for 100 percent within the next five years. He plans to reduce more of the orchard and expand the estate vineyard plantings; Pinot Noir is high on his list. He and his Chelan winemaking colleagues are also relentlessly exploring available land to plant more sourcing vineyards, such as high-elevation sites between 1,400 to 1,800 feet they feel would produce quality sparkling wines. He notes that neighbor Karma Winery, already known for their sparkling wines, has set the groundwork for success in this area.
As the winery operation expanded, Lehmbecker found that his day-to-day involvement with winemaking was harder to schedule so he sought a head winemaker with the skills and experience to produce the wines he envisioned. About the same time, winemaker Marc Leahy was casting about for the right opportunity to return to his Washington roots. Leahy worked at Gorman and EFESTE as well as spent considerable time in California, Spain, Portugal and France, earning a master's degree in viticulture and enology along the way.  He joined Vin du Lac in January 2014.
"Larry's passion for wanting to make great wine in Chelan from Chelan grapes drew me in from the start," Leahy says, enamored with the opportunity he sees in helping take Chelan to the next level of wine production. "There is so much room for us to explore the terroir here.  Larry has assembled a strong team and we're all focused on crafting world class wines from Chelan." Like Lehmbecker, he sees Pinot Noir as a rising star of the AVA and he's keen to explore the quality potential of other Burgundian varietals like Chardonnay, Pinot Gris and Gamay Noir.
Also new to the team, executive chef Joseph Nagy drives the bistro's mostly light fare, all designed to complement Vin du Lac's setting and wine offerings. Nagy divides his time between the bistro and running the popular Maki Sushi in downtown Chelan.
"A friend once referred to Vin du Lac as 'everyone's favorite backyard,' and that's the best description of what I'm about with the winery," Lehmbecker notes with no small measure of satisfaction. "There's simply no better place for me than Chelan."
Written and photographed by Richard Duval
Click here to preview the article as published in the Winter 2014/15 issue of Tasting Room Magazine
Editor's Top Picks:
Lehmbecker 2011 Michaela's Vineyard Pinot Noir, $45
Elegant on its own, this estate grown Pinot is an equally strong contender with a variety of dishes. Nose: Deep earthy aromatics of red fruit, juniper berry, rose water, brown sugar, rice cracker and hint of cherrywood bark. Taste: Silky, deft and well structured with balanced acidity and firm tannins. Light on the palate, this Pinot is built around seamless flavors of cherry, raspberry and currants with a touch of white pepper spice on the finish.   —J.V.
Vin du Lac 2009 Barrel Select Syrah, $40
Their best barrels of Syrah, sourced 50/50 from Sagemoor and Upland Vineyards. Nose: Blackberry and black plum with lavender, vanilla bean, spice and tobacco leaf. Taste: Elegant, showing restrained power and intensity. Hints of smoke, game and eucalyptus are backed by concentrated black plum, blackberry, black raspberry, truffle shavings, cigar box and vanilla. Finely grained tannins push through the finish.  —J.V.
Vin du Lac 2013 Barrel Select Chardonnay, $25
This full-bodied Chardonnay shows exceptional balance with a smooth palate, refreshing fruit and a gentle kiss of oak that knits it all together. Nose: Refrained citrus, blanched almond and white bread toast points. Taste: Suave and debonair with a sleek, silky frame and lightly creamy texture. The flavors are concentrated with earth and stone, exuding toned-down fruit of apple, melon, lychee, crystalized lemon and lime zest with flinty spice notes on the finish. —A.V.
LEHM 2011 Lake Chelan Riesling, $20
Sourced from three Lake Chelan vineyards, this crisp white makes a perfect accompaniment to many Pacific Northwest seafood dishes, especially shellfish. Nose: Clean minerally aromatics laced with pear, citrus, lemongrass and honeysuckle. Taste: Zesty and well cut with a savory herbal front followed by elegant green apple, lemon, pear and crushed pebbles. The racy acidity keeps it lively through the mid-palate and finishes pure, clean and dry. —A.V.
TASTE & STAY IN CHELAN
Vin du Lac Winery & Bistro
105 Hwy 150 Chelan
Click here for seasonal hours or visit the homepage at www.vindulac.com
STAY
Campbell's Resort
www.campbellsresort.com
Lakeside Lodge & Suites
www.lakesidelodgeandsuites.com
For more information on what to do and where to stay in Chelan visit www.lakechelan.com