The Fruit of the Vine Trolley whisks wine tasters around fine wineries in the Tri-Cities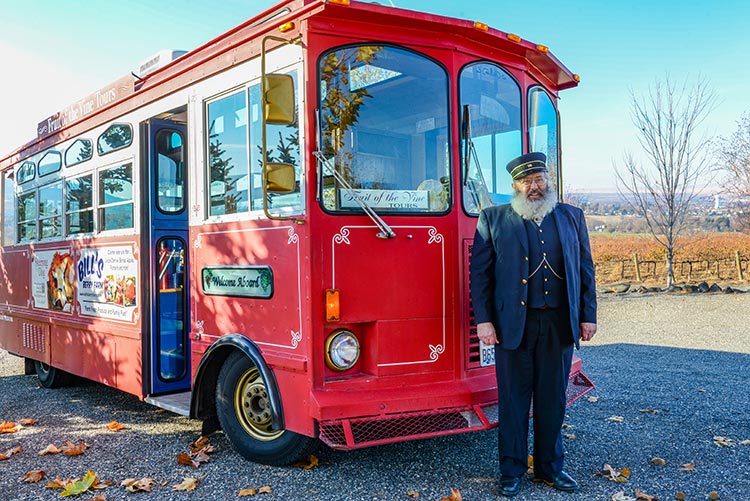 WHEN you're wine tasting, it's more fun to leave the driving to an expert driver and knowledgeable guide.  And it's even better when you're ferried around in a beautifully refurbished red trolley that exudes classy old-fashioned ambiance.  So it is with amiable, bearded, Jon Artz, 63, the driver, guide, and director of Fruit of the Vine Tours who has personally visited three quarters of the 160 wineries within a 60-mile radius of Benton City, Wash.
When you're aboard Jon's trolley—chugging smoothly between wineries along Benton's backroads—with Central Washington's arid desert landscape of sagebrush, basalt outcrops, and perfect rows of grapevines unfolding outside your window, you'll be glad you booked his services. There are no distractions, such as driving, and above all there's no getting lost.
"I enjoy touring people around the wineries," says Jon.  "We've been doing the winery trolley tours for five years, and we're often booked a year in advance for big wine weekends," he adds.  "If you're planning a wine tasting trip to the Tri-Cities with us, book at least three months in advance to be guaranteed a reservation," advises John.  "We tour mainly in spring and fall."
Decorated with an oak interior, and equipped with a brass bell, a cowcatcher at the front end, a politician's platform on the rear end—and comfortable seating for 13 people—the trolley provides a thoroughly enjoyable wine tasting conveyance.
Resplendent in his full regalia period costume, complete with a brass-buttoned three-piece suit, pocket watch and motorman's hat, Jon will design a customized winery tour for your party, based on your wine and winery preferences.  He'll also ad lib other wineries as your mood takes you and will stop at restaurants or bistros along your route.
The wine trail that winds through the Greater Tri-Cities area ranges from garage wineries and small, intimate boutique operations to sprawling Tuscan-style vineyards, with everything in between.
Here's a tour of four eclectic wineries in the Tri-Cities that you can easily visit via the red trolley in a single afternoon.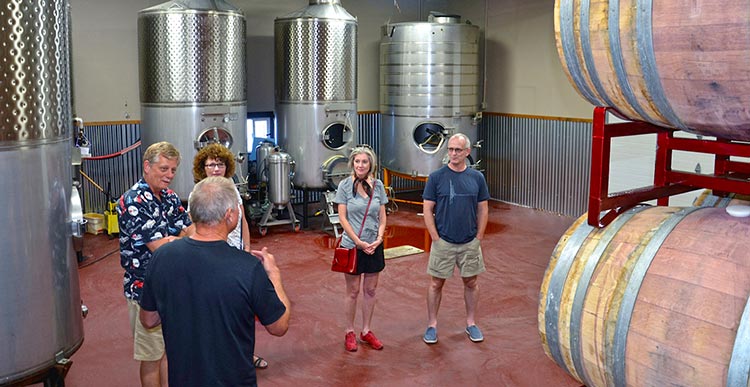 Tucannon Cellars
Phil Warren started making wine as a hobby, but after a few years expanded his operation into a business.  He and his son Ethen, who manages the tasting room, purchased Oakwood Cellars in February 2014, renaming it Tucannon Cellars.  Says Ethen, "We established our winery with the idea that we could be different, and one of a kind.  Every grape is handpicked from local vineyards and we do not use machines, pumps or harvesters.  By picking the grapes ourselves, we ensure quality control."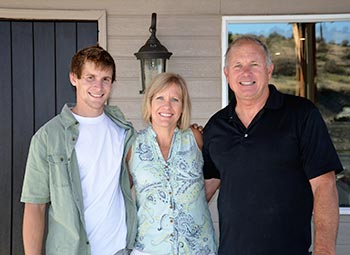 The winery's three acres, on Alder Ridge, just down the road from Terra Blanca, is packed with a tasting house, a small vineyard, and a wedding garden. A rustic barn is being constructed for special events. The small, but homey tasting room and gift shop exudes a warm atmosphere, and encourages visitors to chat across the wine bar.
Considered a small boutique winery, Tucannon Cellars makes twelve varieties of wine, and produces 1500 cases each year. "By limiting ourselves to a finite number of cases per year, we crush them on site and babysit every single barrel as if it were the only barrel of wine in the world. We use traditional French winemaking techniques. This makes the wine we craft stand out," says Ethen, describing his family's winemaking approach.
Phil Warren is best known for his proprietary red blends.  Every year he chooses two blends from the hundreds of different combinations he creates in his "tasting workshop."  The result is a truly unique blend that has been crafted entirely based on the winemaker's taste, as opposed to following a recipe, or a predetermined combination of different wine varietals.
Hours: Thur-Mon (closed Tues-Wed), 11am -5pm with extended hours 'til 6pm on Fri & Sat
Sleeping Dog Wines
Sleeping Dog Wines caught me by surprise. I was expecting some sort of upscale, burgundy-carpeted tasting room, albeit in a garage, and lots of smooth patter from winemaker, Larry Oates. Instead I got a tasting room literally set up inside a garage, with a concrete floor and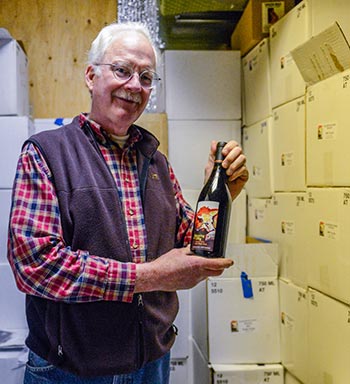 wine cases stacked to the ceiling in a back room—and wine bottles tucked away in every nook and cranny therein. And I loved it!
Larry's winemaking enterprise, a funky cross between a cottage industry and a front yard garage (complete with plastic picnic furniture) reflects his down-to-earth nature as he proudly shows you his Syrah, Malbec, Merlot, and Sauvignon Blanc, some of which have won awards. Larry's Tail Wagger is one such winner.  The poster pup and ambassador for Larry's Sleeping Dog wines was the white-furred Aurora, whom they picked up from a shelter in Spokane.  Sadly, Aurora has now passed on to the big vineyard in doggy heaven but she lives on through Larry's labels.
Neither Larry, nor his wines are in the least bit pretentious; they're just doggone good.  And even more fascinating, Larry can actually tell you exactly where his various wine cases are stored, hidden amongst numerous precariously balanced pillars of wine boxes.
Hours: April-November, Thur-Sat: 11am-5pm (Also open during Yakima Valley event weekends and by appointment, even sometimes opening up for casual "drop in's" during the off-season.)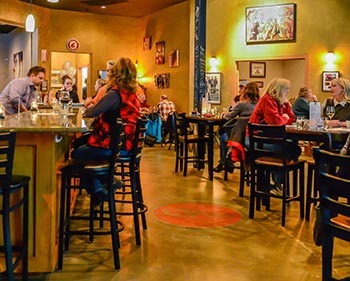 Gordon Estate Wine Bar
"There were 19 other wineries in Washington State when we did our first crush in 1983," says Jeff Gordon, owner of Gordon Estate.  "Now there are about 350 growers in the state."  The Gordon Estate Wine Bar, tucked away in a mall in Pasco's Broadmoor Park, offers intimate, relaxing dimmed lighting, comfortable side rooms, and a sprawling wine bar.  There are high tables and low tables, soft couches, and summertime and indoor patios.  The entryway resembles a speakeasy reminiscent of prohibition days.
If there was ever a wine bar version of the "Cheers" TV series, the Gordon Estate Wine Bar is it.  I almost expected Ted Danson to stroll in and shake hands with everyone, a glass of Merlot in hand, but Jeff assumes this role with friendly ease as he greets the guests and makes sure everyone is happy.
Jeff Gordon is proud of the fact they are the oldest winery in Washington State that uses estate-only grown grapes, at their vineyard overlooking the Snake River northeast of Pasco. Jeff coaxes 20,000-plus cases of wine each year from the 105-acre family-owned vineyard, from whence they also harvest sweet cherries.  In fact, Jeff started his horticultural career growing potatoes in 1977, and when the bottom dropped out of that market, he switched to grapes.
The Gordon Estate wines have come a long way, and Jeff's wines have, over the years, earned numerous awards at wine shows.
Hours: Open daily 11am-9pm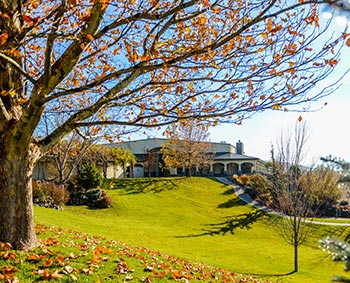 Terra Blanca Winery & Estate Vineyard
Located on windswept Red Mountain with a view that goes for miles, this upscale 220-acre winery could be the set for a Hollywood movie.  From the moment you walk along the ivy-covered walkway and enter through the huge doorways that look like the entrance to the Hall of the Mountain King, you're in for a treat.
Terra Blanca's vineyard tours are available on weekends, and operate from May through October.  Here, you'll learn how chief winemaker Keith Pilgrim emphasizes smaller berries with high juice concentrations as you walk through vineyards of Syrah, Merlot, Chardonnay, Viognier, Grenache and 12 other grape varietals, learning about their fruit.  Many of the vines were imported from Europe.
Continuing your tour, the cavernous Terra Blanca cellar barrel room, with neatly stacked barrels reaching 30 feet to the ceiling, is a reminder of how large an operation the winery really is.  The estate wines are aged in small French oak barrels and the winery produces 30,000 cases each year.  After the cellar tour you emerge, blinking, into the spectacular tasting room where you can admire the magnificent view over the rural countryside.
Gourmet side dishes can be ordered from Terra Blanca's Vineyard Grill restaurant.  Try the citrus and herb duck breast, halibut fritters, butternut squash bisque, and barbecue pork sandwich for a delicious meal.  Terra Blanca is the sort of winery where you bring your friends to impress them, without it being overly pretentious.
Hours: Open daily, 10am-6pm
Written by Roy Stevenson, Photos by Linda Popovich
Editor's Top Wine Picks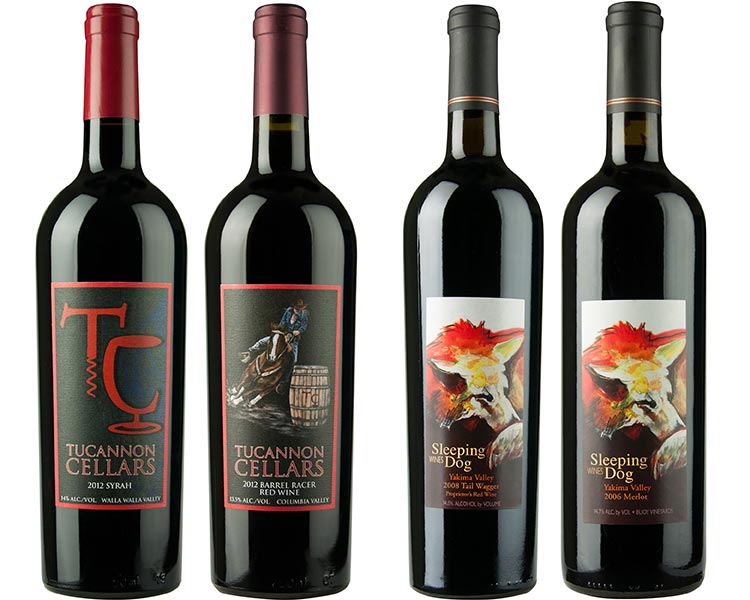 Tucannon Cellars 2012 Walla Walla Valley Syrah, $40
Nose: Red and blue berries, plum, vanilla and leather.
Taste: Smoothly textured with fine tannins and rich fruit flavors of juicy red cherry and plum permeated with white pepper, vanilla and exotic spice. There's a streak of graphite that gives uplift to the finish.
Tucannon Cellars 2012 Barrel Racer Red, $27
Nose: Black raspberry, dark plum, earthy underbrush and notes of dark chocolate.
Taste: A suave red displaying rich fruit flavors of blackberry, red plum and cherry mingled with hints of cassis, leather and anise. Well-integrated tannins balance nicely on the refined finish.
Sleeping Dog 2008 Tail Wagger Proprietor's Red Wine, $27
Nose: Dark aromas of leather, dark fruit, asphalt.
Taste: Muscular and bold, with chewy tannins and richly concentrated flavors of blueberry and blackberry-tinged fruit elegantly shaded with notes of tar, tea leaf and brioche that glide through the long finish.
Sleeping Dog 2006 Yakima Valley Merlot, $27
Nose: Aromas of red and black stone fruit, leather, spice and cacao nib.
Taste: Smooth and full-bodied, with melded flavors of plump black currant, dark red plum, cherry, tobacco and exotic spice notes. Sweet grainy tannins forge through the supple and rewarding finish.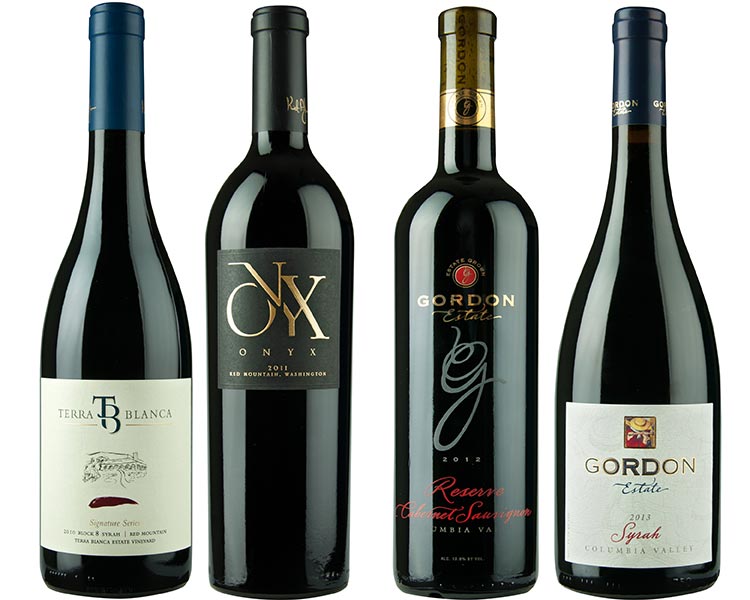 Gordon Estate 2012 Reserve  Cabernet Sauvignon, $45
Nose: Abundant aromas of bright red fruit, rose water, graphite and sandalwood.
Taste: Velvet smooth tannins meld with an exciting underlay of juicy acidity, delivering rich fruit flavors of macerated cherry, black raspberry and pomegranate, layered with nuances of coffee bean, vanilla and baking spices.
Gordon Estate 2013 Kamiak Vineyard Syrah, $22
Nose: Generous tarry-edged aromas of dark blue fruit, violet, fresh herbs and toast points.
Taste: Open textured with fresh acidity that pushes cleanly through the blueberry and red plum flavors. Balanced with savory accents of brined olives, oregano and spice.
Terra Blanca 2010 Signature Series Block 8 Syrah, $42
Nose: Lavender, violet, leather, tobacco, red and blue fruit, chai and herb spice.
Taste: Powerful yet sophisticated, there's a seamless core of vibrant red cherry, blue plum and black currant fruit, layered with leather, game and exotic spice. Structured and deeply concentrated, finely grained tannins and spice reverberate on the finish.
Terra Blanca 2011 Red Mountain Onyx, $55
Nose: Dusky dark red and black fruit, leather, pipe tobacco, slate and earthy spice.
Taste: A superlative, classically styled Bordeaux varietal blend showing finesse, elegance and taut structure. Rich and focused with flavors of blackberry, black raspberry, dark plum, cassis, fennel, tobacco leaf and crushed rock. Firm, gripping tannins persist on the finish.
Lodging Recommendations in Tri-Cities
Cozy Lodgings
Hampton Inn Richland
486 Bradley Blvd, Richland WA
PH: 509-943-4400
Homewood Suites by Hilton
1060 George Washington Way, Richland WA
PH: 509-371-1550
Courtyard by Marriott
480 Columbia Point Drive, Richland WA
PH: 509-942-9400
Attractions, Restaurants & Things To Do
Check out the Tri-Cities tourism website or call for personal assistance on planning a trip to the area.
www.visittri-cities.com
PH: (800) 254-5824
Breakfast, Dining & Cocktails
The Spudnut Shoppe
The oldest coffee shop in town and best known for breakfast fare
228 Williams Blvd, Richland WA
PH: 509-943-3000
SagePort Grille
Daytime standby offering traditional plates of American fare & cocktails in a down-to-earth setting
1633 Columbia Park Trail, Richland WA
PH: 509-783-9105
Fox and Bear Public House
Urban nook with craft beers, regional wines & seasonal small & large plates
430 George Washington Way, Suite 201, Richland WA
PH: 509-420-4674