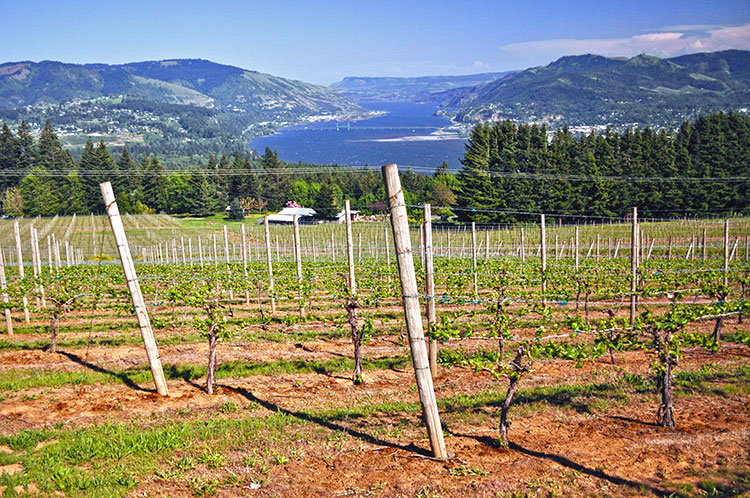 If great grapes come from vineyards with jaw-dropping views, then Celilo Vineyard's ought to be among the best.  Spread before the grapes to the east, an expansive vista sweeps across the shoulder of Underwood Mountain to the Hood River Bridge that spans the broad blue waters of the mighty Columbia River nearly a thousand feet below. Glancing southward, the enormous shark tooth of Mount Hood pierces the cerulean sky.
Celilo grapes are, in fact, considered among the foremost in the state, notably for their white varietals and Pinot Noir. Of course, a bit of success stems from the years of experience of its vineyard manager, Rick Ensminger, who has nurtured the grapes since 1976. Ten years ago, Ensminger was instrumental in establishing the Columbia Gorge region as an official AVA along with Mark Wharry and Joel Goodwillie of Wind River Cellars.
Goodwillie started buying grapes from Ensminger back in 1996, and a year later produced the very first Celilo Vineyard designated Pinot Noir. It was an immediate success.
The bond of trust between the winemaker and grower runs deep to this day.  Goodwillie, who tends a small estate vineyard of his own, praises Ensminger's expertise in the vineyard. "Rick has been there for a very long time and knows how the vines develop better than anyone," he says candidly.
Escape Plan
Celilo was founded by the late Seattle surgeon William McAndrew who, like a few of his friends, enjoyed home winemaking. He dreamed of growing world-class grapes for himself and friends. Encouraged by the successful efforts of some experimental vines planted a few miles east and his own research, he bought the upper parcel of orchard land on Underwood Mountain and planted a mix of grape varietals in 1973.
During this period, Ensminger and his wife Jody were tiring of Denver's city life and plotting their escape.  They finally executed the plan when Rick accepted an orchard job in Underwood. Their plan worked: the hamlet of a few hundred people lacked even a traffic signal then, and still lacks one now. The orchard where he worked bordered the pear orchard McAndrew had purchased, and Ensminger was hired to tend that too.  Just as the first grape harvest started in September of '76, McAndrew's vineyard manager quit. "So I inherited the job on the grape side," recalls Ensminger, adding that at the time, "I didn't even like wine."
Ensminger and his wife were young then, and began to learn about wine grape growing through reading, going to meetings, and talking with others. Dr. Walter Clore, the Father of Washington Wine, visited and gave advice. After a freeze, Dr. Wade Wolfe, then Chateau Ste. Michelle's field man, found Celilo while hunting grapes for his employer. He, too, steepened Ensminger's learning curve. "When you go to meetings with the grape people, they have wine for lunch, and finally, I started liking wine with food," chuckles Ensminger.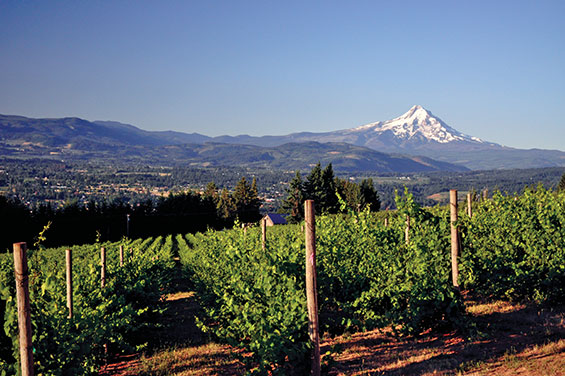 Trial and Error
Varietals were chosen by trial.  Nothing froze except Malbec, but not everything ripened.  Cabernet Sauvignon and Riesling were early casualties, the former due to climate, the latter to inexperience. The acids in the Riesling "were off the charts. It wasn't the grapes fault, it was our fault," admits Ensminger. "We didn't shoot thin, didn't leaf pull, didn't cluster thin." Today, Ensminger employs all those techniques on Gewürztraminer, Chardonnay, Pinot Noir, Pinot Gris, Viognier, Merlot, Muller-Thurgau, Lemberger and Gruner-Veltliner.
The vineyard lies on a cool site on the windy, wet western edge of the Columbia Gorge AVA. Moss nestles in northern crannies of the older vine trunks. Ensminger farms Celilo's grapes and pears without irrigation, thanks to fifty inches of rain annually. He's likely the only farmer of a major Washington vineyard doing so, but not by choice. The local water district's system was in poor condition at Celilo's birth. "It couldn't handle irrigating this many acres," says Ensminger. "Today, they've raised rates so high, we couldn't afford irrigation even if we wanted to."
Chardonnay With Turkeys
Celilo, like most vineyards, suffers grape poaching from feathered felons that include the usual suspects, such as robins, but some of the grape rustling is perpetrated by a rarer culprit: wild turkeys. "That lower cane is just about beak level. They really like Chardonnay."
Ken Wright of Ken Wright Cellars really likes Celilo's Chardonnay, too. He began sourcing all of his Chardonnay from Celilo in 1992. "I tried Chardonnay from a number of sites throughout Willamette Valley, trying to find a place where it performed well," recalls Wright. "And frankly, we couldn't find a place where it performed well."
He called Rick Small of Woodward Canyon, an old friend from his California days, asking if he knew a source "that was not out in the desert.  We wanted a cooler site that preserved acidity and minerality.  We wanted something that had a tremendous amount of grace and complexity, that evolved in the glass." Small had just found those qualities himself in Celilo Chardonnay, and pointed Wright there.  Wright admired the banana, melon and pineapple flavors, too. He now has his own block, and has added a Dijon clone to the Wente and Davis clones already planted there.
Celilo's Gewürztraminer recently rocketed to fame when Chis Dowsett's rendition for his Dowsett Family Cellars was lauded as being among the best in the nation. "I  initially had a hard time getting some Celilo fruit," says Dowsett. "I had always loved the single vineyard Gewurz that Covey Run had produced.  I contacted everyone I knew that might have an 'in.' When I finally got to Rick Ensminger, I begged just enough to get a trial of a little fruit.  What finally convinced him to let me stay was when his wife Jody tried the wine, and said she needed some of that each year!"
Low Tech
It's unusual for a non-estate vineyard to forego a web presence for marketing, but Celilo is one of the few, if not the proud.  "I'm not much of a computer guy," says Ensminger unapologetically.  "We're probably the least technical vineyard in the country.  The success of the vineyard is the fact that we finally figured out what does well here and we stuck with it, and the quality of the winemakers that are working with the grapes."
Perhaps if such a tool had been available in the '70s, Ensminger might have used it. "It was tough, because there weren't that many wineries then, and people thought we were crazy to come out here. I told a couple of wineries, 'I'll give you a couple of tons to try it out, you're going to like it,' because we felt the Chardonnay Wente clone would do well here, and it has. Now we have waiting lists. I don't like to say that, because it sounds like you're bragging or patting yourself on the back. But it does well here—it's the right clone in the right place."
Written by Tuck Russell