With one foot in the vineyard and the other in the cellar, Dr. Wade Wolfe has been an integral part of the state's formative wine years. He and his wife Becky Yeaman celebrate the 30th anniversary of Thurston Wolfe Winery and look toward the future.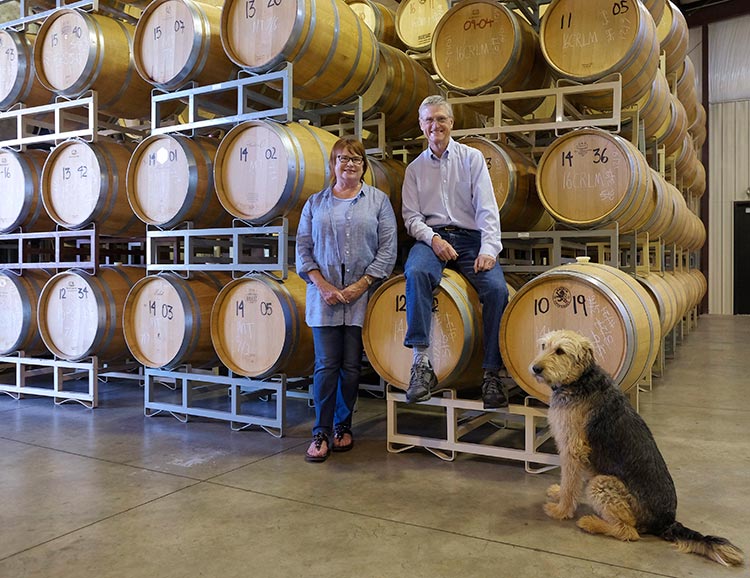 DR. WADE WOLFE stands at the center of wine history in Washington. He forged his wine philosophy in the earliest days of the industry at Chateau Ste. Michelle. And the wines he's making now look forward years into the future. One wine highlights his dedication to this idea. "The Teacher," a classic Horse Heaven Hills Cabernet Sauvignon, is named after Stan Clarke, industry mentor, best friend and wine guru—and the person who introduced Wolfe to his wife and partner in wine, Becky Yeaman. This forward-thinking winemaker suggests enjoying this delicious wine in 2023, on the wine's 10th anniversary.
Now celebrating their 30-year anniversary as owners of Thurston Wolfe Winery, Wolfe and Yeaman can look back on their influence and success in the industry, and ahead to an exciting future. They each have a different take on wine, which helps their story meld into one that is truly the epitome of the progression of Washington wine, with Wolfe on the wine side, and Yeaman keeping her finger on the pulse of the business and marketing side.
An Experimental Pioneer
Early on, at Ste. Michelle in the 70s and early 80s and later at Hogue Cellars, Wolfe experimented and learned the vines, coming to a deep understanding of each vineyard and variety in the state, helping Yakima Valley become the first great growing region in Washington. "I used the information I learned to choose which vineyards and growers to work with and where we currently source our grapes," he says.
These days, although he makes classic wines that people would expect from Washington, such as a rich, complex Cabernet Sauvignon from the Alderdale area in Horse Heaven Hills, Wolfe continues to have a pioneering spirit and innovative style. He makes several fascinating wines across the board, from the light, crisp, go-with-anything PGV (Pinot Gris, Muscat Blanc and Viognier), to a full-bodied, rich Petite Sirah, and a sweet dessert Port from Touriga Nacional grapes. What started as experimentation, wine lovers are now seeking out.
Wolfe and Yeaman have seen trends come and go, each from a different perspective. "The wine business is similar to the fashion business," says Yeaman. "We are always looking forward—seasons and even years down the road," she says. "What's hot on the market right now may change by next year, but it takes two to three years to bring a new wine to market."
Back then, as now, Wolfe has focused on quality rather than the whims of the marketplace. He has one goal in mind: He aims "to produce wines with distinctive Washington varietal character and use these to create unique 100% varietals and blends."
But to the average wine lover, what does that mean? Although he likes to try different grapes and processes, he also makes sure to respect the site and the climate of each vineyard, allowing the grapes to take advantage of Washington's long, warm days and cool nights, and letting each wine develop its own unique flavors and complexity.
Wolfe was one of the first wave of winemakers in the 70s that realized this place was truly special, and tried to figure out why—working with Dr. Walter Clore, the Father of the Washington Wine industry, and other winemakers and consultants to make wines that stood out on the world stage.
Wolfe lets the grapes do what they do. "Since we source from the same vineyards every year," he says, "this gives us the opportunity to not only produce consistently high quality wines, but also to allow the characteristics of each growing season to be reflected in the wines."
Telling the Washington 
Wine Story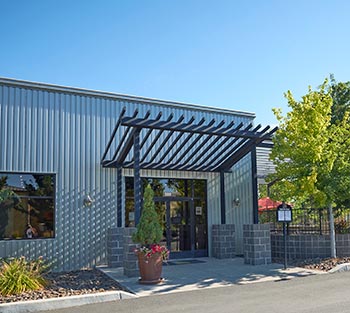 Only half of winemaking is, well, winemaking. The other half is selling the wine, and telling the stories behind the wine. Of this dynamic duo, Yeaman has the flair for marketing and events. "Wade and I started when there were 80 wineries in Washington," she says. "Now there are more than 900."
They opened Thurston Wolfe in 1987, the first year of their marriage. The winery was in one of Yakima's coolest old buildings, which then, was not the hip neighborhood it is now. They set up shop in the Old City Hall on Front Street, along with Bert Grant's Pub, renowned as the first brewpub in the country. Both helped transform Yakima, slowly but surely, into a center for beverage quality and tasting tourism.
Today, their tasting room and winery is one of a dozen at the sprawling 17-acre Vintner's Village in Prosser. In fact, Thurston Wolfe was the first winery to open in The Village in 2006, purposely avoiding Tuscan architecture and Old World decor. "We wanted something that represented the Washington wine industry, which is still new and dynamic, and something technologically savvy that reflects the modernity of our industry," says Wade. "So we developed a style we call industrial modern."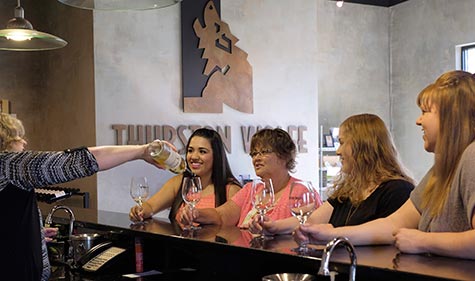 Thurston Wolfe is a family affair, with a wine (The Geologist) named for her brother Michael Yeaman, a geoscientist and stone sculptor, and after their son, Josh (JTW's Port). Their labels and concepts draw on history with a playful twist, but also keep up with the latest wine trends. Recently they went back to one of their classic late-90s labels, which people—young and old—have really responded to.
"In our generation," says Wolfe, "people tend to really know what they like and stick with that."
Becky agrees. "Women are one of our largest groups of wine lovers, so the fashion connection makes sense. The reality is, trends come and go, but many women really know what they like." While the older generation comes back again and again for their favorites, younger wine drinkers (including their 27-year-old son Josh who will soon be joining Thurston Wolfe staff full-time) are still discovering the world of wine.
"With so many microbreweries and small wineries, we see a lot of willingness to try different things," says Wolfe. "Bringing Josh on board will give us a succession plan, and bring new energy into our winery."
Small Lots, Big Ideas
Wolfe makes—and Yeaman markets—many distinctive small-lot wines. The scientist and pioneer in both Wolfe and Yeaman see their unique wines as a way to differentiate themselves in a crowded market, as well as show the diversity that Washington wine has to offer. In the 1980s, wines like Lemberger, Zinfandel, Petite Sirah, Primitivo, Tempranillo and Port-style blends were seen as esoteric and oddball. Some may say they still are, but these days, wine lovers are looking for new and exciting taste experiences. Thurston Wolfe has been making these unique wines all along, and now the public is finally coming to appreciate this innovative spirit.
"If you are a retail room oriented winery, you have visitors come in with a wide range of wine preferences," says Wolfe.  "For a small winery, we make a pretty diverse selection of wines."
Wolfe has always made many different types of wines, in small batches—a few barrels of this, a few barrels of that—to see what worked and caught on with the wine-drinking public. Years later, the non-mainstream wines are what stand out, and looking back over 30 years, it's easy to see how this pioneering pair were always ahead of the trends and forging their own path.
Written by Shannon Borg
Photographed by Colby Kuschatka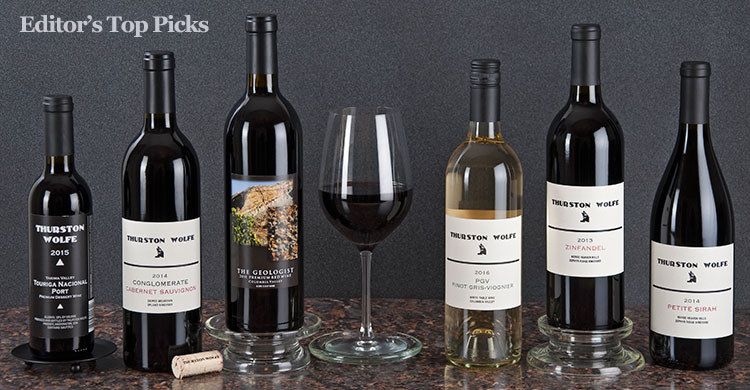 ---
Thurston Wolfe 2011 Geologist, $50
Editor's Choice – Extraordinary (96-100 pts.)
This red wine is one for the ages—in fact, after aging 22 months in French oak barrels, it was allowed to age another three years in the bottle before release. Silky, polished and incredibly focused, this blend of Cabernet Sauvignon, Merlot, Cabernet Franc and Petite Sirah evokes gorgeous red and black fruit aromas and flavors. On the palate, a profile of cassis and black raspberry is framed over earthy slate and mineral rock. Savory notes of violet, anise, tobacco and cacao nib complement well-integrated tannins on the lingering finish. 104 cases made.
Thurston Wolfe 2014 Upland Vineyard Conglomerate Cabernet Sauvignon, $30
Editor's Choice – Outstanding (91-95 pts.)
This stand-alone Cabernet Sauvignon is also used as the major component of the Geologist red blend. Supple, rich and concentrated, there's a smooth layer of crushed granite minerality underlying the seamless flavors of red and black fruit, tobacco leaf, cedar shavings and notes of vanilla. Sweet tannins and balanced acidity glide easily through the long finish. 50 cases made.
Thurston Wolfe 2014 Zephyr Ridge Vineyard Petite Sirah, $20
Editor's Choice – Outstanding (91-95 pts.)
Swooning with savory hints of mesquite, loam and white pepper spice that give way to a lush core of ripe blackberry and boysenberry flavors. Smooth and rich, with velvety tannins lining the finish. 246 cases made.
Thurston Wolfe 2013 Zephyr Ridge Vineyard Zinfandel, $20
Editor's Choice – Outstanding (91-95 pts.)
Wade Wolfe planted Zephyr Ridge Vineyard in 1998 and this marks the 13th vintage of his Zinfandel. Balanced and seamless, with deep, bold and richly concentrated flavors of cherry, raspberry, plum and barrel spice. Tame tannins roll through the dry finish. 1100 cases made.
Thurston Wolfe 2015 Lonesome Spring Vineyard Touriga Nacional Port, $16
Editor's Choice – Outstanding (91-95 pts.)
Crafted from the "king" of traditional Port varieties, this single-vineyard version was fortified using grape brandy. Expansive, rich and velvety, gushing with blackberry and raspberry flavors that meld with effusive dark chocolate and polished rock minerality. 
110 cases made.
Thurston Wolfe 2016 PGV, $15
Editor's Choice – Outstanding (91-95 pts.)
Their signature white blend of Pinot Gris and Viognier is delightfully refreshing, offering enticing aromas of citrus and jasmine. Creamy and medium weight, with flavors of ripe pear, apple, orange blossom, grapefruit and lemon oil that resonate with crisp finishing acidity. 2140 cases made.
---
Tour & Taste
Thurston Wolfe Winery
588 Cabernet Court, Prosser, WA
Ph: (509) 786-1764
Open Thur-Sun 11am-5pm