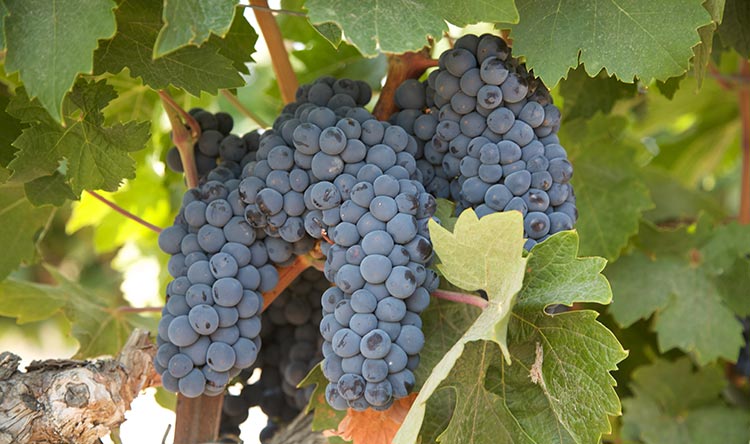 Fruit from StoneTree Vineyard has long been a prized component in many Washington blends, and today more and more winemakers are reserving their best barrels to produce a vineyard designate.
StoneTree is located in the Wahluke Slope AVA (American Viticultural Area) and was named after chunks of petrified wood found scattered about the nearby hills.
"It's probably the warmest site I use, warmer than even Red Mountain," says winemaker Brian Carter of Brian Carter Cellars, who has been buying grapes from StoneTree since 2003.  "The wines have good-to-great varietal character and balance, year in and year out.  Tannins tend to be in control in spite of having good concentration, which makes them particularly good for blending.  Probably my favorites are the Bordeaux varieties and Tempranillo."
Marie-Eve Gilla, winemaker at Forgeron Cellars, has been working with StoneTree fruit for a decade.  "I am sourcing Primitivo and Malbec, and the site is perfect for these heat-loving varietals," she says.  "The soils are very poor, sandy, and shallow above a layer of Missoula Flood river rock.  These conditions, plus a consistent westerly wind, cause the root systems to work hard and naturally decrease vine vigor [excessive foliage growth] thereby intensifying fruit and varietal characters."
Gilla typically blends StoneTree grapes to "add depth and richness" to her Bordeaux blends, though in 2012 she bottled a single-vineyard Malbec under the winery's top-tier Anvil label. "Malbec from StoneTree is annually one of our most intense, exciting wines and the 2012 is quite simply one of the darkest, most concentrated wines we have made," she says.
Elevation Cellars winemaker and owner Steve Stuart told Tasting Room Magazine, "StoneTree Vineyard offers a strong structure and depth to our wines. A combination of microclimate and soil composition make for ideal growing conditions and allows us to control the pace at which our blocks progress. This control and direct climate influence give the wines their complexity."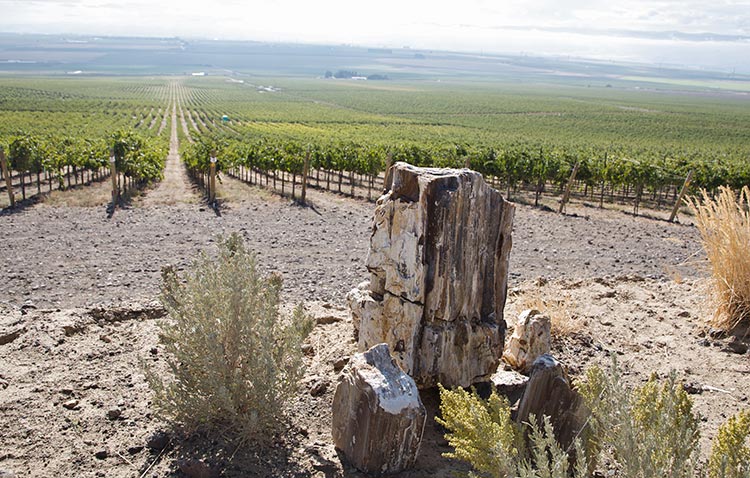 World class vineyard sites don't discover themselves.  After spending years working around the Wahluke Slope as a private consultant for grape growers, it was Tedd Wildman who saw the potential for a vineyard where an apple orchard stood on the south slope of Saddle Mountain, four miles east of the town of Mattawa.  He found a partner in Mark Wheeler, a physician who started a medical software company, and they broke ground in 2000, planting Bordeaux and Rhône varietals.
"Tedd Wildman is among the best growers in the state," notes Brian Carter, pointing to Wildman's skill at tightly managing the vineyard to obtain successful results.  "He has a good feel for his vines and keeps growth where it needs to be."
"Uniformity is the key," says Wildman.  "My goal is to have no missing vines and every vine looking as much like the one next to it as possible.  This promotes more uniform ripening.  I probably spend more on shoot thinning and canopy management in general, as well as cluster thinning and cluster quality uniformity than most other growers."  Clearly, the meticulous attention in the vineyard is delivering the kind of high quality fruit that excites winemakers like Carter and Gilla.
Wildman explains how he initially selected which grapes to plant.  "It began with a conversation at Bern's Tavern in Prosser with Rich Wheeler, who was then in charge of grower relations for Chateau Ste. Michelle.  It was a list of varieties on a napkin.  He said, 'get clones too.'  So I did."
Despite the good choices made early on, he is an ardent believer in the vineyard's unique terroir.  "It's always about the site.  Site trumps clone," he states.  "That, and attention to detail in various vineyard operations throughout the year."
Wildman and Wheeler are expanding on their successful formula.  This spring, they broke ground on yet another 150-acre parcel about four miles east of StoneTree.  Wildman shared that, "It will be planted predominately Cabernet, but also Cabernet Franc, Merlot, Malbec, Syrah, Mourvèdre, Grenache, and maybe a couple of surprises."
If the joy of wine is about one thing, it's about great surprises.
Written by John Vitale