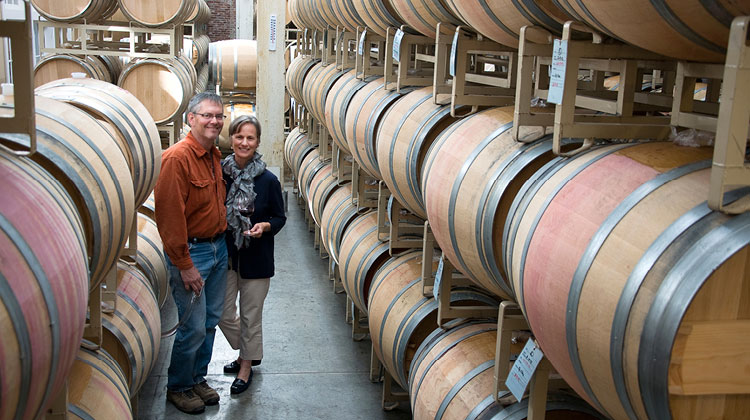 One of Walla Walla's landmark wineries, Seven Hills has come full circle after 26 vintages and is making a return to its original roots of Cabernet and red Bordeaux varietals.  Winemaker Casey McClellan and wife, Vicky, wrapped up their 26th vintage in the fall of '13, and will celebrate their 30th wedding anniversary this spring—having not only endured what can be a volatile industry subject to market trends and mother nature, but continue to thrive in it.  These milestones mark a good time for the couple to both look forward and reflect back at the family business.
Family Circle
The family roots run deep; Casey's ancestors started farming in Eastern Washington in 1880.  From the beginning, Seven Hills Winery has been founded on family values and respect for tradition, and their three daughters have been part of that process.
"Eiledon was one-year old when we started the winery back in 1988, Maeve was born in 1989, and Glynis in 1991 so they grew up with it," says Vicky.  "I still remember them running through the barrel rows."
Vicky also remembers the girls bringing their My Little Pony toys down to the winery during harvest.
"It was right out of the film, Fantasia, with all the bubbling pink waterfalls," Vicky recalls laughing.  "When we did the punch-downs, the girls would stand next to the bins at the ready with their ponies so when the pink foam started they could frolic."
With their daughters now in their twenties and exploring their own career avenues, Vicky still recruits them for events when possible.  The youngest, Glynis, resides in Walla Walla and is a familiar face around the winery.
Vicky was pleased that Maeve wanted to take her wedding vows in the family's vineyard where she grew up.  "I was very touched by it because when the girls were little, I hauled them out to the vineyard and all over the Walla Walla Valley while their friends were taking swim lessons, going off to camp and canoeing," she says.  "It was affirming to think that we created a fond memory, that maybe it was their dream too."
"The groundedness in a place that you live and feel is a rare opportunity to be tied to the land, not just a city or a building," adds Casey.  "There is a rootedness you can take with you even if you leave the valley.  It's been in the family since my father and mother's generation.  I think moving that history forward is a precious thing."
Pushing Boundaries
In keeping with the progressive farming history of the Walla Walla Valley, the folks at Seven Hills have constantly pushed the boundaries.
"Walla Walla has always been a cutting edge agricultural place.  If you look 100 years back in our history, the self-leveling wheat combines were developed in the region so that they could farm the hills," Vicky says.
In turn, looking forward has always been the way Casey and the McClellan family, along with vineyard manager Leonard Brown and his brother Ron Brown, have run the farm.  Leonard has a horticulture degree from Oregon State University and Casey studied enology and viticulture at Davis—together they could be agricultural mad scientists.
"I feel like we've been able to be very experimental," says Casey, who strayed from being solely a Cabernet and Merlot producer in the late 90's to try his hand at fledgling grape varieties new to the state.  "I was fascinated by exploring what this valley could produce varietal-wise."  As a result, Seven Hills set firsts without any dramatic billboards announcing their accomplishments, no sexy campaigns.
The winery was the first to bottle a Malbec out of the valley in 2001, first to bottle Tempranillo, and one of the first to bottle a Petit Verdot.
Farmer vs. Terroir
Though rarely talked about outside of viticulturist circles, Seven Hills Winery has successfully employed progressive trellising systems.
"It seems everyone is very enamored with terroir," says Casey.  "I love geology and soil science—where your site is is very important, but lost a bit is that the transformation of a site and terroir is heavily influenced by man and the way someone chooses to manage that vine."
There are different ways to train the growth of vines (called trellising systems) and they play an essential role in the outcome and quality of the grapes.  Basically, the job of the trellising system is to help the grapevines strike a proper balance in being able to yield enough leaf foliage without too much shading that could hinder grape ripening or worse, contribute to grape diseases.  Casey, along with viticulturist Ken Hart, put their own inventive spin on it and developed what they named the Hart-McClellan Modified Geneva Double Curtain.
"The two-word summary for this system is vine balance; meaning, what the vine wants to do with this system and what we're allowing it to do," says Casey.  The system provides excellent sun exposure, and good air movement through the vines, which is particularly important for Cabernet Sauvignon with loose clusters—Cab being the brand's flagship wine.  It also allows the vine to support significantly more fruit at the same quality level, making it more economically sustainable.
"It's good for the farm, it's good for the wine, and the vine is happy," says Casey.
Seven Hills is also one of the few producers in the valley successfully using the fan-trained system, which Casey grew familiar with at Ciel du Cheval Vineyard (a long-time source of grapes for them) on Red Mountain.  More labor intensive to prune, the fan train involves four trunks that go up and weave in and out of wire, so the fruit zone is more vertically distributed.
"We're getting the most out of Mother Nature—the most sunlight as possible for fruit development; light and air circulation that builds structure and extraction," Casey explains.  "It's a little more demanding to prune and keep trellised and trained every year, but we get exceptional fruit out of it."
Evidence of that is the first Reserve Malbec the winery has produced, released in March and from all fan-trained vines.  "When the staff tasted this wine, everyone in the room was like, Wow, I love this one," Casey says.  This is the kind of reaction Seven Hills requires to deem a wine a reserve, which they've only designated nine times in the past 26 vintages.
A Return To Roots
"This is a really exciting time," says Vicky.  "We're on a growth plan."  The fall 2013 harvest was the winery's largest crush ever with a record 19,000 cases of wine.  Part of their growth plan includes a focused effort on making a smaller portfolio of wines more interesting.
"We're returning to our original roots," Casey says, "which were the first two blocks at Seven Hills Vineyard of Cab and Merlot.  We're back to a stronger focus on Bordeaux varietals."  Cabernet Sauvignon still leads the way as the winery's flagship.
"It's truly one of the great wine varieties of the world.  We love growing it, we make more Cab than anything else, the region makes great Cab," says Casey.  "Don't fight Mother Nature with your varietals.  You're not going to win."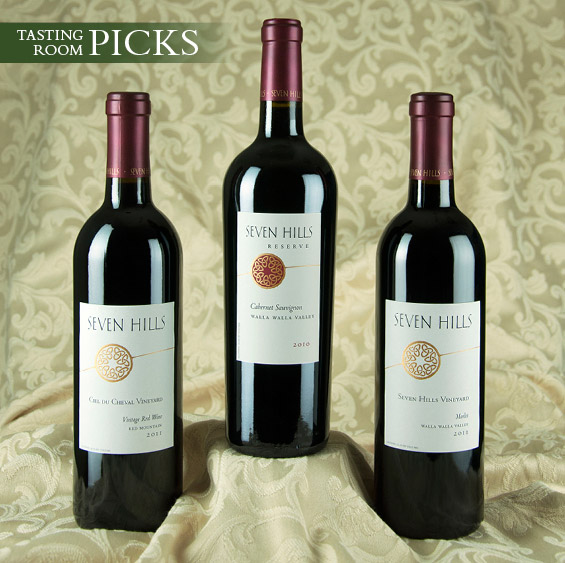 Try these releases:
Seven Hills 2011 Ciel du Cheval Vintage Red Wine, $45
Small per-acre yields from Red Mountain's famed Ciel du Cheval gives this Bordeaux varietal blend rich, concentrated flavors and full-bodied tannins.  Nose: Warm aromas of red berries and violets, with earth and balsa wood.  Taste: Dense and seamless red and black fruit with top notes of red plum and tea leaf. Lush full tannins run the gamut from the start through the long finish.
Seven Hills 2010 Cabernet Sauvignon Reserve, $75
Aged 30 months in French oak barrels, this Cabernet is sourced from old vines at Seven Hills Vineyard and Fire Ridge Vineyard of the Walla Walla Valley.  Nose: Towering aromatics of blackberries, dark cherries, roses, lavender, eucalyptus and fresh cedar.  Taste: Muscular and taut with powerful tannins, this Cab has firm structure and grace. Dominated by bold flavors of blackberries, black currants, bittersweet chocolate and anise with a defined streak of pencil shavings.
Seven Hills 2011 'Seven Hills Vineyard' Merlot, $35
Sourced from prized old vines at Seven Hills Vineyard. Nose: There's a floral element of rose and violet shaded with dark plum, new leather and herbal spice accents. Taste: Supple and refined with red currants, raspberry and plum fruit over layers of wet-stone minerality and savory dried herbs of marjoram, thyme and rosemary.
TASTE & STAY IN WALLA WALLA
Seven Hills Winery
212 North 3rd Ave, Walla Walla
Open daily
Ph: 509-529-7198
www.sevenhillswinery.com
STAY
Marcus Whitman Hotel
Located a short walk from Seven Hills Winery tasting room
6 West Rose St, Walla Walla
Ph: 509-525-2200
www.marcuswhitmanhotel.com