At Robert Ramsay Cellars, Rhône Valley wine lover Bob Harris follows his muse to create wines that sing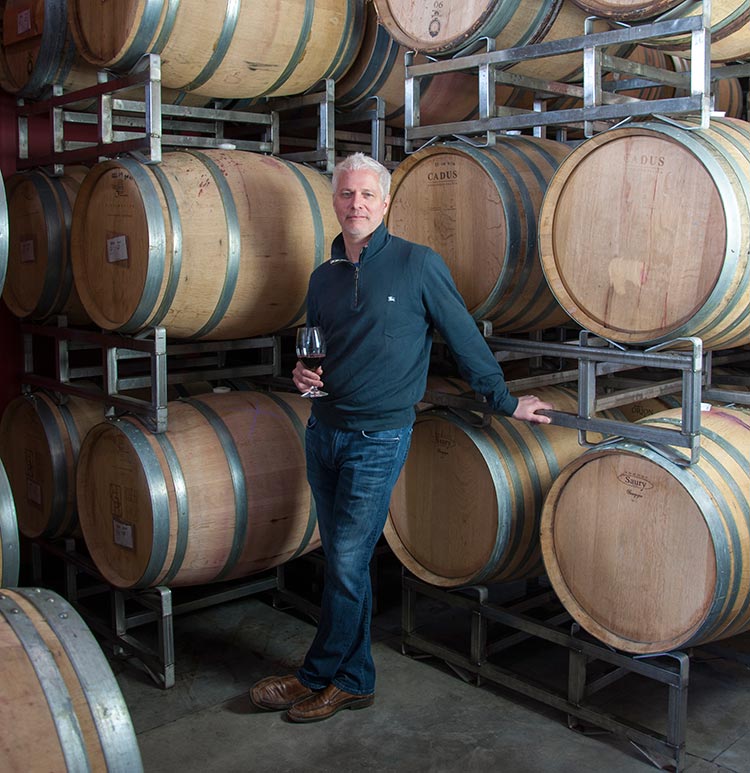 "I AM IN LOVE with what makes those wines different," says Bob Harris, owner of Robert Ramsay Cellars of the source of his inspiration—the red blends of the Rhône Valley in France. The challenge for his Woodinville winery is making a fantastic wine with similar characteristics as wines from halfway across the globe.
The earthiness and elegance of red blends made in the Southern and Northern Rhône is one of the unique things Harris admires. Their lack of a strong oaky character is another. For Harris, and Robert Ramsay Cellars winemaker Casey Cobble, keeping things simple is key.
"You can't make those same exact wines here in the U.S., but you can be inspired by the fruit, the varietals, and the character of some of those wines," he says. "We try to make wine that isn't a fruit bomb or has too much tannic structure—we try to make wines that are elegant, and have some earth and spice." The underlying earthy characteristics of his wines make them remarkable companions for a wide variety of foods.
But of course, Washington is not France, and the Northwest offers its own rewards and challenges.
Chemists and Hedonists
When it comes to winemakers, Harris says there are two types—chemists and hedonists. "It's easier to make a chemist out of a hedonist than make a hedonist out of a chemist," he says. Luckily, Cobble comes with an excellent pedigree, having honed her winemaking skills at nearby Betz Family Winery, taking on the responsibility of shepherding the wines through crush, fermentation and aging.
Wines from various parts of the region can be labeled with the Rhône Valley AOC, or Appellation d'Origine Controlle, if they contain only certain grapes. Why? Many factors are at play, but a lesson in French wine history reveals more than a century of experimentation and a growing understanding of soil, climate, taste preferences, style, branding and family politics. Over decades, they got it right, enough so that a world of wine lovers like Bob Harris find inspiration in these wines.
"We make all five major Rhône varietals—Syrah, Grenache, Mourvèdre, Cinsault and Counoise," says Harris. "We make them as 100% varietals and as blends in the traditions of the regions of Châteauneuf-du-Pape, Bandol and Priorat."
His "Par la Mer" red (which means "by the sea" in French) is inspired by the wines from the fishing village of Bandol in Provence. This is a Mourvèdre dominant wine blended with Cinsault and Grenache to add florality and complexity, for a beautifully enjoyable wine.
Bringing Grapes Together
Each variety of grape has its gifts that it brings to a blend. Harris and winemaker Cobble both love to play with the blend, and find new ways to find the perfect "mélange" (the French word for blend).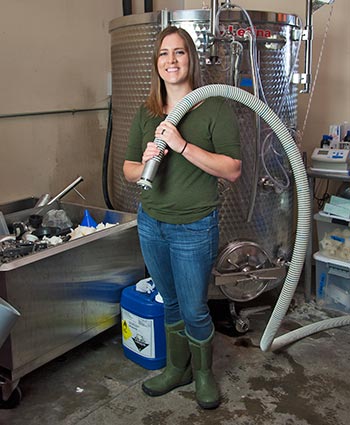 "It is interesting to see how each varietal stands on its own versus the finesse and complexity they add to a blend," says Harris. Some of his favorite blends are from the Chateauneuf-du-Pape area of the Southern Rhône, which inspires his "Le Mien," a blend of Counoise, Cinsault, Mourvèdre and Grenache. In the Priorat region of Spain these grapes are also found, and these rustic powerhouse wines that sparked the idea for their "La Previa," a fascinating combination of Counoise, Cabernet Sauvignon and Grenache.
For whites, Viognier can be lush and peachy, but if grown in a cooler area and picked at the appropriate time, it adds a balancing crisp acidity.  The Mason's White is 100% Roussanne, which, as Harris' Facebook project 365 Days of Wine mentions, has a "pungent perfume featuring scents of fresh flowers, peaches, herbs, pears, and spice." A refreshing, but still complex wine that pairs well with not only light fish dishes, but also poultry and pastas.
No More New Oak
And of course, winemaking style has its say.  The inside of an oak barrel can change a wine extravagantly, adding a whole spectrum of flavor and aroma characteristics, from softening grape tannins to adding intense woody aromas and spicy notes.  The challenge to the winemaker is how to make this recipe of choices end in a glass full of paradise.
Harris and Cobble find other ways to forge a pathway to great Rhône-style wines. For one thing, these winemakers age half of their wine in large format barrels called puncheons, for less oak-to-wine contact, thereby lowering the "oakiness" of the wine.
"I'm done with new oak," says Harris, who like many European winemakers favors neutral oak barrels for less intervention. And to add another common Rhône-region practice, they will be installing concrete tanks commonly used in winemaking there.
"When you use concrete tanks, there's nowhere to hide. I'm excited to play with that," he says. Harris is interested in seeing how the wines respond, and says that although you would think they might gain more minerality from the concrete, in reality, the wine's texture softens with time in the tank, due to the way the longer-chain proteins stay intact in the concrete.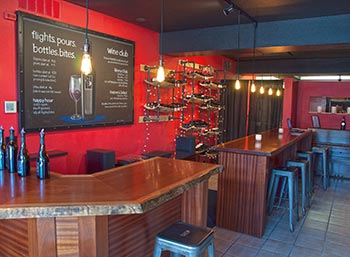 Another benefit to using larger tanks is that they are more efficient space-wise than smaller barrels. The winery produces about 4,000 cases a year, and Harris says that for winemaker Casey Cobble, it's like "playing a large game of Tetris, moving all the barrels around."
Picking Early for Elegance
But the biggest change Harris and crew have made over the past few years is how they handle the grapes themselves.
"I've been learning to pick fruit relatively earlier the past three years," he says. "I've decided that especially with Syrah, if you want elegance you've got to pick it before you think it's ready!" Picking earlier means finding the perfect moment when the fruit is physiologically ripe, and the sugars are developed enough to be able to convert to alcohol and give the wine a fruity aroma and flavor, but not too ripe to make the wine lack acidity or taste like cooked fruit.
For Harris, wine is a passion and a lifestyle, and he enjoys playing the piano and sharing a glass with friends and customers at his Queen Anne Wine Room. "I have no avatar, no mask," he says with authentic humbleness. "What you see is what you get."
His career as the head of marketing operations at GoDaddy keeps him busy, but he hopes to make the winery his full-time project within a few years.
In the meantime, his process goes on, year to year, as shown through the winery's social media campaign titled, 365 Days of Wine, where Harris brings the wine lover along through the process, from harvest to crush, fermentation, bottling and aging. And of course, the pleasures of "research" that go into drinking these glorious wines.
Written by Shannon Borg and Photographed by John Vitale
Editor's Top Picks

---
Robert Ramsay Cellars 2013 Par La Mer, $35
Editor's Choice – Extraordinary (96-100 pts.)
Inspired by the wines of Bandol. Floral aromas of red berry, spice and earth introduce this full-bodied Rhône varietal blend of Mourvèdre (71%), Cinsault (21%) and Grenache (8%). There's endless depth to the cascading flavors of raspberry liqueur, strawberry rhubarb, pink peppercorn, stony minerality and loamy earth. Finely honed, with firm structure that stays focused through the long finish. –JV
Robert Ramsay Cellars 2014 Mourvèdre, $35
Editor's Choice – Extraordinary (96-100 pts.)
Enticing aromas of dried currants, graphite and earth open to a gorgeous structure with striking pillowy uplift on the mid-palate. There's an exalted purity to the black currant, strawberry, pomegranate, fig and balsamic flavors lined with pencil shavings and leather. The flavors echo like a sonic boom through the long finish, joined by fennel and flickerings of white pepper. –JV
Robert Ramsay Cellars 2013 Le Mien, $35
Editor's Choice – Outstanding (91-95 pts.)
Inspired by the Southern Rhône appellations such as Chateauneuf-du-Pape. Refined, supple and finely balanced, with elegant characters of earthen spice and minerality that mesh with deeply concentrated flavors of licorice, black raspberry, wild strawberry and exotic spice that pervades on the rich, satisfying finish. –JV
Robert Ramsay Cellars 2014 Grenache, $35
Editor's Choice – Outstanding (91-95 pts.)
Appealing, smooth and complex, with juicy raspberry and macerated cherry flavors infused with lavender and anise draped over mineral spice, dried tobacco spice leaf and warm stone. Fine, chalky tannins find energy on the prolonged finish. –JV
Robert Ramsay Cellars 2014 Cinsault, $32
Editor's Choice – Outstanding (91-95 pts.)
A pretty translucent red hue, this rare single varietal bottling is smooth and polished, bursting with floral red fruit flavors of cherry, raspberry and rose petal that reverberate through meaty layers of leather, earth, white pepper and saline. Powerful and structured, yet light on its feet. –JV
Robert Ramsay Cellars 2014 Syrah, $35
Editor's Choice – Outstanding (91-95 pts.)
Suave, well built and vibrant, with aromas of dark fruit and brooding earthiness. Solidly framed with beguiling blackberry, plum and black raspberry flavors that pulsate with underlying mineral, rock and earth tones. The long finish is peppered with appealing spice notes. –JV
---
Visit & Taste
Woodinville Tasting Room
: 19495 144th Ave NE #235, Woodinville
, WA
Open Sat 12-6pm, Sun 12-5pm
Queen Anne Wine Room
: 1629 Queen Anne Ave N
, Suite 102, Seattle, WA
Open Tues-Sun
 (check website for hours)
PH: 425-686-9463