Changing the world one bottle at a time, the new generation of Powers Winery carries founder Bill Powers' vision forward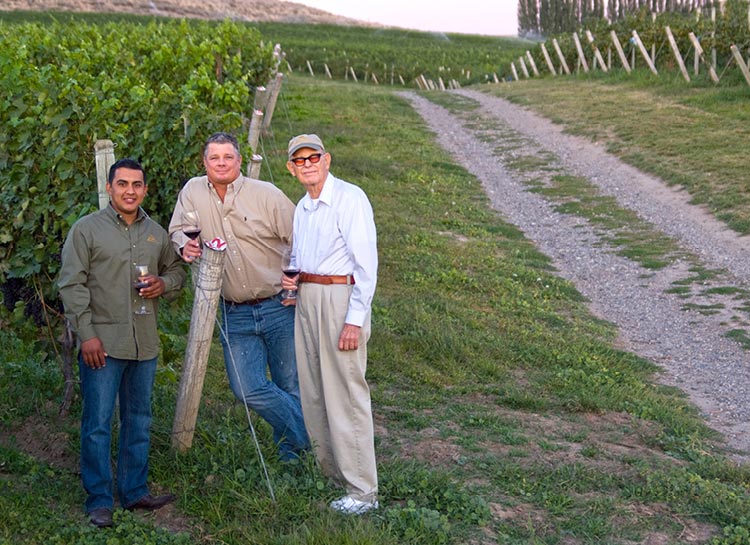 Despite success as innovators, not to mention their ranking as the eighth largest producer in the state, Powers Winery continues to pursue and improve upon multiple projects under a modest (literally and figuratively) roof.
Located at the foot of the 73-acre Badger Mountain Vineyard in Kennewick, the winery epitomizes the dichotomy of an understated yet progressive powerhouse: their Badger Mountain estate was the first certified organic vineyard in the state (1990), they were the first to give back to the power grid with their solar program, and they were the first to box an organic wine in 3-liter format.
Founder Bill Powers (1926-2014) is considered a legend in the Washington wine industry.  He set the tone for a no-nonsense business, devoid of pomp and circumstance.  Today his son Greg carries forth the family traditions of sustainable farming and role as director of winemaking.
"Do we wish we looked a little fancier, looked a little better?" asks Greg rhetorically.  "Of course.  But we are very, very efficient.  Our job is still to make the best wines we can at the best price."
Champion Grower
In late September 2014, the industry lost Bill after a brief illness.  He was a champion of grape growing, wine producing and forward-thinking practices before such methods became key words: organic, green, solar, passing it forward.
And yet, while revered as a pioneer, Bill had a tendency to deflect such fame and attention.  Perhaps his roots as a humble, nose-to-the-grindstone farmer from Oklahoma were part of his DNA, one that he ironically shared with the great Dr. Walter Clore—aka "Godfather" of the Washington wine industry, also from Oklahoma.  Bill was known to focus on the genius of others, like his friend and consultant Clore, who had been instrumental in the site selection for Badger Mountain Vineyard.
Powers was passionate about farming grapes.  When he received the lifetime achievement award from the Washington Association of Grape Growers, Bill was quoted as saying, "I am the luckiest guy in the world because I get up, walk out the door and get to do what I love every day."
Even in his final weeks, the vineyard was on Bill's mind, telling his son from his hospital bed during a brief illness, "Well, I sure (expletive) harvest up, didn't I?"
"That was always his biggest concern," says Greg, laughing.  "Even when he was lying there, he was concerned about harvest, about when we were going to pick the Riesling.  That was my dad."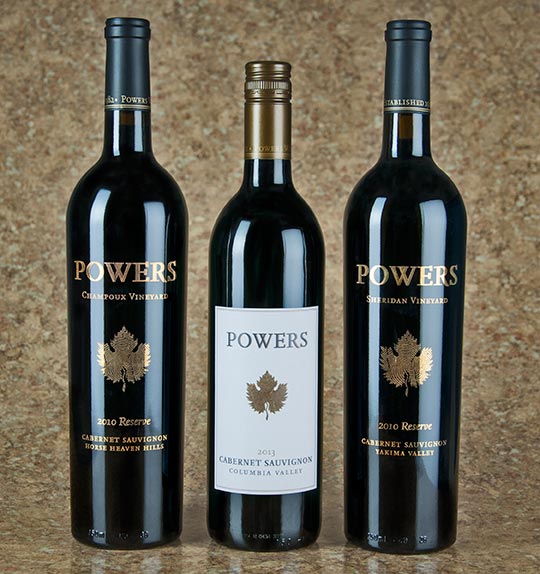 Going Organic
When Bill Powers and his son Greg planted Badger Mountain vineyard in 1982, he tended the vines using techniques commonly applied to other crops in the state.  But after witnessing friends of his from the farming community come down with different types of illnesses, Bill did some research and told Greg, we're going to try and go organic.
"At that time everybody was like, 'what the heck's organic?'  I think they thought dad was crazy," recalls Greg.  But not Dr. Walter Clore, who at the time commented that back in the 1940's everybody was organic.
"Sometimes you have to go back to your roots," Greg says, referring to early organic practices.  "For us, that means doing what it takes to make things work."
Giving Back to the Grid
Bill Powers had the rare combination of being utterly altruistic while being fiercely pragmatic.  So when he researched the benefits of solar and found it penciled out, he outfitted the tasting room with solar panels in 2008.  Finding success in the pilot project, the company topped about 2,000 square feet of the barrel building with a solar array.
Not only did it pencil out financially, but Powers also became the first winery in Washington State to give back to the grid, according to co-owner and sales manager Mickey Dunne.  Dunne migrated from Idaho to Washington in 1987 where he cut his teeth in the industry working at Snoqualmie Winery with other budding winemakers like Mike Januik (Januik Winery) and Charlie Hoppes (Fidelitas).
"Bill Powers came up with practical solutions where none existed," notes Dunne, referring to Bill's use of biodiesel.  Powers started collecting used cooking oil from restaurants and learned to convert it into homegrown biodiesel, a practice continued at the winery today.
"We are able to make enough diesel to power all of our farm equipment through the growing season," says Greg.
"There's a theme here," points out Dunne.  "It (biodiesel) had a practical genesis.  We could do this for cheaper, and it's the right thing to do."
Thinking Outside the Box
In addition to producing limited-production Powers wines and the organic Badger Mountain series, the winery championed the market for premium box wines and organic wines in 3-liter format (earth-friendly packaging) under each brand respectively.
"We've had the fortune of being a profitable business for a number of years as well as one that has operated along the lines of Bill's philosophy: If you can do something good, you should do it," says Dunne.
When the company set out to find some sort of charitable giving, Dunne serendipitously read an article in The Economist that discussed how the lack of clean water was economically limiting for third world countries.  He began researching organizations that addressed the need for clean water and stumbled across charity: water, a non-profit which provides permanent solutions—such as drilling or digging wells—for clean, safe water in undeveloped countries (www.charitywater.org).
"We wanted to change not just the water part for communities in need, but provide economic opportunity for people that now don't have to walk three hours out and three hours back to find clean water," says Dunne.
The winery established a brand called Monde eau (translation is "World Water") with the mission of donating a substantial piece of the sales profits to support humanitarian efforts that supply safe drinking water throughout the world.
"What really struck me at the time is the fact that you can literally change an entire community—the chance for education and economic advancement of people—by access to something pretty simple that we take for granted: clean water."  In 2013, the winery's beneficiary was the Adarsha Higher Secondary School in Nepal, and in 2014 the funds aided students and faculty at a school in Mozambique.
Continuing the Legacy
With Bill's passing, Greg says the direction of the winery won't change at all.  Greg and Mickey Dunne gather for what they call "creative alchemy"—their fine-tuned art of blending—with a tightly knit team consisting of winemaker Jose Mendoza and production manager, Ryan Wattenbarger.
Most importantly, Powers will continue to further the vision of their long-time growing partners established by Bill.
One such partner is Champoux Vineyards, arguably one of the most sought after sites in the state.  In 1996, Bill joined a group of high-profile wineries to become a co-owner of the vineyard (at the time Mercer Ranch Vineyards) at the invitation of Paul Champoux, who admired Bill's background as a grower.
"We've never had a contract with Paul," says Greg.  "They just call and say here's the price—and that's that."
"And Sheridan Vineyard fruit we will still do on a handshake," adds Dunne.
"I think it might be email now," Greg corrects with merriment.  Both Greg and Dunne credit these close relationships to Bill.
"We have growers still call us to ask if we want their fruit and I don't think that's common," says Dunne.  "We've been at it long enough too that we can kind of pick and choose who we want to do business with.  Who is as important as the where."
"I've grown up in this," Greg says looking out to the vineyard that he helped plant.  "My dad lived a good life—he lived to 88, and was able to spend his last couple of days sitting on the porch looking at what he created."
— In memoriam William (Bill) Powers, 1926-2014  
Written by Kirsten Telander
Editor's Top Wine Picks featured with this article:
Powers 2010 Reserve Champoux Vineyard Cabernet Sauvignon, $35
Powers has been working with fruit from this intense and expressive Horse Heaven Hills vineyard since 1992. Aged 33 months in French oak barrels, this Cab exudes power, grace and balance.
Nose: Brambly red berries and dark fruit aromas, with lovely shadings of cedar, cocoa powder and fennel.
Taste: Elegant and finely balanced, with disarming power behind a swath of velvet tannins and rich core of dark fruit—black cherry, dark plum and black raspberry—nuanced with bittersweet dark chocolate and loamy earth on the long finish. 823 cases.
Powers 2013 Columbia Valley Cabernet Sauvignon, $15
A best-buy blend of no less than eight different Columbia Valley vineyards. This easy going Cab (88%) is rounded out with Merlot, Cabernet Franc, Syrah and Malbec.
Nose: Aromas of blackberry, boysenberry, black plum, currant, mulberry leaf and a dash of white pepper.
Taste: Smooth and round, with jammy flavors of blackberry, blueberry and molasses shaded with black tea, herbal red pepper and a dash of clove and tobacco spice on the finish. 6,250 cases.
Powers 2010 Reserve Sheridan Vineyard Cabernet Sauvignon, $30
Aged 32 months in French oak barrels, this Cab displays a stellar balance of acidity and fruit. It's the third release from this well-respected Yakima Valley vineyard site.
Nose: Lush aromatics of blue and red fruit, malted milk chocolate, graphite and anise-lemon chervil herb.
Taste: Vibrant, expressive and muscular, with red currants, red cherry, black raspberry, mint, tea leaf and savory dried herb sachet. Thick chalky tannins persist endlessly on the finish. 515 cases.
Powers & Badger Mountain Winery & Tasting Room
1106 North Jurupa St, Kennewic
Open 7 days, 10am-5pm
PH: 800-643-9463
badgermtnvineyard.com
Stay for a Weekend
Hampton Inn Richland
486 Bradley Blvd, Richland
PH: 509-943-4400
richland.hamptoninn.com
Homewood Suites Richland
1060 George Washington Way, Richland
PH: 509-371-1550
richland.homewoodsuites.com