David O'Reilly of Owen Roe Winery is entrenched in vineyards from the Yakima Valley to the Willamette in his quest to craft finessed Washington reds and distinctive Oregon Pinot Noir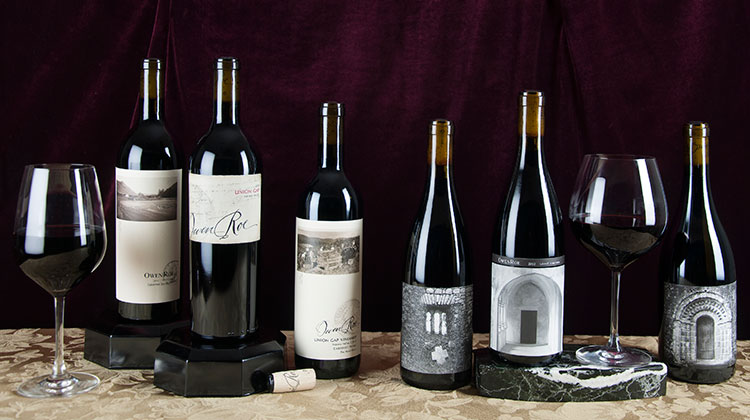 IF YOU tour Owen Roe's Union Gap Vineyard and winery with co-owner David O'Reilly, your first stop won't be at a building, bottle, or barrel, but a vine.  You'll learn the basics of why the vine before you is there and not elsewhere.  Why Cabernet Franc enjoys cool spots and tilth, while Mourvèdre thrives in warm, rocky spots.  This teaching comes in a charming Irish brogue tempered by decades near the Pacific coast.
Only after several stops in the vineyard will you arrive at the winery.  Here, O'Reilly might show you special presses that keep oxygen out of the juice, explaining why that feature is worth the expense.
For a busy man, O'Reilly is generous with his lessons.  The reason for this is undying devotion to his craft, a passion rooted in his boyhood that crystalized as a young adult.
The Troubles in Belfast
As a boy, O'Reilly's family resided in Belfast during "The Troubles," the last outburst of sectarian violence that began in the 60s.  His relatives were fortunate to own a tranquil farm to the southwest.
"The area we always called home was in County Cavan in the Republic of Ireland," says O'Reilly.  "We would go down each summer and work on the farm."  There he acquired the taste for locally produced artisanal food.  "My memories of my aunts in Cavan were pretty vivid, I'd watch them churn butter.  The bread that we ate was made that day.  The butter was churned from their cows that we tended, the lamb stew that we had for dinner would be from their lambs."
But his father, a political science professor, worried increasingly about his family's safety, so they emigrated to British Columbia when O'Reilly was fourteen.  They formed a small logging business, continuing to farm for themselves.  As one of the more academically inclined children, O'Reilly studied medieval philosophy at Thomas Aquinas College in Ojai, California.  The rigorous academic routine developed his analytic abilities.
In Search of a Lifestyle
When it came time to choose an endeavor, the college's co-founder Marcus Berquist unwittingly influenced O'Reilly's choice.  One of Berquist's mentors was Brother Timothy of the Christian Brothers Winery, and when Berquist would invite students over for dinner and talks, the conversations sometimes covered esoterica like Lake County Sauvignon Blanc.  Listening and tasting, O'Reilly remembers thinking to himself, You've got to be kidding me; this is amazing, these wines are incredibly different.
"In each of the different wines we tasted," recalls O'Reilly, "Berquist would explain what part was winemaker and what part was site.  They were always Californian [wines], they were always from vines that he knew, and he knew the winemakers and owners.
"I would go out to these gorgeous vineyards in Santa Barbara and visit with winemakers.  The wines that I preferred were made by these owner/winemakers who were in the vineyards.  When they wanted to show you their wines, they didn't take you into the winery and start pulling corks, they'd take you into the vineyard, because that's where it was made.  I really had a great appreciation of their lifestyle, and that's what I wanted to do."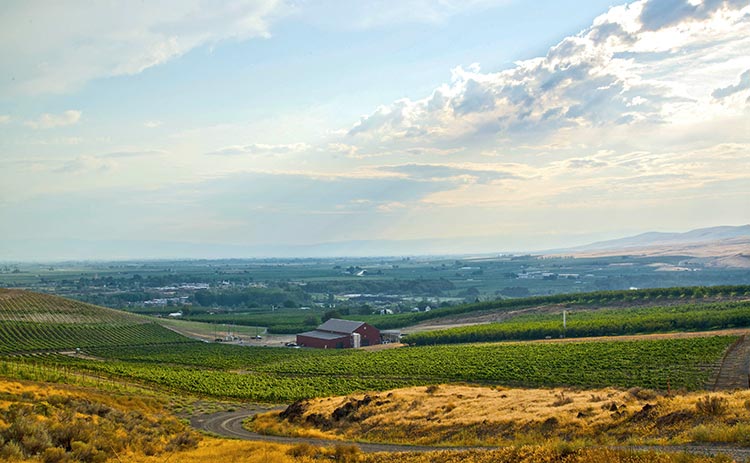 After graduating, O'Reilly married fellow student Angelica Ellis and took her on a cross-country road trip.  "I wanted to take a look at cheesemakers and winemakers.  I'd narrowed it down to those two.  And quite frankly, standing on top of a gorgeous hillside looking down into vineyards or standing in a sheep pasture full of sheep leavings, it was a pretty easy decision."
Santa Barbara to the Willamette Valley
O'Reilly started in the Santa Barbara area, learning both winemaking and marketing, but passed on getting a degree at UC Davis.  His first employer had such a degree.  "After three years I realized working for him was wonderful, but we didn't spend time in the vineyards."  With his parents still in Canada, O'Reilly frequently traveled through Willamette Valley.  "Every Oregon winery that I visited was owner run.  I ended up moving to the Pacific Northwest."
There he worked at Elk Cove, where he met Peter Rosback.  The two founded Sineann in 1994 on a shoestring budget.  "We basically put grapes on our credit cards," says O'Reilly.  He was a marketer then, and asked his employers to allow Sineann to make wine there in lieu of raises.  The only other major expenses were barrels and bottles.
World Class Washington Fruit
He used a similar model in launching Owen Roe a few years later with partner Jerry Owen, crafting local Pinot Noir at various Willamette Valley facilities.  From the start, with the 1999 vintage, reds (other than Pinot Noir) were from Columbia Valley grapes, as had been the practice at Sineann.  O'Reilly recognized the ripe flavors and bright acidity of Washington fruit as world class, but at Owen Roe, O'Reilly focused more narrowly on Yakima Valley.  Grapes were trucked to Oregon from star vineyards in the Yakima Valley such as DuBrul and Red Willow (though some hailed from the Horse Heaven Hills in those early days).
But O'Reilly dreamt of being an estate winemaker and kept his eyes out for sites to buy when he had the means.  First, Owen and O'Reilly had to weather the recession that followed 9/11.  It slowed the pace of the dream, but some suppliers fared worse, being unable to sell all their grapes.  Owen Roe couldn't afford to buy extra fruit, but agreed to take it in exchange for a share of the profits.  The resulting wines became the Sharecropper label.  (This mid-price brand continues, though the sharecropping model, rarely used in the wine industry, does not.)
Before long, the wines again sold briskly, and by 2006, Washington wines became the biggest segment of Owen Roe's production.  So in 2007, realizing the need for a Washington production facility, they leased a former dairy in Sunnyside (that previously housed other wineries) for several years.  They also purchased the Outlook Vineyard, the first of two sites that met O'Reilly's standards.  The other, Union Gap Vineyard, would have to wait.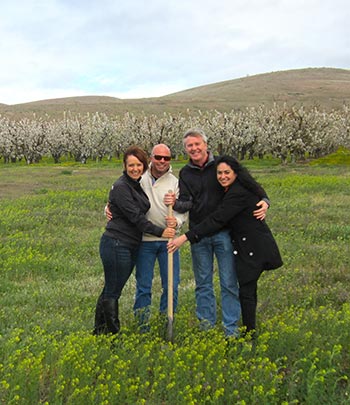 But O'Reilly was fortunate to cross paths with technology and telecom entrepreneur Ben Wolff, whose family pioneered the wine industry in Napa Valley in the 1870s.  In 2010, Wolff and his wife Julie became partners in Owen Roe, helping to buy out Jerry Owen.  The team decided Union Gap was the best location for further development, and purchased it.
Metamorphosis of Union Gap
Nestled at the gateway to Yakima Valley's wine country, the slopes of Union Gap Vineyard harbor several soil types and afford dazzling views of Mount Adams.  The vines enjoy regular breezes that moderate temperatures throughout the year, keeping both mildew and frost at bay and making it easy to farm organically.
With the Wolff's assistance, the vineyard's metamorphosis into a sustainable destination estate is afoot.  They've begun by constructing a rustically styled, but energy-efficient winery that produced its first vintage in 2014.  The tasting room is currently shoe-horned into it, but within two years a separate one will arise, housing event space and a commercial kitchen.  Behind it, a barrel cave, also designed to host events, will huddle partly under vines.
O'Reilly expects organic certification by then, too, and continues to look for earth-friendly ways to recycle.  He's implementing a system to recycle the winery's water into the vineyard, and is working with regulators to make this a statewide possibility.  Glass recycling isn't feasible in central Washington, so trucks transporting his Oregon bottlings return with empties.  He's also exploring 20-liter refillable kegs for the wholesale market.
The finishing touch will be lodging.  O'Reilly and his family now live in the manor house that overlooks it all, and two rooms there will be available, as will separate cottages near the winery.
Finally, O'Reilly spends the majority of his time in Washington, and though his surroundings look nothing like Ireland, he is home.
Written by Tuck Russell
Editor's Top Wine Picks
Washington State Wines
Owen Roe 2012 Yakima Valley Cabernet Sauvignon, $42
A scintillating blend of Cabernet sourced from five different Yakima Valley vineyards.
Nose: Rich red fruit, olive, cedar shavings, dried herbs and spice.
Taste: A refined and supple red, brimming with generous juicy cherry and red berry fruit, layered with licorice, fresh garden herbs and spice. Finely-knit tannins pulsate on the satisfying finish.
Owen Roe 2012 Union Gap Vineyard Red Wine, $85
This estate red wine is a blend of Cabernet Franc (45%), Cabernet (22%), Merlot (22%) and Malbec (11%).
Nose: Copious aromas of red and black fruit, tobacco, sweet and savory herbs, graphite and loamy minerality. Taste: This dark-hued beauty is densely textured and concentrated with a penetrating core of cassis, black cherry, plum and blackberry, layered with herbal accents of flowers, sage, thyme and tobacco leaf. Fine-grained tannins persist on the seductive finish.
Owen Roe 2013 The Pearl Union Gap Vineyard Cabernet Franc, $72
Admirably Old World in style and reminiscent of premium Chinon from the Loire Valley, this gem showcases a small block of Cabernet Franc from the estate vineyard.
Nose: Soft scents of dried herbs, tobacco, olive, violet, cherry, coffee and pencil shavings. Taste: The entry is lavish and plush, woven with finely integrated tannins that coat the palate. Textural minerality and cherry flavors lead the charge, followed by tobacco, spice and earthy cacao nibs. Finishes long and balanced.
Oregon Wines
Owen Roe 2012 Sojourner Vineyard Eola-Amity Hills Pinot Noir, $42
Sojourner Vineyard in the Eola-Amity Hills has volcanic soils and more heat units than the surrounding Willamette Valley.
Nose: Raspberry, cherry blossom, leather and tobacco.
Taste: Unctuous and richly textured with a velvety core of raspberry, red cherry and crème fraîche. Remarkably focused through the finish, inlaid with lush expressions of earthy spice.
Owen Roe 2012 Lenné Vineyard Yamhill-Carlton District Pinot Noir, $55
The 20-acre Lenné Vineyard in the Yamhill-Carlton District of the Willamette Valley is a low vigor site planted in 2000. Only 125 cases produced.
Nose: Generous and intense aromas of spiced cherry, plum and black raspberry.
Taste: Broad and polished, with refined tannins and a velvety yet airy texture that dances with captivating flavors of fresh blackberry, black cherry and peppery spice with a tease of cola. The flavors reverberate on the finish.
Owen Roe 2013 The Kilmore Yamhill-Carlton District Pinot Noir, $42
A blend of three Pinot Noir clones from top vineyard sites: Pommard, Wadensvil and Dijon.
Nose: Bright scents of red berry and cherry swirling with earthy aromas of ground coffee, spice box and cardamom.
Taste: Poised and balanced with vibrant, expressive flavors of red and black cherry, elevated with delicate rose petal and raspberry accents framed by minerally spice on a lingering finish.
Visit & Taste
Washington Tasting Room
309 Gangl Rd, Wapato
Ph: 509-877-0454
Oregon Tasting Room
2761 E 9th St, Newberg
Ph: 844-693-6763