The Bunnell Family Cellar brings wine, food and friends into focus at their popular wine bar and bistro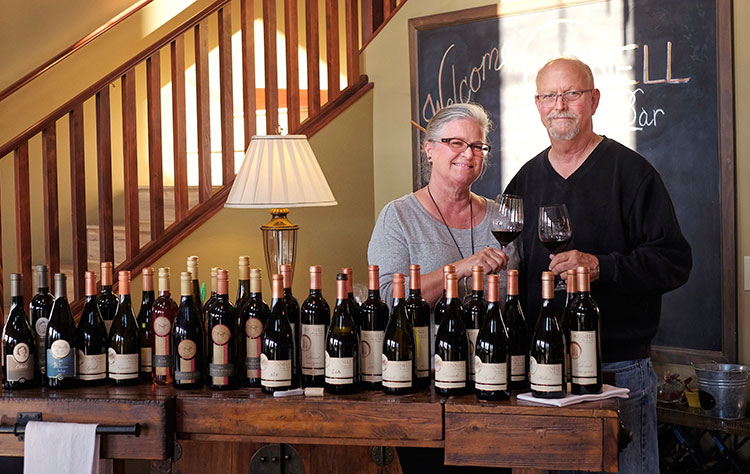 RON AND SUSAN BUNNELL'S business is truly a family affair, with Susan acting as "head of wining and dining," running the bustling Wine o'Clock Wine Bar and Bistro in Prosser's Vintners Village, while Ron focuses on making an ever-expanding lineup of award-winning wines at The Bunnell Family Cellar.
Wine o'Clock was created to provide an opportunity to experience and compare a wide variety of small lot handmade wines paired in leisurely combination with food. In the past few years, this cozy restaurant and tasting room has become a gathering place for the Prosser community and travelers to wine country, who indulge in tasty Mediterranean-style dishes focusing on local produce, such as asparagus and greens from nearby farms, fresh cheeses like goat cheese and burrata, succulent braised meats and wood-fired pizzas.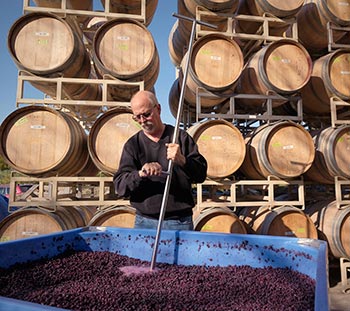 With the popularity and reputation for such delicious food at Wine o'Clock, many patrons are unaware that, first and foremost, Ron is a master winemaker. The bistro, with its offerings of wine flights, has created a great opportunity for the talented winemaker to experiment with numerous combinations of his favorite Rhône varieties.
"We make way too many wines for any one winemaker's health or well-being," says Ron, "but we love the variety when it comes time for enjoyment." As of the start of 2017, the bistro's wine list showcased 32 current release wines and 28 library offerings allowing myriad ways of delving deeper. In fact, some of the menu's wine flights showcase multiple vineyards of a single varietal.
Hidden Gems
"One often hears the phrase, great wines are made in the vineyard," Ron says. "Over the years we have been repeatedly reacquainted with the importance of individuals in the vineyard, like Milo and Kay May of Discovery Vineyard, and Colin Morrell of Lonesome Spring Ranch—it's people like this that are the backbone of our industry."
Among the Bunnell's favored vineyards are small, historically underappreciated blocks with the potential to "investigate the breadth of viticultural expression in Washington State," observes Ron. In short, these lesser-known blocks are hidden gems that make great wine.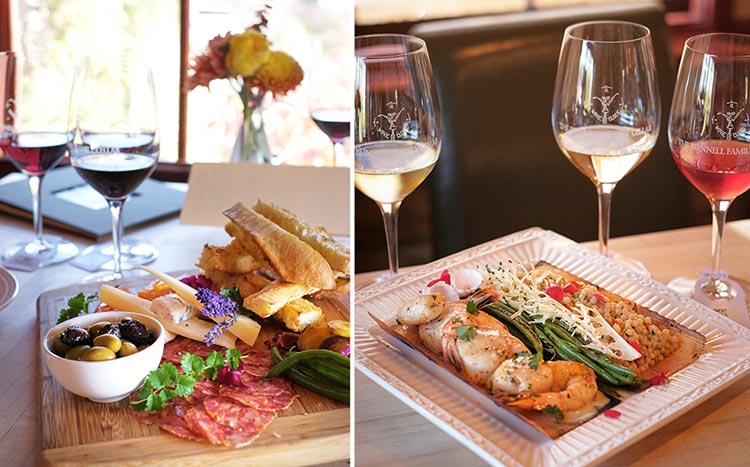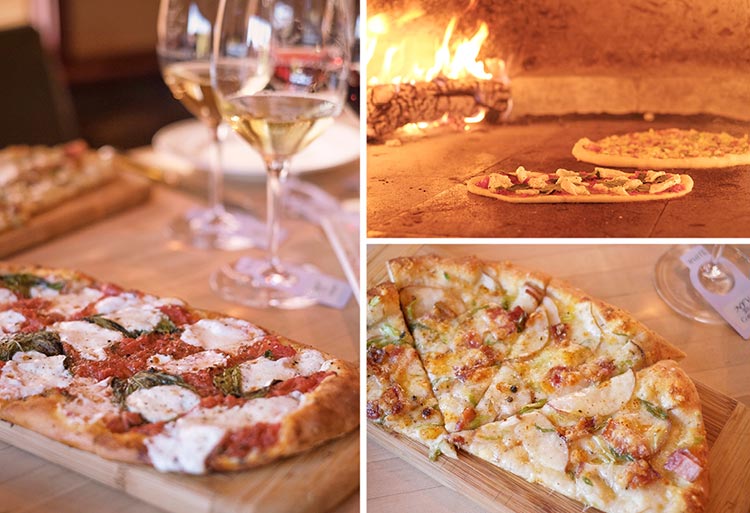 "We like to compare the effects of vintage and aging on a wine with a traditional vertical flight of different years of a single varietal from a single vineyard," says Susan. "One of our favorite types of flights is comprised of a blend, along with a couple of the components bottled individually—say our white Rhône-style blend, Hélène, along with our Viognier, and Roussanne."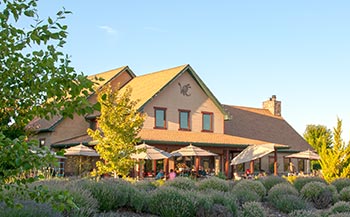 "The seared scallops, with shiso leaf and Meyer lemon go amazingly well with the Hélène," says Susan. The new chef at Wine o'Clock (since early 2016) is Brian Hodges, who works closely with Susan to create successful pairings.
With wine flights such as "Bevy from Bordeaux" and "Game of Rhônes," the Bunnells hope to create not just a place to taste wine and eat, but also a truly elegant and civilized experience, and the perfect place to showcase Ron's wines.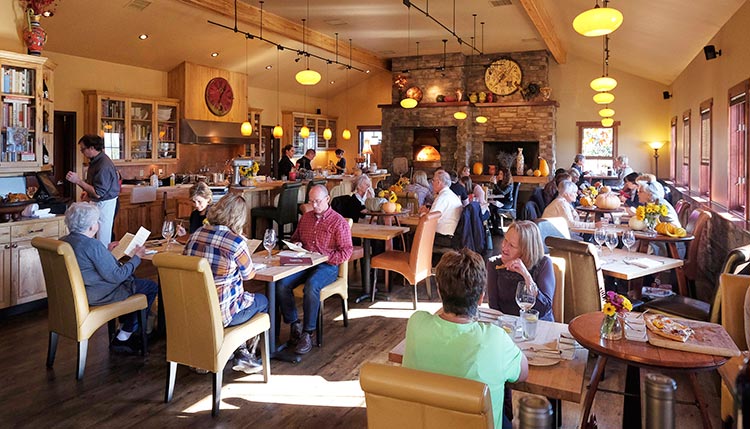 Winemaking Pedigree
Ron's winemaking pedigree makes him one of the most experienced winemakers in the state. Originally from Memphis, he attended the University of Tennessee in botany, with a Masters in plant ecology, before continuing his studies at UC Davis in plant sciences. At one point, Ron thought he would be a vineyard manager, until he had a chance to make some wine himself, using grapes given to him from an instructor. He enjoyed making the wine, Cabernet Sauvignon from the Oakville AVA—and tasting it—so much, that he realized that he would rather pursue winemaking.
That decision took him across the landscape of the wine world, from his beginnings with top California wineries such as the legendary Charles Krug Winery, and then Beringer where he was the first research enologist, and then, as a winemaker, he spent four years working with noted French winemakers. Subsequently, at Kendall-Jackson, where he headed their Syrah program, he had a chance to work with wineries and vineyards all over California. Through these experiences, he discovered a new passion—Syrah and Rhône-style wines, for their intensity, complexity and finesse.
"I've been to the Rhône Valley several times," Ron says. "There's something about Syrah that just speaks to me."
Although he wasn't looking to leave California, the wine giant's loss was Washington's gain.  With encouragement from a friend, he applied for and was hired as a winemaker for Chateau Ste. Michelle. He came on as the head red winemaker, replacing outgoing Mike Januik as head red winemaker, and working on the Col Solare project, a collaboration with the historic Antinori family from Italy.  Making wine for Ste. Michelle afforded Ron the opportunity to create relationships with grape growers across the state.
Dizzying Array of Wines
When Ron struck out on his own in 2005, he continued the relationships from his time at Chateau Ste. Michelle, gathering fruit from some of the state's best vineyards for his Rhône-style wines. One of Bunnell's favorite vineyards is the Discovery Vineyard on the edge of the Horse Heaven Hills AVA, managed by Milo May. "We get spicy, very intense fruit year after year," says Ron, who was able to choose the blocks he wanted as they became planted.
And although Ron has worked with many vineyards around the state over the years, including some on the Wahluke Slope and further off into the Columbia Valley, in recent years he has focused on vineyards that are closer to his winery so he can visit more often, making sure the grapes are being farmed as he envisions, and picking them at just the right time for perfect balance and ripeness.
Given Ron's passion for Syrah, he has stayed focused on primarily Rhône varietals in the past. But in 2012, he added a Cabernet Sauvignon program whose initial offerings included a single-vineyard Cabernet from Discovery Vineyard, another from Painted Hills Vineyard, and some forays into Cabernet from Walla Walla. "And then we did what we Bunnells do, we waited," he says.
Fast forward to 2016, when Ron finally decided that the first Cabernets were ready to start releasing. "We are very happy with the quality of the wines," he says, "and proud that the acclaim they are receiving shows the wait was worth it." In fact, in their inaugural year the Cabernets have garnered multiple golds, double golds, platinums, and even double platinums in the San Francisco Chronicle national competition. Expect Cabernet to continue to be a part of the family of wines with future releases.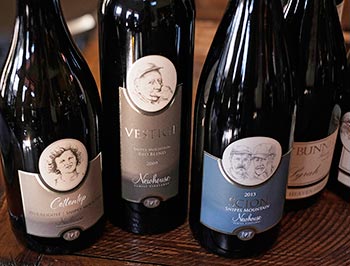 In addition, Ron brings his winemaking skills to the Newhouse Family Vineyards project with Steve Newhouse, whose family owns Snipes Mountain Vineyard and Upland Vineyard, some of the highest elevation vineyards in Washington.
Under their second label, called Wine o'Clock, the Bunnells produce half a dozen wines like Sangiovese, Riesling, Rosé and those that typically run higher in acidity and are recommended pairings with many of the dishes served at the bistro.
"We have this dizzying array of wines for a number of reasons," explains Susan. "Partially, it is really hard for Ron to turn down one of those jewels when he gets approached with it, but mostly it's because we love having all of these finished wines to work with, comparing vineyards, vintages, and aging."
The Bunnells have a tasting room in Woodinville—called BNU Tasting—where you can taste the full lineup of wines along with light bites. At their wine bar, Wine o'Clock, Ron and Susan focus on family and sense of place. Make sure to take the time to visit the bistro in Prosser's Vintner's Village, where you can truly experience the wines the way this talented couple envisions them—with great food and good friends.
Written by Shannon Borg
Photographed by Colby Kuschatka
Editor's Top Picks
---
The Bunnell Family Cellar 2013 Painted Hills Vineyard Cabernet Sauvignon, $48
Editor's Choice – Extraordinary (96-100 pts.)
Combines power and depth with sleek and graceful texture, exuding concentrated blackberry, plum and currant with uplifting structure. The flavors roll effortlessly into the finish, adding intrigue with crushed gravel, dried sage and cedar shavings amid solid, gripping tannins. –JV
100% Cabernet Sauvignon, Painted Hills Vineyard, 114 cases, Art den Hoed grower and viticulturist Dustin Tobin
The Bunnell Family Cellar 2011 ALX, $42
Editor's Choice – Outstanding (91-95 pts.)
On-point for the vintage, this Syrah shows solid depth and complexity, with energetic savory herbs of dried sage and oregano rippling through high-toned red berries and plum flavors. Dusky cocoa, earth, mineral and white pepper spice notes prolong the finish. –JV
100% Syrah, 147 cases, Boushey-McPherson Vineyard, Clifton Hill, and Northridge Vineyards
The Bunnell Family Cellar 2011 Grenache, $36
Editor's Choice – Extraordinary (96-100 pts.)
Polished, fresh and savory, with deep expressions of cherry, mingled with flavors of strawberry and raspberry inlaid with vanilla and caramel notes. Garden herbs and a dusting of pink peppercorn spice meld seamlessly into soft tannins on the ultra-smooth finish. –JV
100% Grenache, 143 cases,
Boushey McPherson Vineyard & Northridge Vineyard
The Bunnell Family Cellar 2013 Hélène, $24
Editor's Choice – Outstanding (91-95 pts.)
A well-built beauty, this vivacious white blend is creamy and slightly unctuous, and. An infusion of lemon oil weaves through the complex layers of melon, pear, lychee, citrus and almond-tinged spice notes on the dry finish. –JV
Viognier and Roussanne, 289 cases, Art den Hoed Vineyard and viticulturist Dustin Tobin
The Bunnell Family Cellar 2010 Lia, $36
Editor's Choice – Outstanding (91-95 pts.)
A beguiling library wine, this Southern Rhône varietal blend is a serious player. Fresh and succulent, with a floral-edge streaked with blackberry, boysenberry, red plum and vanilla flavors that merge with earthy underpinnings of leather, roses, mocha and dried herbs. –JV
Mourvèdre, Syrah, Counoise, Grenache, Cinsault, 174 cases
Wine o'Clock 2014 Sangiovese, $24
Editor's Choice – Excellent (86-90 pts.)
Balanced, rich and full-flavored, with aromas of red fruit, rose petal, cedar and smoke that echo through the mouth-coating palate joined with bright strawberry, leather and cedar box. This wine makes a worthy companion to classic antipasti and a wide variety of hearty dishes. –JV
100% Sangiovese, 136 cases, Columbia Valley AVA
---
Taste Now
The Bunnell Family Cellar & Wine o'Clock Wine Bar
Located in Prosser Vintner's Village at 548 Cabernet Court, Prosser, WA 99350
Open: Wed-Sun
Tip: Reservations recommended
PH: 509-786-2197
www.bunnellfamilycellar.com
BNU Tasting Room
19501 144th Ave NE, #C-800
Woodinville, WA 98072
PH: 425-286-2964
Stay Close
Seven Gables 
Pensione B&B
257 Wamba Rd, Prosser
PH: 206-499-2200
Visit Tour Prosser
online or in town:
www.tourprosser.com
PH: 509-786-3177