A closely-knit family affair, Castillo de Feliciana hits the ten-year mark at this Spanish-inspired winery and estate vineyard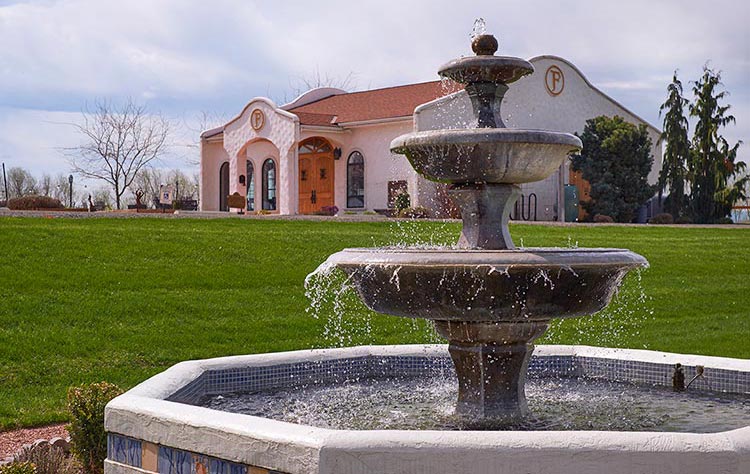 THE Castillo family — Sam, wife Deborah, daughter Kara and son Christopher — raise a glass of their "Brillánte" sparkling wine made in the méthode traditionnelle. They are celebrating being in the same place at the same time, a rarity, but even more auspicious, toasting their 10th anniversary as Castillo de Feliciana (translation Happy Castle). Gathered in their newly renovated event space just off the well-appointed tasting room in the Walla Walla Valley, they reflect on their good fortune and future. Oh, and really hard work.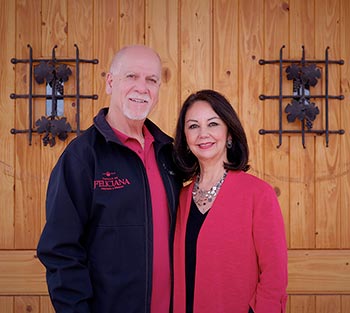 Lost and Found
Originally from New Mexico, high school sweethearts Sam and Deborah married and eventually relocated to the Seattle environs. They were the winning bidders on a trip to Eastern Washington wine country at a Woodinville Rotary auction donated by friends of theirs. Said friends happened to be on the list for Cayuse and the weekend included a tag along to Cayuse's release party, a stay at the Marcus Whitman Hotel and dinner at (former) 26 Brix. Not a bad introduction to Walla Walla. Nor was it their first rodeo wine touring.
"We had spent most of our time going to Napa and Sonoma; Deb's aunt and uncle lived in the Bay area and were very instrumental in getting us involved in wine," recalls Sam. "They took us to Christian Brothers, Charles Krug, and Mondavi in the 70's and that really got us hooked on the romance of wine." Sam eventually started making wine as a hobby and found that his degree in chemistry was a huge asset. And perhaps genes were involved—his grandfather made wine in the early 1900's in New Mexico.
During Deborah and Sam's inaugural trip to Walla Walla in 2004, they ended up getting lost on the corner of Telephone Pole and Stateline Road while trying to meet up with their friends at Cayuse. A few years later, Sam, with a long-time successful dental practice, was ready for change and had been looking at property for a vineyard and winery. "I told him there's no way you can get me to move unless I feel something in my heart," recalls Deborah. "Unless we find a piece of property that makes me feel a certain way." Their agent showed them land that wasn't officially on the market—66 acres planted in rotating crops of wheat and peas. The location? The corner of Telephone Pole and Stateline Road, the exact spot where they got lost just a few years prior. "The property found us before we found it," Deborah says.
The upper level is ideally suited for grapes, and they planted in Tempranillo, Albariño, Malbec, Cabernet Sauvignon and Merlot in 2008.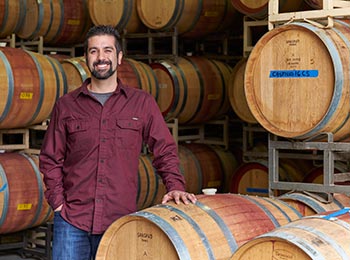 Spanish Varietals in Washington
"It made sense for us to focus primarily on Spanish varietals given our Spanish heritage," says Christopher, who became the head winemaker in 2011. "Tempranillo and Albariño encompass just over 60% of our 5,000-case production." Castillo de Feliciana was the first to make an Albariño in the Walla Walla Valley, and the family credits Javier and Shylah Alfonso of Pomum Cellars in Woodinville as influences in the true expression of the varietal, along with Tempranillo and Garnacha.
In 2010, Christopher surprised the family and announced that he had given his notice at Mac & Jack's Brewery, and had applied to the Walla Walla Community College School of Enology and Viticulture (he was a scholarship recipient). "Making wine for my family's operation was not my intended motive for learning about winemaking," he says. "I was thirsty—no pun intended—for learning a new craft, and wine felt like a natural transition from beer brewing." Rumor has it he still makes a killer homebrew.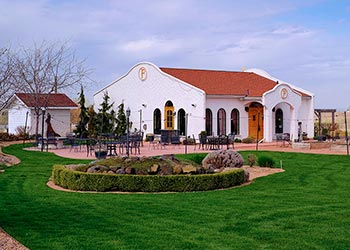 Christopher originally planned to follow in the footsteps of Sam and pursue dentistry. "My father is one of the biggest role models in my life. Naturally, I wanted to be as successful as him, and provide for my family (wife Emily Grace and son Nicholas James) like he has provided for us." Intuition, clearly a family trait, steered him in other directions. "When it came down to enrolling into dental school, something didn't feel right and I trusted that feeling," says Christopher. "Was I fearful of disappointing my mom and dad? Certainly. But I utilized my studies in biology and chemistry for fermentation, first with beer, and now with wine."
Tia and Andalucia
Deborah's la tia' abuela (great aunt), Feliciana, is the muse behind the winery name. Her black purse (bolsa negra) provides for the story found on the label of the wine club release Bolsa Negra, a hedonistic blend of Tempranillo and Syrah. As a child, Deborah was offered up Feliciana's purse in pursuit of gum—and the smell of juicy fruit combined with leather, tobacco and rose petals was like the nose of a good red wine.
The signature label is that of a flamenco dancer created by family friend and artist, Janice Seino. The dancer's skirt flows as if cascading down a hilltop in one of the mountain towns in Andalucia in southern Spain. Deborah was taken with the hill towns, and they served as inspiration for the design of the tasting room: white structures with red roofs and postcard-worthy tiled patios with fountains and gardens.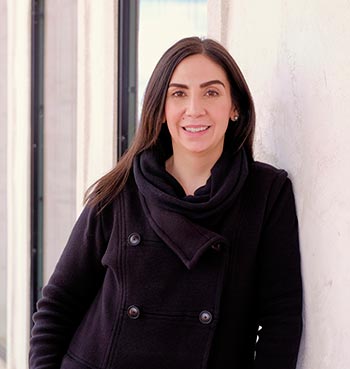 Sangria: The Runaway Horse
When asked about the Sangria program, which seems a natural tie-in to the brand, the room silences while Deborah and Kara, the tasting room and wine club manager for their Woodinville location, exchange looks. "It's both our beloved and our nemesis," Deborah says laughing. "Honestly, it all started because I hate to waste things, but it also gives people another option in a region of predominantly dry reds."
Deborah worked on perfecting a recipe that emulated the Sangria she fell in love with in southern Spain and started making it in two-gallon batches. But two gallons became four and before she knew it, it was as uncontrollable as the Running of the Bulls. "In Woodinville on a Friday night, our customers will go through 15 gallons of it—a keg," says Kara.
They are instigating a Sangria Club, Tia B. "My nephew, the one that took me and my parents on that memorable driving trip to Arcos in Andalucia, calls me Tia B (for bonita)," says Deborah. "We already had the aunt theme going and I wanted the name to really mean something."
That Feeling Part Two
When Castillo de Feliciana was looking to expand to Woodinville, the same rules applied. Deborah had to feel it. Sam was looking extensively when they happened to attend an art opening for their label artist, Janice, at a house-turned-meadery. "I told Sam the only place I can get excited about is that little house," recalls Deborah. They kept in contact with the owner and sure enough it came available for rent. "We did a walk through and the space needed a lot of work," says Deborah. "But Sam's a visionary. It's like he's on an HGTV show."
Opened in 2012 after many late-night renovation sessions, the Woodinville tasting room offers lush grounds with gardens for people to picnic, a patio and fire pit area. "There's really nothing else like it in this area," says Kara, who similar to Christopher didn't initially intend on working for the family business. But after working some events and seeing a need to attend to wine club members, she found that her psychology degree and a further degree in marketing followed by classes specifically for wine marketing prepared her for the many hats she wears.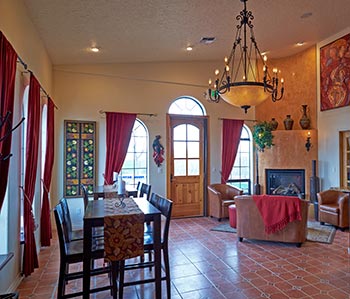 Toasting 10
To commemorate their 10th anniversary, Castillo de Feliciana has a number of things in store, including a winemaker cruise from Barcelona to Lisbon in late June with Oceania Cruises.
Their tasting room in Milton-Freewater will expand hours from Memorial Day through Labor Day to Thursday through Monday, 11am–5pm, and will introduce a tapas menu. They also plan to open the casita on the property as a vacation rental that sleeps four.
Christopher was recently elected to the board of the Oregon Tempranillo Alliance (Castillo de Feliciana is technically in Oregon, although literally a grape's throw from the Washington State line). The organization is in the planning stages of hosting the Oregon Tempranillo Celebration in Portland on January 19-21, 2018.
In this rare respite from work, more bubbles are poured and the Castillo family toasts again. Salud!
Written by Kirsten Telander and Photographs by Colby Kuschatka
Editor's Top Picks

---
Castillo de Feliciana 2014 Walla Walla Valley Garnacha, $32
Editor's Choice – Outstanding (91-95 pts.)
Bold, rich and broadly structured, with an assertive core of cherry bark, macerated strawberry, black currant paste and black licorice flavors that meld into savory forest floor and leather notes. Stays pure and focused on the long finish. –JV
Castillo de Feliciana 2013 Bolsa Negra "Black Purse," $56
Editor's Choice – Outstanding (91-95 pts.)
Aromas of cigar box, smoke, dark fruit, graphite and caramel lead the way into this supple, concentrated and elegant blend of Tempranillo (65%) and Syrah (35%). Refined tannins are buried in a cloak of cassis, black cherry, dark plum, violet, cocoa, and aniseed flavors tinged with mesquite. The powerful structure doesn't waiver through the lengthy finish. –JV
Castillo de Feliciana 2015 Albariño, $22
Editor's Choice – Outstanding (91-95 pts.)
Clean and refreshing, this classic Spanish varietal strikes a melodic balance between the medium sweet fruit and light acidity. Pear, apple and honeydew melon flavors are complexly layered with lime citrus, honeysuckle, meadow grass and fresh herbs on the finish. –JV
Castillo de Feliciana 2013 Tempranillo Reserve, $40
Editor's Choice – Outstanding (91-95 pts.)
Bold and textural, with alluring aromas of tobacco and dark fruit that open on the palate with rich, dense layers of black cherry, grilled plum, blackberry, cacao nibs and loamy earth flavors backed by brawny tannins. Orange peel and licorice subtleties add intrigue to the smoky, brooding finish. –JV
Castillo de Feliciana 2015 "Brillánte" Sparkling Wine, $30
Editor's Choice – Outstanding (91-95 pts.)
Made from 100% Chardonnay, firm and minerally, with vibrant acidity and finely sculpted beads, offering a layered profile of golden apple, spun honey, vanilla and pastry dough. Elegantly balanced on a sleek frame. –JV
---
Taste Now
In Woodinville

15114 148th Ave NE
Open Fri-Sun, 12-6pm
PH: 425-949-5088
In Milton-Freewater
85728 Telephone Pole Rd
Open Thur-Mon, 11-5pm
PH: 541-558-3656