Tour five wineries south of Walla Walla along a half-mile stretch of scenic J.B. George Road, each with distinct personality and world-class wines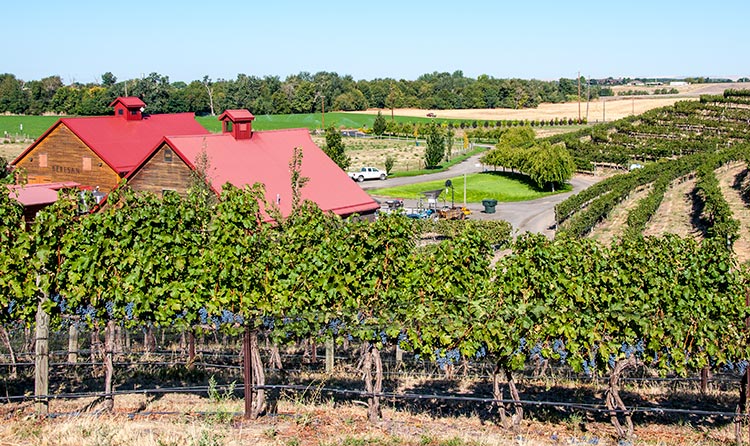 FIVE MILES south of the vibrant downtown of Walla Walla is everything one expects of wine country: historic vineyards, orchards, farms, wide open skies, and a backdrop of the Blue Mountains.  Ah, and wineries, led by an award-winning cast of risk-takers open to reinvention—characters as interesting and diverse as the wines they produce.
"If you take the Southside wineries, every single one of them has a completely different personality," says Justin Wylie, owner and winemaker of Va Piano Vineyards.  "That personality reflects the architecture, it affects the way they interact with the consumer, and it also affects their end-style of wine."
But these personalities, both of the producers and their wines, weren't born out of pedigrees and viticulture programs, but a touch of wanderlust that the land along J.B. George Road, (the heart of the Southside) inspires.  And there was luck and a lot of hard work.
"There was no plan, really.  No manual," says Rich Funk of Saviah Cellars, one of the first on J.B. George Road.  "Most of us are self-taught.  We didn't have generations before us that we watched go through the process."
But what these pioneers have created is an experience that can't be replicated.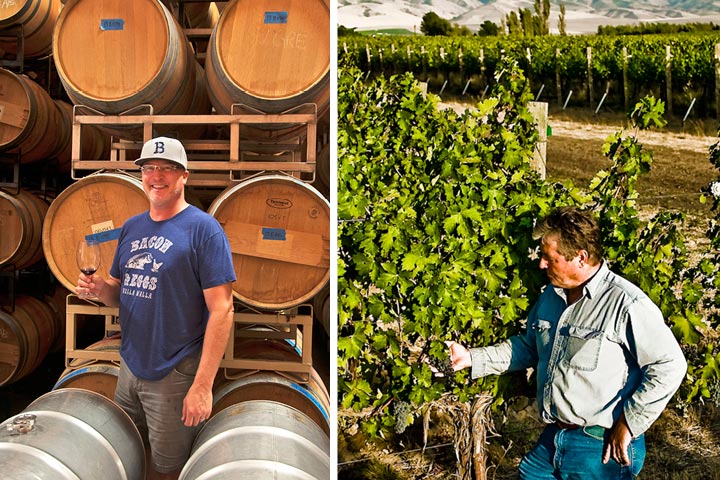 The Yin and the Yang: Beresan and Balboa
You'd think it'd be a tough proposition to have one winemaker for two different brands with tasting rooms side by side on the same property.  But Tom Glase, winemaker for Balboa Winery as well as Beresan Winery, and Tom Waliser, grape grower and owner of Beresan, make it work.
"I make his wine, I make my wine.  He grows his grapes, he grows my grapes."  Glase grins as to say, simple, right?  It's this simplicity, or moreover, this relaxed, uncomplicated attitude that is reflected in the atmosphere the two have created on common ground.
Beresan is housed in a barn, originally built in 1926 for horses and dairy cows as part of the Thomas Homestead.  Waliser remodeled the barn in 2001, keeping the original character intact, and created a tasting room that's about as casual as they come.  The absence of pretension reflects Waliser's long-time farming roots; he was born and raised on the family farm in the Walla Walla Valley.  "Beresan" refers to German communities outside of Odessa, Ukraine, where his ancestors once farmed.
Like most on the Southside, his story is a combination of pragmatism and a go-with-the-flow attitude.
"I've never had a plan in my life, but a door always opened when I needed it," says Waliser.  "Some of it was good fortune, some of it just good sense."
One of those doors that he walked through provided the opportunity to partner with Norm McKibben in 1990.  Waliser planted apples for him and then grapes, farming what would become an iconic vineyard: Pepper Bridge.  Waliser manages countless acres of grapes, including his own three vineyards, and is one of the most respected growers in the region.
Glase also received a dose of good fortune.  The former Seattle bartender turned golf-pro and moved to Walla Walla for the "L" word: lifestyle.  Marriage and starting a family didn't mesh with the urban bar scene.
"Winemakers came out to play golf. There weren't many of them then, and they'd bring some wine," says Glase of his time at the Walla Walla Country Club.  "They were very generous.  That's how I got connected."
A crucial connection was with the late Eric Dunham (Dunham Cellars).  "I started in the wine business because of him," Glase says.  It was Dunham that hooked him up with harvest at L'Ecole No 41 in 1998, which led to a full-time job there.  Glase never looked back, going on to work for other producers, which led to a chance meeting with Waliser.
In 1997, Waliser planted a vineyard (which became Waliser Vineyard) in an area today known as The Rocks District of Milton-Freewater AVA.  "Nobody wanted to buy grapes off The Rocks then.  This was pre-Cayuse; Christophe Baron just had young vineyards then," he says.  "I thought, the only way I'm going to sell fruit off the rocks is if I make wine with it."
Tom Glase, then working for Corliss, was looking for fruit.  He met Waliser, and not uncommon in an emerging wine region, Glase got an offer.
"I asked Tom if he would make wine for me, not because I had this vision of a winery, but because I wanted to market the vineyard," says Waliser.  "It just evolved because our relationship developed so well.  It was easy to sell wine and everything just fell into place."
Waliser eventually created a space for Balboa (they had a small tasting room downtown) on the property out of what Glase describes as Waliser's "man cave, complete with pool table."  The tasting room is more contemporary, but equally laid-back and playful.
Waliser and Glase literally became one big family.
"The kids grew up on the property.  My brother works field operations, my nephew works out in the field, my wife and daughter work in the tasting room.  When we say it's a family-run business, it's because it is," says Waliser.
Similarly, Glase's kids grew up running around the property, and his wife, artist Amy Glase, is now managing partner.
"We still love what we do, and we love coming to work every day," says Glase, breaking into a big grin.  "If you're happy, your wine is going to taste better."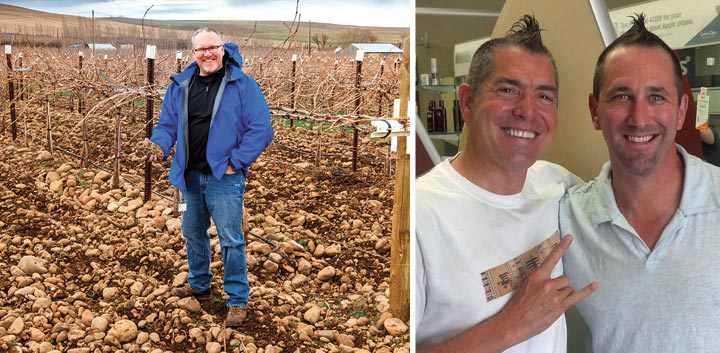 Forging the Way: Rich Funk of Saviah Cellars
Rich Funk, owner and winemaker of Saviah Cellars is another case of re-invention.  A microbiology and chemistry major from Montana State University, this Big Sky Country native was more interested in fermenting grains than grapes; Rich and his wife Anita had their sights set on starting a microbrewery.  But instead, the Funks moved to Walla Walla in 1991, where he worked as an environmental health specialist.  What he couldn't have predicted, in an area that had only a handful of wineries at the time, was that he would be considered a pioneer, particularly of the Southside.
While working at the Health Department, dealing with water quality and wastewater issues, Funk got to know vineyards, and he forged relationships with winemakers, becoming an enology and viticulture sponge.
Rich and Anita founded Saviah Cellars (a family name from Anita's great-grandmother) in 2000.  Funk built a relationship with renowned grape grower and vineyard manager, Leonard Brown.  "When the Brown's hired me in 2005 to help them with Watermill Winery, it was like I had won the viticultural lottery," says Funk.  His friendship with Brown gave Funk access to coveted fruit.  It was Brown that made it possible for Funk to secure premium estate vineyards.
His story is inextricably bound to his love of terroir, and his talk of soil constitution rolls off his tongue as if he'd been in the business his entire life.  But he also doesn't forget where he started.
"I didn't know anything.  I didn't have a forklift for the first three years," he says laughing.  "You use a forklift for everything."
He looked around at what has evolved over the years into a comfortable yet elegant tasting room, complete with local landscape paintings adorning the walls.
"And I'd never dreamed that we'd have a real tasting room."
Sleight of Hand: In the Cards
Trey Busch's sure hand in wine garnered attention early on, without an enology and viticulture degree, but with luck, hard work and some chance meetings with the right people.
His first act, however, was as a buyer for Nordstrom in Seattle, but eventually he wanted a lifestyle change (there's that "L" word again).  On a visit to Walla Walla, he became fast friends with Eric Dunham at a dinner party, and later, Dunham asked if he wanted to work for him.
"When he asked me, it was out of the blue.  It's not like I had been thinking, wow, it'd be great to come out here and work for a winery," says Busch.  "I had zero experience, but when I started working for him I realized that I really enjoyed it—and I thought I was pretty good at it," he says.
Busch went on to make wine for Basel Cellars, and then another piece of magic happened: he met Jerry and Sandy Solomon at the Sun Valley Wine Auction and they were taken with his infectious charisma.  A few years later, the Solomon's visited Walla Walla and fell in love with the town.  At the time, Busch was ready to shop around a business plan for his own winery, and Soloman offered to give it a "once over."  After reading the plan, he was in.
"Sleight of Hand" is one of Busch's favorite Pearl Jam songs (he has seen them in concert upwards of 65 times) so it's no surprise the winery found a niche in making music part of the experience.
"We demystify wine when you come in here on a Saturday and our turntable is cranked up to 11," says Busch laughing, pointing to a vinyl collection that has grown to 1600 albums.  "Everything we do is loud.  The music is loud, the labels (all with magic themes) are loud.  But people keep coming back."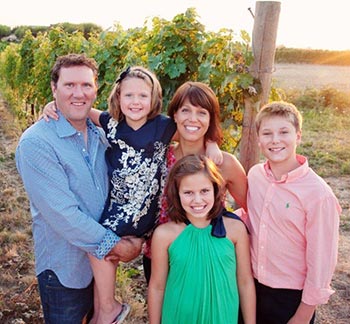 Va Piano: Going Slowly, Going Far
Chi va piano va sano y va lontano: He who goes slowly goes safely and goes far.
In 1995, Justin Wylie, owner and winemaker of Va Piano Vineyards had an experience that changed his life.  The fourth generation Walla Wallan and Gonzaga University student spent his senior year in Florence, Italy studying under the tutelage of artist Bruno Segatta.
After falling in love with the Italian culture and lifestyle, he knew he wanted to return to Walla Walla to make wine, an idea not entirely out of the blue.  Wylie's cousin, Eric Dunham, had some influence.
"Bruno taught me to really believe in myself.  I started to think, I can really do this," says Wylie.  He spent five years in his garage making test lots, resulting in the Vino del Garage and After Midnight wines made for family and friends who told him he was on to something.
In 1999, Wylie was in the right place at the right time when a neighbor offered to sell him a piece of land planted in garbanzo beans and wheat rotation.  Wylie took it one step at a time.  "Italians are vineyardists first, winemakers second," he says.  "Similarly, I wanted to be a grower first and winemaker second."  After the vineyard was established, the Tuscan-inspired winery followed in 2005.
As with most along the Southside, the winery is about la famiglia—wife, Liz is part of the operation, and the kids have essentially grown up running around the property.  "At the end of the day, I have a winery that started in a garage with two barrels of wine," Wylie says smiling.
He looks out to his vineyard, just beyond the picnic area, which has become one of the most popular places to nosh and sip wine.  "The future of the Southside?  I don't think we've even begun to see what's going to evolve out here."
In memoriam, Eric Dunham 1970-2014
Written by Kirsten Telander and photographed by John Vitale
PLAN A SOUTH WALLA WALLA TRIP
Comfy Sleeps
Marcus Whitman Hotel
Fine accommodations in Walla Walla's historic downtown with onsite award-winning restaurant & wines. www.marcuswhitmanhotel.com
Girasol Vineyard & Inn
Vineyard bed and breakfast inn offering luxurious surroundings in the Southside. www.casagirasol.com
Walla Faces Inns
Stay in an upscale inn in a vineyard or downtown. www.wallafaces.com
Southside Roadside Eats
Andrae's Kitchen
Walla Walla's first gourmet food truck. www.andraeskitchen.com
Salumiere Cesario
Grab a Euro-style Lunch to go! Great selection of artisanal cheeses, salumi & sandwiches. www.salumierecesario.com
Find A Walla Walla Winery
www.wallawallawine.com