Set among a rolling patchwork of farms and old vines just four miles north of Prosser await four estate wineries whose wines capture the aromas and flavors of this bucolic stretch of Yakima Valley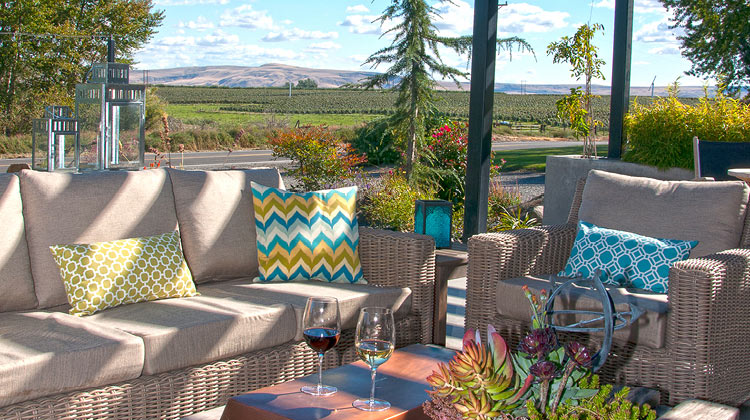 On a picturesque bend of the Yakima River, the city of Prosser has a small town feel and authentic rural charm.  The farming community here has long played a crucial role in the Yakima Valley's thriving wine industry.
Back in the 1930's, the WSU agricultural research center attracted the bright young Dr. Walter Clore, a horticulturist who earned the reputation as "The Father of Washington Wine."  He spent decades championing the belief—and proving—that world-class wine grapes could be grown in the state.
Soon, vineyards were sprouting up next to orchards and hop farms.  It wasn't long before a slow invasion of wineries began to set up shop in Prosser.  Today there are over two-dozen tasting rooms within the city limits.
Venture a scant few miles to the northern outskirts of town where a different tasting experience awaits—a short countryside loop of four boutique estate wineries, each a gem unto itself.  Along the route are swooning big-sky panoramas sandwiched between the broad-sloped Rattlesnake Hills and the golden bluffs of the Horse Heaven Hills.  Discover old growth vineyards and historic farmsteads, and genuine folk who are crafting expressive wines that capture a true sense of this land in a glass.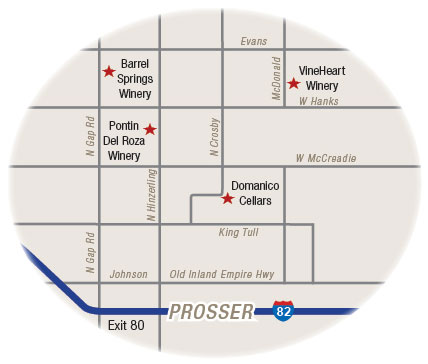 Pontin Del Roza Winery
Start your loop at Pontin Del Roza, located on the Pontin family's 500-acre farm, and experience a part of Prosser history.  Third-generation winemaker Scott Pontin celebrates the winery's 30th anniversary this year.  His grandfather Angelo, an Italian immigrant, made wine as did his father, Nesto, who settled in Prosser with his wife Delores in 1954 and established the family farmstead.
Pontin started growing wine grapes when he was a freshman in high school for a Future Farmers of America project.  "I grew about 25 acres of Riesling and sold that to Hogue Cellars when they began making wine," he recalls.  After graduation he continued his passionate pursuit and attended UC Davis where he learned to make wine.
Splitting his time between the winery duties and running the family farm, Pontin grows apples, juice grapes and hops, plus 100 acres of wine grapes.  Active in the wine community, he serves on the board of directors for the Walter Clore Wine and Culinary Center, an absolute must-see learning center located in Prosser.
Loosely translated in Italian, Pontin del Roza means "Pontin family farm on the Roza," named after "the Roza," a local irrigation district that supplies life-giving water to the farm.  Pontin's roots are revealed in his reserve label named in tribute to his grandfather, Angelo Pontin.  He not only produces Italian varietals like Sangiovese, Dolcetto and Pinot Grigio, but Riesling, Chenin Blanc and smooth red blends as well.  He prefers to keep the estate winery on a smaller scale and sells a portion of grapes to other wine producers.
The hip, modern tasting room has a stylish urban feel, sporting an immense tasting bar of exotic black granite and a large glass fireplace that is exposed from both indoors as well as outdoors.  There is even a folding Nana wall that opens completely up to an outside patio furnished in chic fashion colors and patterns.  The regulation bocce ball court is another nod to the family's Italian heritage, surrounded by meticulously groomed landscaping.  Game anyone?
Domanico Cellars
Jason and Jill Domanico have brought their winery full circle to align with their country roots.  Both grew up in Eastern Washington and met while working in Yakima in the early 1990's.  "I got into wine to impress Jill when we were dating," admits Jason.  "One of our first dates was spring barrel tasting."  Eventually they moved to Seattle—and the dream that began with a single barrel of Cabernet blossomed over the years into Domanico Cellars, which opened in 2007 in Seattle's Ballard neighborhood.
Seeking a return to small town living, in 2012 they purchased the historic Carter Family Vineyard in Prosser, originally planted by the pioneer researcher and winemaker George Carter (an inductee into the Legends of Washington Wine Hall of Fame).  Here, some of the old vines date back to 1975, among the oldest in the state.
"We wanted to own our vines and lock in our own supply of grapes.  And we were looking for a way of getting out of the big city," tells Jason, who was raised on a farm.
The couple shares in the winemaking.  He focuses on the technical side, and she keeps a hand in the vineyard, but they both blend wines together.  "We approach blending very differently.  The chemistry side of it is the one area I'm the least comfortable with—that is still Jason's area of expertise," explains Jill.  "When we both like it, we know it's a winner."
About half of their grapes are sourced from notable sites and the rest come from their estate vineyard.  Their winemaking philosophy is simple: let the vineyard speak for itself.  "Our first Chardonnay was a stainless steel [no-oak], non-interventionist—it was what this vineyard does well," says Jason.  "We'll make a Cabernet and it may not be an over-the-top, big, jammy Cab, but it will be what this place does."
The newly built winery and tasting room cuddle up to the vineyard with lovely valley views.  Self-guided walks through the old-growth vineyard are encouraged—and hard to resist with a glass of Domanico's wine in hand.
VineHeart Winery
You know you've arrived when you spot a near life-sized statue of a beautiful young goddess holding up clusters of ripe grapes at the entrance to VineHeart's 56-acre estate vineyard.  At a gentle rise to 1200-foot elevation, soak in the eye candy vistas of the Horse Heaven Hills below and Rattlesnake Hills above.
Inside, the eclectic tasting room is roomy, inviting and homey, decorated with an assortment of arts and crafts, from wine cork sculptures and grape ornaments to wine-themed artwork.
Viticulturist Patricia O'Brien and her husband George S. Schneider are the backbone of VineHeart.  They both grew up in Prosser and are at their roots here.  Patricia manages the 130-acre farm (grapes, apples and cherries) and George builds custom homes when he's not making wine.
The property has been in Patricia's family since 1950.  Not long after she began farming in the mid-1980's, she became a home winemaker, mentored by her close neighbors, wine legends Dr. Walter Clore and George Carter (the pair worked together for years, with Carter making wines for evaluation from over 100 test varietals that Clore planted all over the state).  In 1992, Patricia planted her vineyard and began selling wine grapes to wineries throughout the United States.
"My husband [also a longtime home winemaker] in 2002 decided he wanted to make wine commercially," she explains.  "And it works because I grow the grapes and he makes the wine, and the marriage lasts," she chuckles with friendly humor, adding, "If both people are in the kitchen at the same time, it doesn't work very well."
Smooth, soft and approachable with fruit-first flavors, VineHeart's wines are proof enough the division of duties is a winning formula for the couple.  Patricia grows 15 varieties, among them Cabernet Sauvignon, Chardonnay, Zinfandel, Semillon, Pinot Noir, Syrah, and her personal favorite, Lemberger.
Schneider employs wine flex tanks for fermentation and aging.  The tanks are made of oxygen-permeable polyethylene plastic, an increasingly popular and cost-effective alternative to wood barrels.  He produces 800 cases annually of their Yakima Valley estate wines from hand selected and carefully sorted grapes.
Barrel Springs Winery
From North Gap Road, it's hard to miss the sign propped up over two large oak barrels at the entrance to the winery's lush park-like grounds landscaped with towering pines, Blue Noble, and European weeping birch.
Surrounded by estate vineyards, the aesthetically pleasing tasting room is a blend of European country villa and Northwest lodge, with majestic slate rock floors, stone archways, Tuscan-hued walls of pastel orange and brick-red.  Beyond the large wood slab tasting bar a picture window offers views of the vines, picnic tables and horseshoe pits.
Barrel Springs is the vision of Montana native Jim Madison who first got the bug to make wine when he lived in the Tri-Cities during the mid-1970's.  Washington's wine industry was just getting started back then.  "Having played around making wine in my college days, I thought it would be fun to get into the winemaking business," says Madison.
He took the plunge, purchasing ten-acres of land and planting his vineyard in spring of 2004.  It was a few months later that Madison experienced how tough farming could be—only half of the vines came up because the nursery had sold him a batch of freeze-damaged rootstock.  To complicate the setback, the replacements (all two thousand of them) had to be replanted by hand because the vine trellises had already been installed.  Madison persevered and began making his first wines from the 2007 vintage.
"Like most winemakers, I want to make the best wine I can regardless of the type of grapes.  My personal goal is to make the best Cabernet Sauvignon and Syrah using estate-grown grapes," he comments.  His red wines are bold and straightforward, with plush tannins and nuances of dusky fruit that reflect the surrounding terroir.
Madison grows Cabernet Sauvignon, Syrah, Chardonnay and Petit Verdot, all of which go into his wines.  He also purchases grapes from nearby growers to make wines like his single-vineyard Cabernet Franc.
Through it all, Madison has retained his sense of humor, evident in a Bordeaux style blend named "BS Red" (short for Barrel Springs, of course).
Written by John Vitale
Barrel Springs Winery
46601 N Gap Rd, Prosser
Ph: 509-786-3166
Open March-November, Thurs-Mon, 10am-5pm
www.barrelspringswinery.com
Domanico Cellars/Prosser
24901 N Crosby Rd, Prosser
Ph: 206-465-9406
Vineyard tours by appointment
www.domanicocellars.com
Pontin Del Roza Winery
35502 N Hinzerling Rd, Prosser
Ph: 509-786-4449, Open daily, 10am-5pm
www.pontindelroza.com
Vineheart Winery
44209 McDonald Rd, Prosser
Ph: 509-973-2993
Open Mon, 9-5pm, Thur-Sat, 9-5pm, Sun 11-5pm
www.vineheart.com
For information on other Prosser wineries, lodging and dining, visit www.tourprosser.com