An interview with winemaker Kerry Shiels, who takes no shortcuts when it comes to crafting world-class estate wines in the Yakima Valley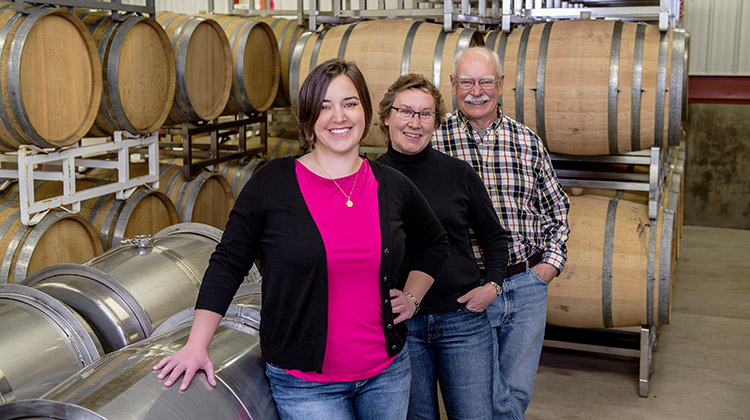 Click here to view the actual pages of this article as published in the Summer 2016 issue
Kerry Shiels has been making wine at Côte Bonneville since 2009.  The winery was founded 15 years ago by her parents, Hugh and Kathy Shiels, to showcase the potential of premium wine grapes grown on the family's DuBrul Vineyard.  The winery is taking on new life these days with an expansion of their Sunnyside tasting room, a new label and a wine club.  Kerry Shiels joined Tasting Room Magazine for a Q&A session to get the inside story on her past, present and future plans.
What impact did growing up around a vineyard and winery have on you? 
I feel like I've always been around wine.  I made my first wine when I was 13, for a school science project.  My parents drank wine with dinner.  They were friends with winemakers and other growers.  The industry was very small then, but key people like Wade Wolfe, Kay Simon, Co Dinn, Stan Clarke, and Brian Carter had come from UC Davis.  I knew there was a career path in wine, and that there were professional people who worked in this world.  I have had a lot of great mentors over the years.  Quite a few of them are from this group of trailblazers.
You were once a successful engineer working for Fiat.  Why did you decide to return home to the Yakima Valley and make wine?  
Making wine is one of the reasons I went into engineering actually.  Mechanical Engineering is about designing new things and bringing them to life.  Creation is exciting, rewarding, and tangible.  After a few years, I found myself being promoted to roles where I made spreadsheets and powerpoint presentations.
By 2005, I realized this wasn't for me.  And I missed the connection to nature, the changing smells and flavors, and the camaraderie that are so special in wine.  After gaining experience in California, Australia, and Argentina, I appreciate even more that the Yakima Valley is an amazing corner of the world for viticulture.  We have the climate, soils, latitude, hillsides, and knowledge to grow a variety of grapes at the highest quality levels.  In the Yakima Valley, and more generally in Washington, I get to be part of more than just growing grapes and making wine.  I get to be part of building the region.  It's an incredible thing to think about.
What is the top lesson you've learned as a winemaker?
Patience is one of the biggest lessons wine teaches.  It takes a long time to do it right.  In the vineyard, just establishing the vines takes three years.  Establishing that you have a world-class site that can produce exceptional fruit year in and year out takes a decade, at least.  Making the wine is a two-year process, but allowing the wine to develop in the bottle takes longer.  There are no shortcuts to proving that you can consistently make age-worthy wines.  At the end of the day, the proof is in the bottle.  Our wines are exciting; from current releases back to the depths of the library.
Have your goals as a winemaker changed since when you first started?
From the beginning, I've been interested in how to craft high quality wines.  The wine I made at 13 really wasn't my best; I never want to repeat that.  Working with different grapes, environments, and philosophies was very important to understanding why and how people make decisions.  Each winery I worked at made winemaking decisions from a different perspective.  The time spent working in and traveling to almost every major wine region in the world was invaluable to feeling confident in my decisions now.
At Côte Bonneville, we've always been about DuBrul Vineyard.  It's not just making exceptional wine, it's conveying a sense of place.  The more time I spend with the great wines of the world, the more important that becomes.  I believe truly special wines don't just taste good; they should exemplify the best of what wine is.  Seen through that lens, making wine isn't hard.  Making exceptional, unique wines that convey pedigree, geology, the vintage, and the people behind them is the challenge.  It's also the fun part!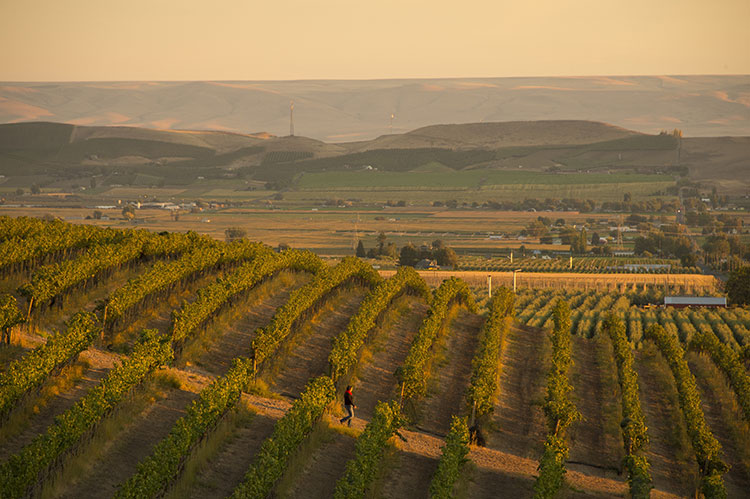 How does your involvement in the vineyard affect your decisions in the cellar? 
I'm in the vineyard almost every day.  Walking with the team, evaluating my rows of fruit, or running with my dog, I live the vintage with the vines.  In order to express a place, you have to know it and all the nuances in a way that only comes through time and experience.  This very much informs winemaking decisions.  Picking time, fermentation kinetics, even how the wines will interact with the barrels all change vintage to vintage.  Knowing the vintage helps make the minute adjustments in the cellar that make the final product that much better.
Tell us about the expansion of the winery's tasting room in the grape growing town of Sunnyside?  
We opened our tasting room in the historic train station [of Sunnyside] for a variety of reasons.  It will be a space for us to host our guests, have winemaker dinners, and provide educational experiences.  A few years ago, we started our Syrah release party for our mailing list.  In addition to showing new wines, we wanted to get people into the vineyard.  Walking the vines is a way for people to understand DuBrul Vineyard, the Yakima Valley, and Washington as a growing region.  The Train Station tasting room will enable us to do more of this.
You recently introduced a new label called Train Station Cabernet. What's it about?
One of the reasons we opened the Train Station tasting room was to help build the community.  Sunnyside is the place of the oldest vines in Washington State, and is currently undergoing a bit of a renaissance.  Co Dinn Cellars is building a winery in town, the Sunnyside Inn is under new management, the Summer Ale Festival is becoming an annual event, and more revitalization efforts are underway by the city.  We want to be part of that!
The Train Station Cabernet is also a nod to the history of the area.  The Train Depot was inaugurated in 1911, on a line that connected Yakima to Walla Walla.  In addition to being the transportation center, the depot was the center of many social gatherings.  We made the wine in the spirit of bringing the town together, and connecting it to people far away.
What is it like to work in a closely-knit family wine business? 
Wine is about family and friends, as much as it's about geology, history, philosophy and style.  All those things are amplified when sharing an exceptional bottle with people you love.
Because of this, making wine with my family is much more rewarding than it would be alone.  As I mentioned before, this is a long-term game.  We are building on the work my parents started, and I hope that the next generation will take over from me.  My nieces, who are [ages] four and five, already talk about making wine.  My two-year-old nephew starts every morning saying he wants to go to the farm.  Inspiring them to learn new things is great fun!
As a family business, we treat people like family.  There have been so many people who have come up to me, reminiscing over the time my mom made them dinner on the back deck, and what a wonderful evening it was.  It's rewarding to have our customers become friends, and to bring joy to their lives too.  That is living the dream!
What are you looking forward to in the future?
When thinking about the future, it's hard not to reflect a bit on the past.  The last ten years have been a time of dramatic change for Washington wine, with explosive growth of plantings and wineries, development of the Wine Science Center, more educational opportunities for students, and investments from California and beyond.
I look forward to the next decade as more people venture beyond Woodinville to the grape growing areas of the state.  As wineries grow, more people outside the Northwest are drinking Washington wine.  The positive impact on our communities is so exciting, as is the growing awareness that the Yakima Valley is a special place.  We can all drink to that!
Côte Bonneville 2014 Train Station Cabernet Sauvignon, $35
Editor's Choice – Excellent
Opening with seductive aromas of suede, dried red berries and minerality with notes of pink peppercorn, this red wine has a svelte mouthfeel, offering nuanced flavors of crushed rock, leather and nougat backed by red fruit, notably raspberry and strawberry. Fine tannins lock in on the finish.
Côte Bonneville 2012 DuBrul Vineyard Syrah, $65
Editor's Choice – Outstanding
With generous earthen aromas of dusty berry, flowers, clover and minerality, this Syrah gushes with opulent density and florality on the palate. Deeply concentrated flavors of blackberry, boysenberry and marionberry are layered with lavender-infused spice and loamy notes on the vibrant finish.
Interview by John Vitale