College Cellars in Walla Walla is turning heads with award-winning student-made wine and generating a new crop of tomorrow's winemakers in the process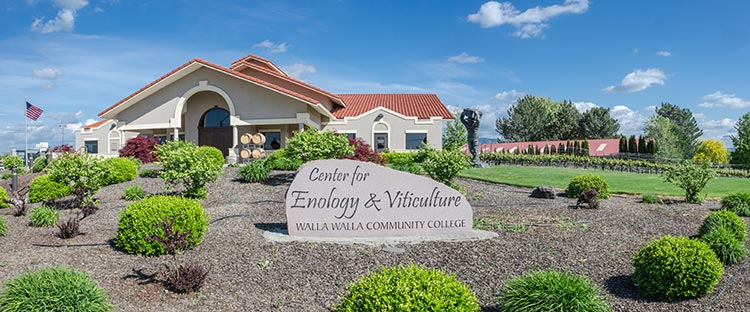 Click here to view the actual pages of this article as published in the Summer 2016 print edition
HEADING east out of the city of Walla Walla you will find yourself at a crossroads.  Go north and you are at the airport, where former aircraft hangers have morphed into a cluster of highly respected tasting rooms.  Continue east, towards the foothills of the Blue Mountains, and the road leads through charming towns and old orchards.  Armed with a few instructions, take a right at this junction and within minutes you will be deep among trellised vineyards and the subtle signage of wineries that make aficionados start to purr.  But the best choice might be to stop right here—that lovely building up on the hillock to your right is College Cellars, the teaching winery at the Walla Walla Community College's Center for Enology and Viticulture.
Visit the tasting room, sample wine, and join the wine club.  Buy generously.  For every bottle of Scholarship Red and Scholarship White sold, $2 goes into a fund to support deserving students.  If you are a Washington wine lover, this is a group of students whom you definitely want to support—they are tomorrow's winery owners, vintners, enologists and viticulturists.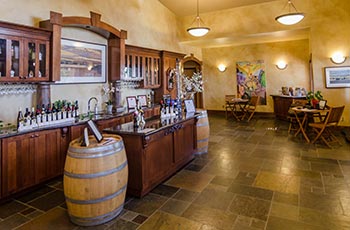 Seeding The Industry With Talent
Walla Walla lays claim to being the first Community College in the country to start producing wine.  Students there not only make wine (and some remarkable ones at that), they plant and prune their own vineyards, harvest their own grapes, crush them, bottle the wines, sell them through the tasting room, the whole shebang.  The college has garnered a reputation believed by some to be one of the nation's premier winemaking programs.  A glance at the list of illustrious alumni is validation.
Recent graduate Jason Fox wasted no time opening his own winery, Lagana Cellars, and promptly opened a tasting room in downtown Walla Walla last year.  "I am from Indiana and when I saw the website and talked to some of the people from the [wine] program, I knew it was the place to be," says Fox, who admits to enrolling sight unseen.
Fox is among 150 of the top graduates who actively work in the industry today.  Aspiring students, half from out of state (and varying in age from 18-70) go through a rigorous interview and screening process.  Only thirty people will land a coveted spot and start their two-year journey toward an Associate Degree in Enology and Viticulture, and that number will eventually whittle down to about twenty graduates.
No Deskbound Theorists
The wine college was the brainchild of Dr. Myles Anderson, co-founder of Walla Walla Vintners (one of the state's first wineries).  Once it was clear that the local vines and international accolades were solidly rooted, he posed a question to his fellow vintners and wine enthusiasts.  "What do you think about starting a winemaking program at the Community College?"
In addition to being a pioneer in the local wine industry, Anderson was also a longtime Walla Walla Community College faculty member.  The idea was enthusiastically received but in true Walla Walla style the locals weren't interested in nurturing elitist sippers or deskbound theorists.
"Winery owners wanted sleeves-rolled-up, job-ready graduates that could help build the region."  Anderson chuckles when he looks back.  "We thought Walla Walla might eventually have 30 wineries.  Maybe 40 if things went really well."  That was in 2000.  Today, more than 100 wineries and tasting rooms flourish in the Walla Walla Valley.
Groundbreaking Program
It was a groundbreaking program.  Dr. Anderson's combination of experience, dedication to his community, and dogged determination made him uniquely qualified to take on the challenges of starting the first state-funded licensed and bonded winemaking program.  He worked closely with the state attorney general, drafted legislation, held focus groups and community meetings.  He wrote the original curriculum and knocked on doors in search of extra funding.  While the educational program at the community college comes from the state's coffers, the College Cellars facility and vineyards are owned by a private foundation whose advisory committee is a veritable who's who of Washington wine celebrities.  They blazed their own trail, avoiding absorption by the big universities and the temptations of corporate behemoths.  The hard work paid off.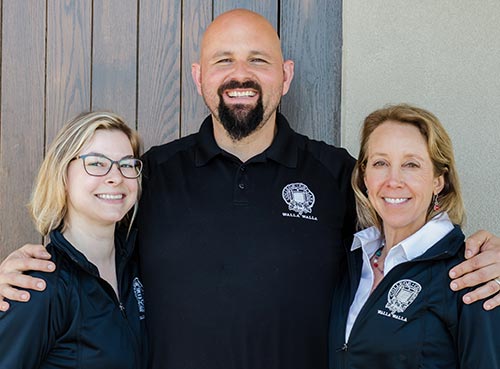 In 2013, Myles Anderson passed the director's torch to energetic wine wiz Tim Donahue.  "We make red, white, Rosé and everything in-between," Donahue states emphatically, pointing to the array of 30-odd wines under the College Cellars label.  The students' wines have won a healthy share of accolades and awards under the guidance of Donahue and his key staff members—viticulturist Jeffrey Popick, enology instructor Sabrina Lueck, and program coordinator Danielle Swan-Froese.
The college's four estate teaching vineyards are planted to 14 varietals and the academic year starts just as the grapes hit their sweet spot, so students are instantly immersed in the winemaking process.  Any romantic fantasies of the industry are replaced by the realities of dirt, plants, bugs, stickiness, heavy lifting, endless scrubbing and long hours.  Donahue laughs and says, "Grapes are literally thrown at them."  That's where the Walla Walla program really excels.
Jody Middleton of J&J Vintners feels strongly about the program that fueled his dream of starting a Walla Walla-based winery.  "The balance of classroom and vineyard/cellar time was perfect for the way I learn…hear it, see it, then do it."  During his first months at the college, Middleton and fellow classmate Jeremy Petty planted grapes on a small chunk of land to experience for themselves what they were learning.  The committed pair successfully launched their commercial winery soon after getting their degrees.
Yeast Herding
In the first year's curriculum, after breaking into groups and crushing a few tons of the fresh fruit, students learn how grapes grow.  They study soil, plant morphology, diseases and how to manage, establish, and maintain fields of grape vines.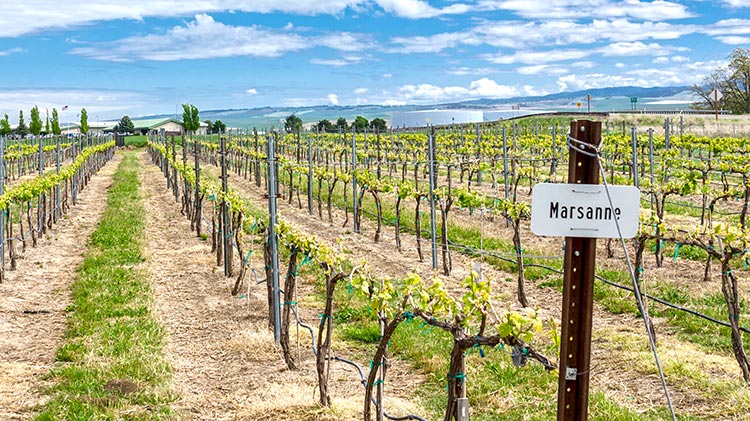 Freddy Arredondo, a 2008 graduate and award-winning winemaker at Cave B Estate Winery in Quincy, found this segment particularly influential.  He remembers his viticulture instructor, the late Stan Clarke, telling him, "You can't make good wine from bad fruit but you can make bad wine from good fruit.  Your job as a winemaker is to start with good fruit and not screw it up!"
The second year starts with another harvest, another crush, some new student projects, and then an immersion into what Donahue calls "yeast herding"—the focus on wine science, chemistry, math, barrel fermentation, measurements, adaptations, and cellar management.  Students are able to apply that new knowledge to the wines they made the year before.
Broadening Horizons
They also broaden their horizons by getting out and working with established vineyards and winemakers.  "My most influential moments were during my internship," says Jason Fox.  "The second year internship is when you are no longer under the school umbrella, and you are now working
the long hours and weeks typical of
the wine industry."
Many graduates like Jody Middleton stay in the region.  "Having a support system of knowledgeable instructors and fellow students available to me while establishing a winery was, and still is, invaluable," he says.
Veteran winemaker Freddy Arrendondo continues to place value on the relationships forged during his schooling days nearly a decade ago.  "I am in contact with a lot of people from my class, classes before and after mine, and also instructors.  The things I learned while attending serve me well every day."
The next time you visit Walla Walla and find yourself at this junction, stop and take a moment.  This is the crossroads of both the past and the future of Washington winemaking.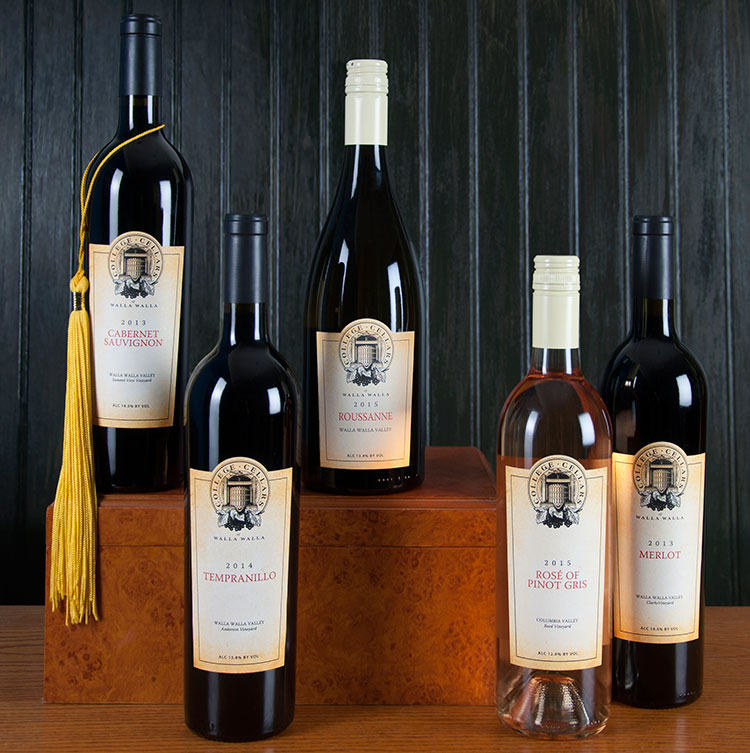 Editor's Top Picks
College Cellars 2013 Summit View Vineyard Cabernet Sauvignon, $35
Editor's Choice – Outstanding!
Lovely aromas of red and black fruit, crushed rock and balsa lead to seamless core flavors of dark cherry, blackberry and cassis. Elegant and focused, with firm tannins and a swath of polished graphite minerality shaded with subtle notes of boysenberry and pillowy structure on the rewarding finish.
College Cellars 2014 Anderson Estate Vineyard Tempranillo, $20
Editor's Choice – Excellent
Suave and balanced, with peppery dark fruit aromas and flavors of black fruit and dark cherry, peppercorn and mesquite. Bright notes cascade through the earth-driven finish.
College Cellars 2015 Clarke Estate Vineyard Roussanne, $16
Editor's Choice – Excellent
Slightly unctuous and creamy, this medium-bodied white displays aromas and flavors of pear, honey blossom, almond skin and herbal tea.
College Cellars 2013 Clarke Estate Vineyard Merlot, $22
Editor's Choice 
Lighter bodied, with earthy scents of dark red fruit and boxwood and smooth flavors of black cherry, plum, cola and dark chocolate. The finish is wrapped in medium-sweet tannins with notes of loam and cedar.
College Cellars 2015 Reed Vineyard Rosé of Pinot Gris, $15
Editor's Choice – Excellent
With pretty floral aromas of honeysuckle, pear, watermelon and grapefruit, this steely-cut Rosé displays crisp and refreshing palate flavors of citrus, apple and dried herbs.
Go Wine Tasting at College Cellars
500 Tausick Way
Walla Walla, WA 99362
PH (509) 524-5170
Tasting Room Hours: Fri 11-5:30pm, Sat 11-5pm
www.collegecellars.com
Article written by Susan Vollard and photographed by Don Fleming